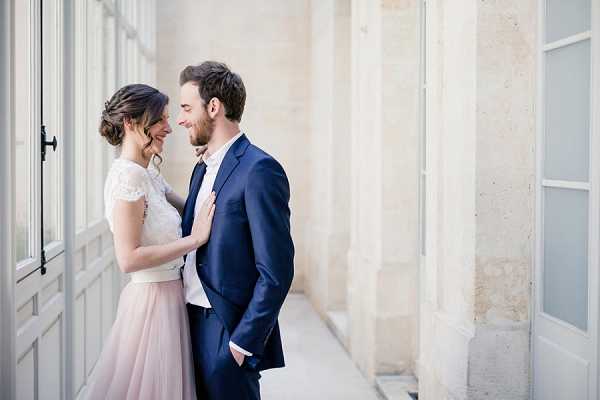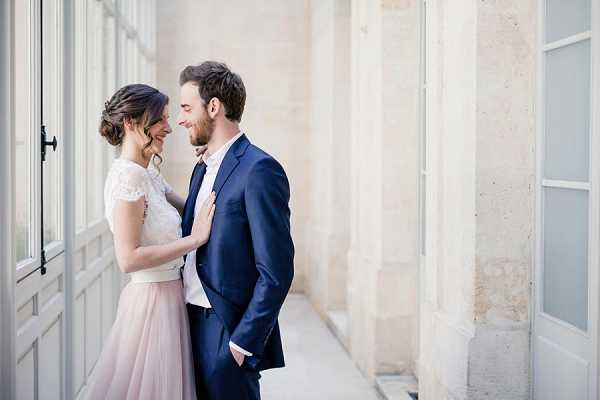 Good morning lovelies, we hope your week is going great! We are ending this month on a high with today's utterly romantic and very feminine Hôtel de la Tresne, Bordeaux Blush Wedding.
A talented group of suppliers joined together in this city full of culture to create a beautiful blush wedding inspiration shoot just for you. We're in love with every detail especially our brides two piece gown from Confidentiel Création and all the sweet blooms by Avril Mai.
If you love French chic Hôtel de la Tresne looks stunning in this shoot with its XVIIIth century decor it's certainly a venue full of elegance and history.
The day was planned by wedding planner Elle Imagine and captured by talented wedding photographer Sarah Miramon who will be walking us through this Bordeaux blush wedding…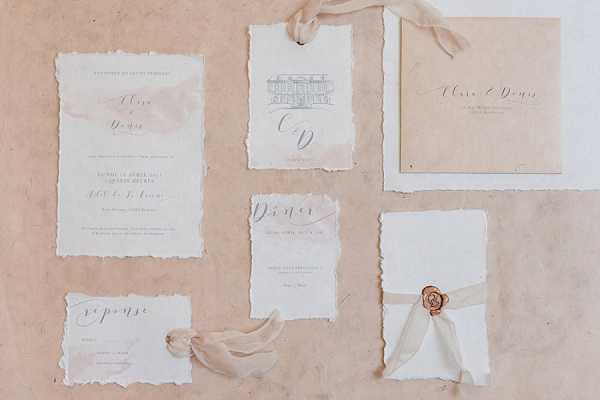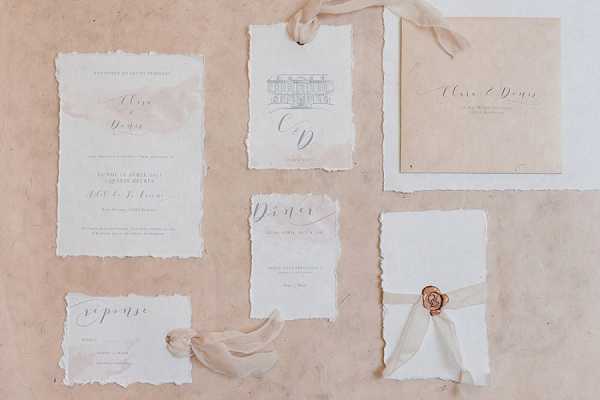 "This inspirational shoot was initiated by the desire to work on a joint venture between Sarah Miramon (photographer) and Christelle Basque (Elle Imagine, wedding planer/wedding designer)."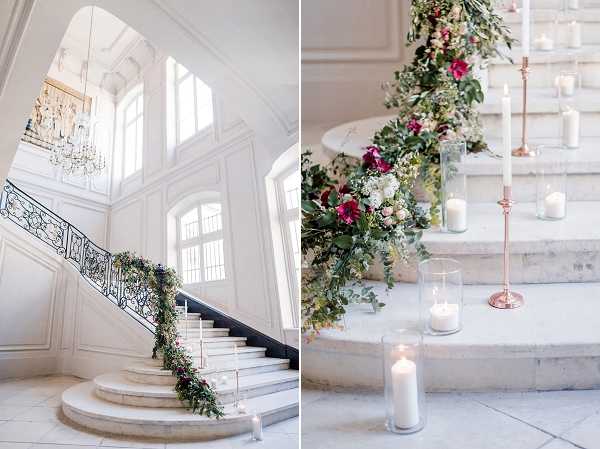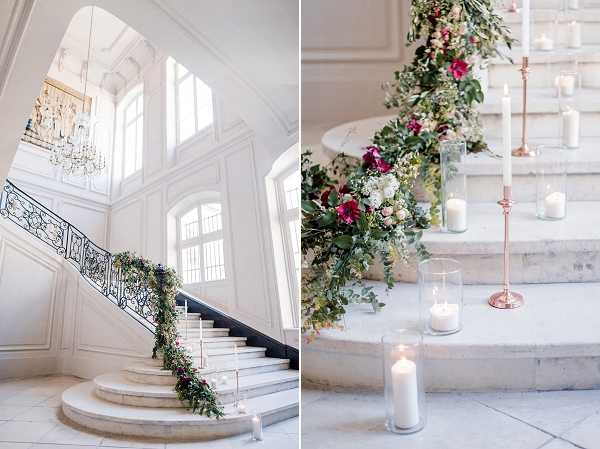 "Together, we imagined the story of a couple madly in love who are marrying alone in a magnificent residence near Bordeaux (France). The choice of this place, the beautiful Hôtel de la Tresne, was a real source of inspiration. Its mouldings, its chandeliers, its old-fashioned windows were perfect to illustrate the romantic and elegant atmosphere we imagined for this shoot."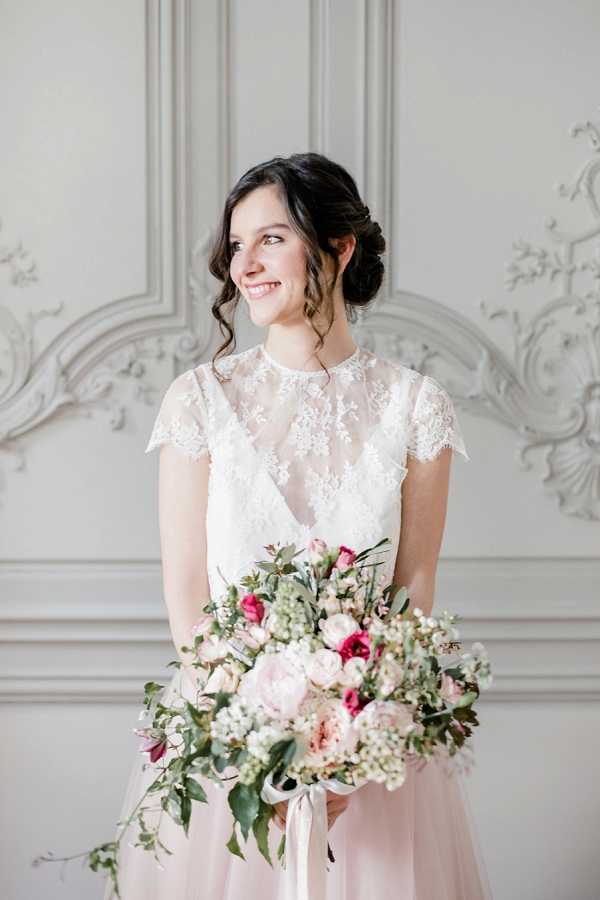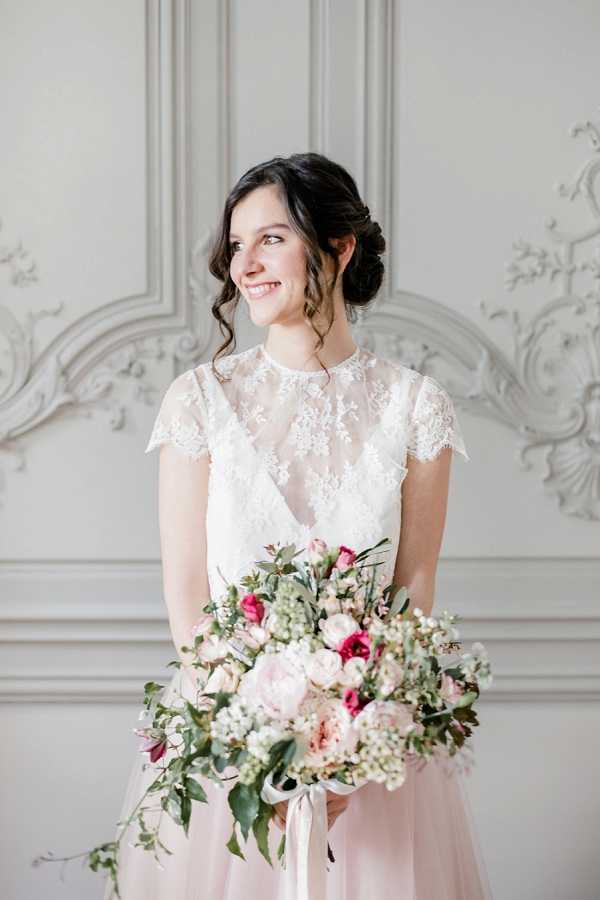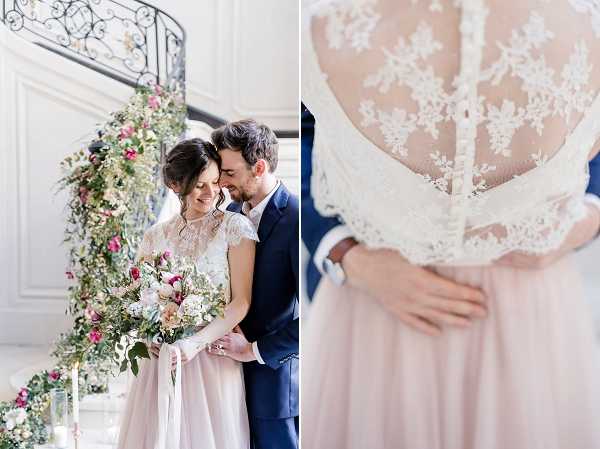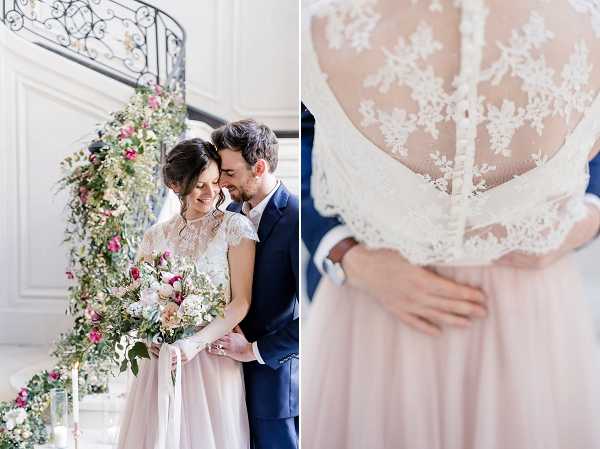 "We looked forward to sweetness and romance, so we imagined an atmosphere with pink blush, peach, nude and white and to combine these colours in harmony, we selected warm materials, such as wood and copper/rose gold."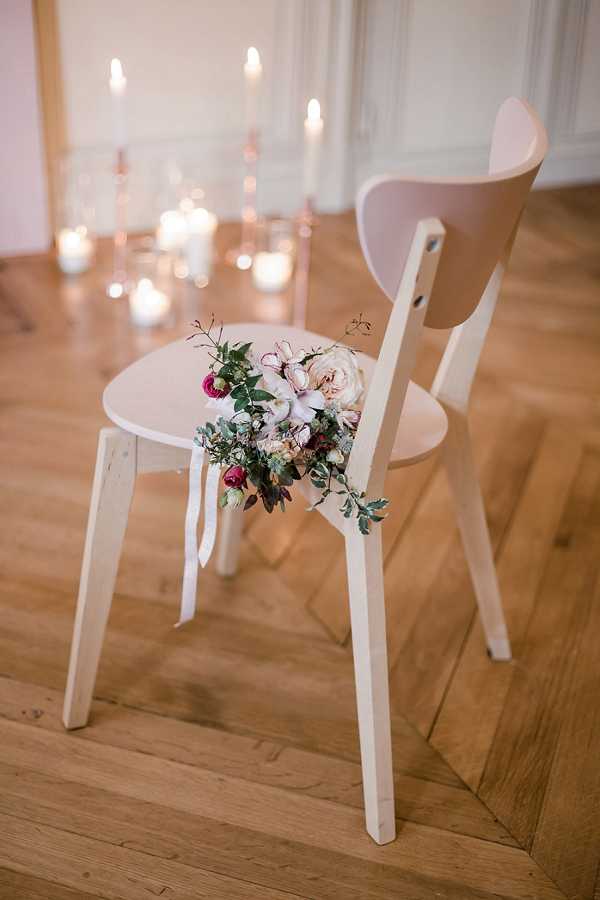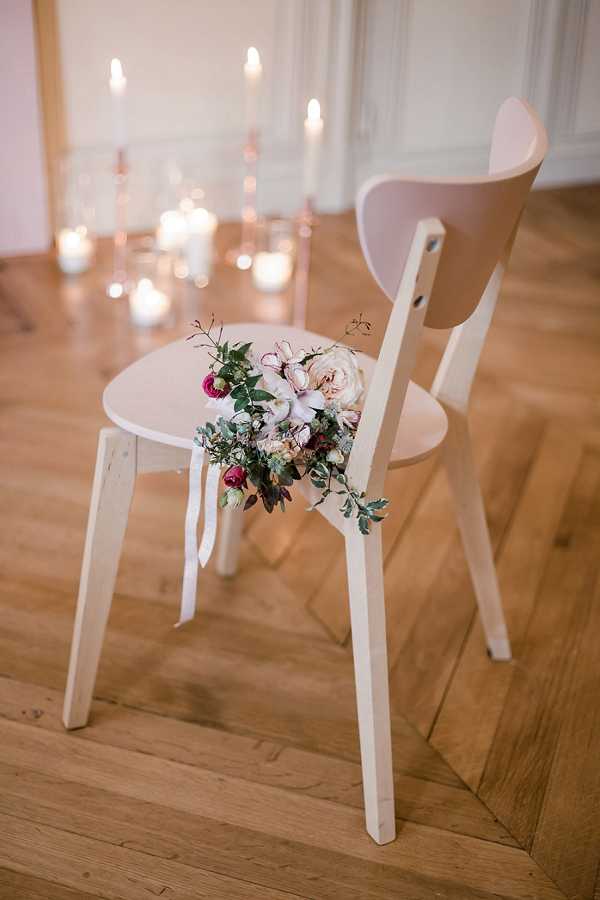 "The project was ready and we were lucky to be helped by talented vendors, who emphasised our values. We made this shoot in April, with the beautiful spring light."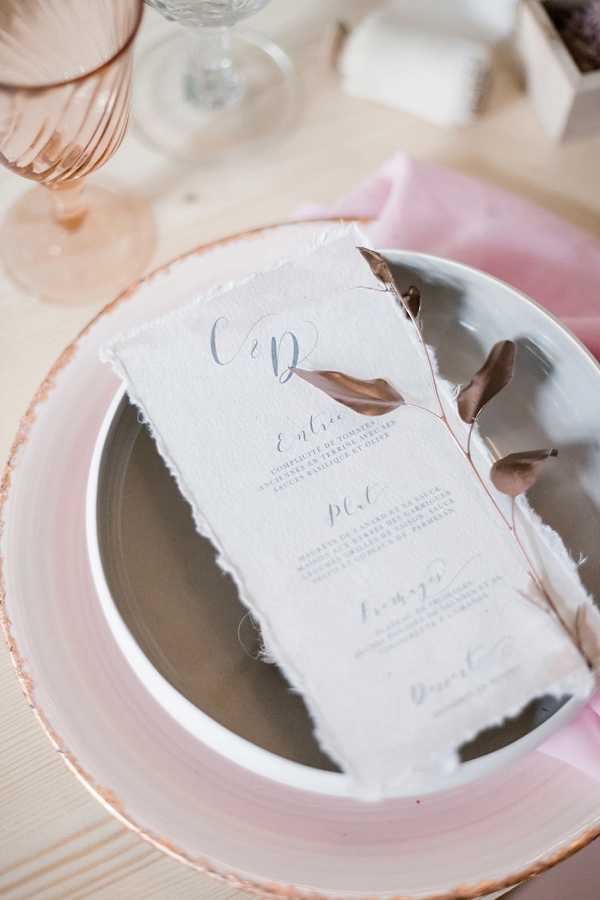 "Christelle from Elle Imagine, gave a lot of herself to create a sophisticated and romantic scenography. The flowers of Avril Mai also had a very important place in this shoot; they have added to the entire scenography. Tatiana from Silk and Paper, meanwhile, has concocted us a delicate stationery, and Alix H. had reserved us a magnificent graphic cake."
"Clara & Denis, our lovers, remained themselves, and gave a soul to this shoot. Pauline B our hair and make up artist has added to the beauty of our bride. Marjorie of Confidentiel Création made her a delicate top/skirt set, with a blush skirt as we dreamed and a totally romantic lace top. A casual and elegant suit from Blandin et Delloye was perfect for our groom."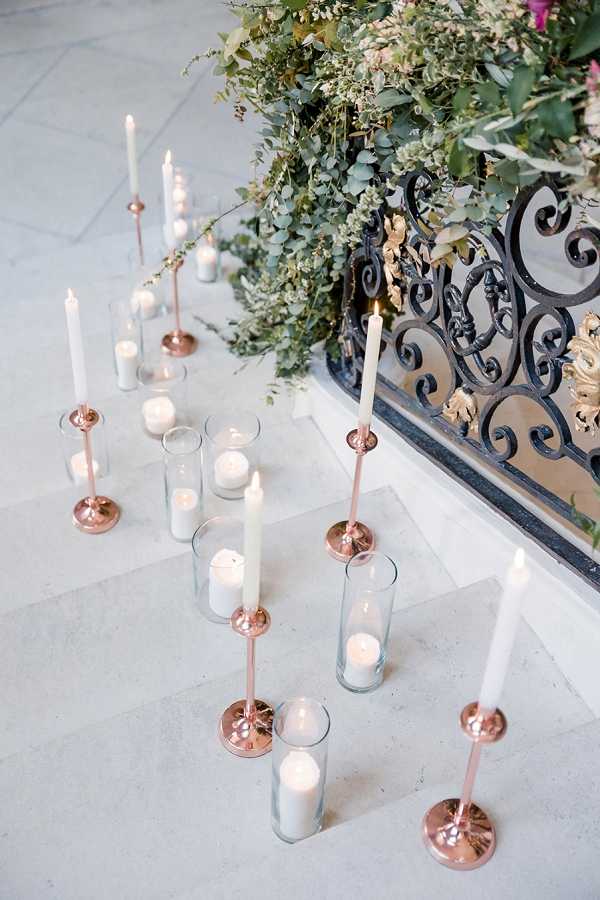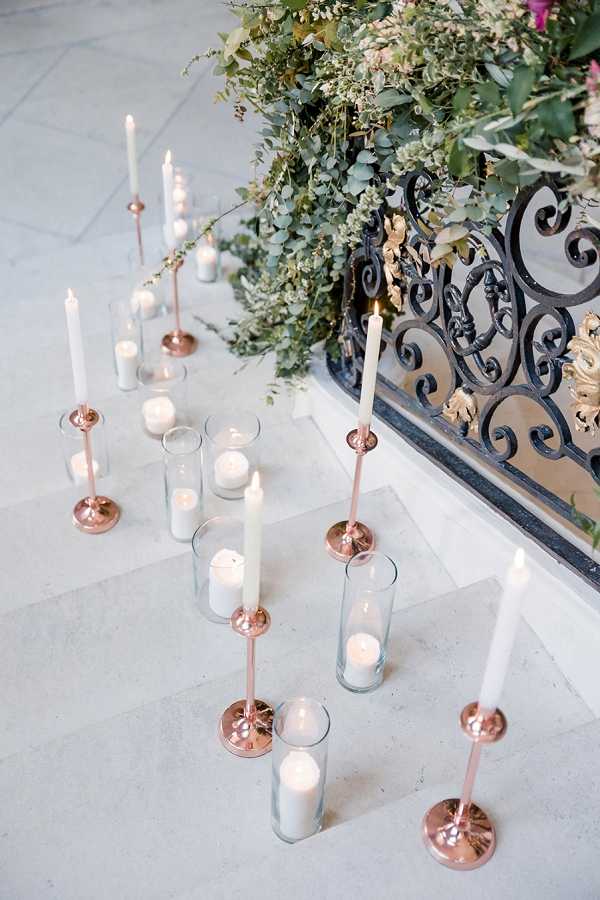 "Finally, Sarah Miramon really captured the atmosphere of this day to reveal her sweet and delicate pictures. It was a perfect team to create and write an intimate and romantic moment."
We love the city of Bordeaux with its stunning architecture making it feel like a mini Paris, so much so that we created our guide to your destination wedding in Bordeaux, check it out here.
Hôtel de la Tresne, Bordeaux Blush Wedding Snapshot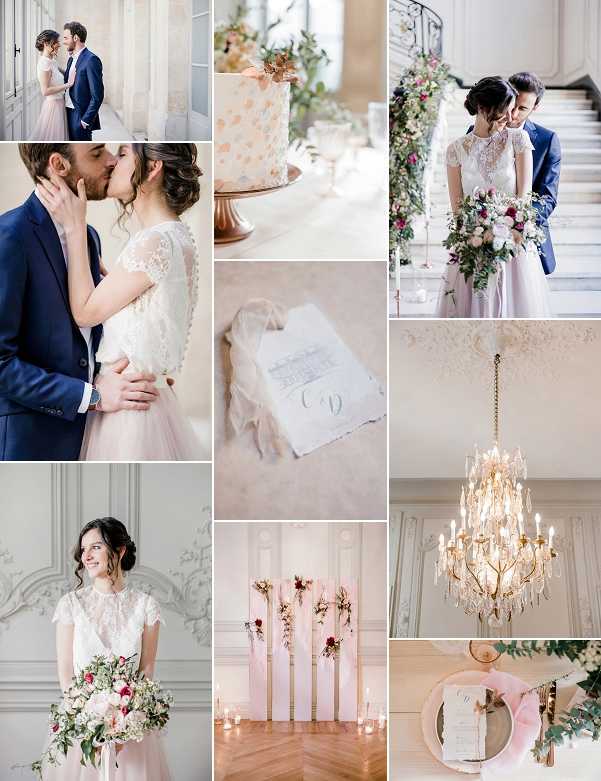 Wedding Vendors
Reception Venue: Hôtel de la Tresne | Photographer: Sarah Miramon | Planner: Elle Imagine | Brides Dress: Confidentiel Création | Hair and Make Up: Pauline B | Accessories: The Wild Rose Accessories | Florist: Avril Mai | Grooms Outfit: Blandin et Delloye | Stationery: Silk and Paper | Cakes: Alix H.