Happy Friday lovelies! and to kick off your weekend, we've got a beautiful destination wedding for you. This magical wedding held at Chateau Les Carrasses is full of classic French wedding details for our beautiful bride and groom. And what a day it was!!
Here's Nellie Russell-Hughes to give you an insight into their life, the planning and the magical day itself.
Sit back and be inspired.
Tom and I both live together in South East London with our little pugs Olivia and Otis. I'm Australian, I moved to London just over ten years ago. Tom is from Suffolk and moved to London around the same time as me.
Tom and I met through Tinder in early 2016, I swiped right because he had just got Otis and was using cute puppy pics on his profile to bait crazy dog ladies like me! – it worked.
We got engaged in August 2019. My parents were visiting from Australia, and we went out for dinner with his family and mine. So he proposed with us all there (plus a whole restaurant and open kitchen! He mistakenly thought he booked a private room, which he didn't, so it was a bit of a scene).
What influenced the style of your wedding dress?
I had no idea where to start! I had been desperate to get engaged and had been very vocal about that (ha!) but hadn't thought much about the Wedding…or the marriage for that matter.
Thankfully Tom had really thought about it and wanted a destination Wedding. So when we did pick our venue it helped me to put a theme together and narrow down a particular style of gown that I wanted to fit in with that. I wanted something that was Ivory (not white!), romantic but a little sexy, fitted to my body (that was for him!). I wanted detail, but without the use of lace or anything sparkly or super busy. I am also very partial to a volume sleeve – so I thought it had to have that too!
I did most of my research on Instagram – and through stalking other people I know who just got married. It was difficult to navigate, because I kept finding things I almost liked, or that almost hit the mark – but nothing that I thought was perfect for me.
How did you find the whole process of having a couture wedding dress made for you? 
When I realised the only way to get my dream dress would be to create it. I wanted to really enjoy that experience and work closely with someone to achieve it.
I think through my research (which was in the depths of lockdown, so it was extensive as I had very little else to do!) I found that Cynthia Grafton-Holt's name (https://www.cynthiagraftonholt.com/) had popped up frequently. Having looked at her own designs and read about her extensive design experience, I thought she would be the best person to work with! We met on Zoom and discussed my vision. We had a natural, comfortable rapport and just clicked. She took all the ideas I had and made them a reality – plus elevated them to create something that was so unique, and so 'me' – it couldn't have been more perfect.
Cynthia really knows what she's doing, and when you're a lunatic bride just a few weeks/days out from your Wedding. she is exactly who you want in your corner. She did so much more than a gown for me, she helped keep me sane when I made last minute changes, and decided I hated my shoes the day before… (although I'm sure she would tell you that there were one or two days where I wasn't!) …Tom cried when he saw me walk down the aisle and that's pretty much all the validation I needed.
Was it traditional wedding style?  Did you break any rules and if so, what were they?
We had to get legally married at Islington Town Hall in London – so we did that with just our parents present. That was the BEST day. We are rarely able to all get together because we live so far apart, so of course we were all a bit excited. We had champagne breakfast, and a champagne lunch before our 3pm ceremony. We were so giddy when we got there that we couldn't stop laughing and messing up the vows. It was also surprisingly emotional, and I didn't expect that from the legal ceremony. Stripping back everything and take away the big party, to just be there together, making the commitment was special.
But then we had the big party! We then had a three day wedding; we had our guests arrive on Friday. when we then had a Mediterranean BBQ in a small wooded area on the grounds of the chateau that evening. On Saturday, we had the Wedding, but everyone aside from the bridal party all went to the restaurant and had breakfast together. Our Wedding started from 4pm and finished at 2am, and then we had a big brunch on the terrace overlooking the pool all day on the Sunday.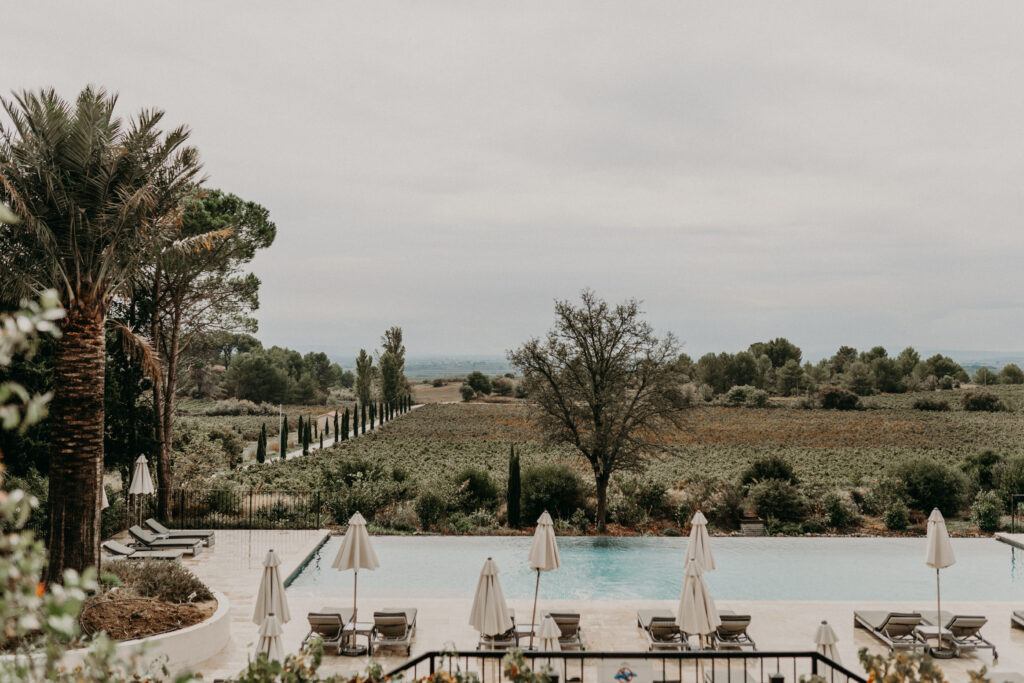 The weather was perfect for a pool party!
The weather was perfect for a pool party! Everyone just got to spend the last day really doing their own thing – some were partying again, some snoozing off their hangovers around the pool etc. We then ordered a bunch of pizzas to eat on the terrace in the evening. We also somehow managed to drink the chateau dry – there was no beer, white or rose wine available on site by the time we left the Chateau (which is also a vineyard btw!). A sign of a good time.
Tom wanted to get some musicians alongside our DJ, rather than a wedding band, and they were incredible. We had only about 80 guests at our wedding, and they made it feel like you were front row at a huge festival. They were such a vibe. Unbelievable performers and our wedding quicky descended into chaos as soon as people got on the dancefloor!
Where did you get married and why did you choose your destination venue? 
Tom actually wanted a destination Wedding, and his vision was to find a place that we could have everyone stay together and make a weekend out of it. We had guests traveling from all over, so it is a great idea because it means you get to spend a lot of time with them all, without the pressure of trying to squeeze it all into one day.
We got married at Chateau Les Carrasses in France.
We only saw one venue. We fell in love with it immediately. It had such a presence when you arrived that felt both relaxed and luxurious – exactly what you want people to feel when they arrive at somewhere they're staying for a whole weekend.
How did the pandemic impact your wedding plans?  Did you have to make changes to the plan?
Hahahaha! We had to reschedule our Wedding four times. Initially we had booked a September 2020 wedding. We literally went to the venue to pick our menu etc. and the day we landed back in London, the city went into lockdown.
With my family all living in Australia, and the borders being closed for as long as they were, it made picking a date difficult. Our venue was so fantastic over that time period. I know there were so many other couples who lost deposits, or their venues went out of business during Covid. We were so lucky that they allowed us to change the date and hosted an amazing weekend when we were finally able to get there!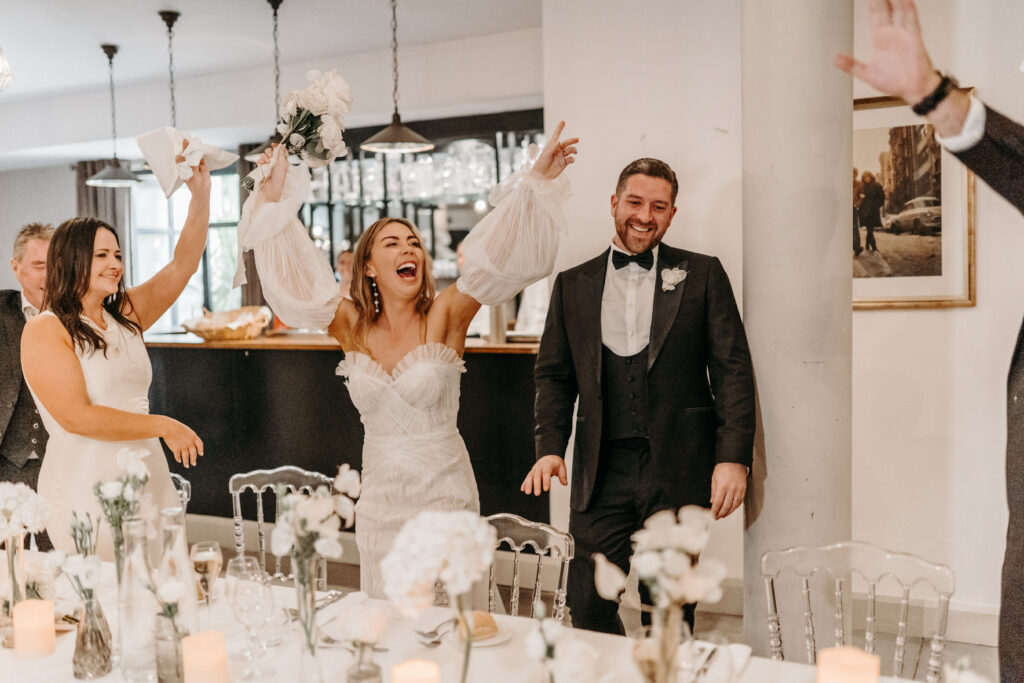 Describe what you wanted from your big day, the things that are important to you both? the details, design aesthetics, the feel etc?
Ha! This was easy – anyone who knows me will tell you that I love Ivory, gold & beige, ambient lighting and candles. So that's basically what we went with.
We also poured a lot of time into our Ceremony – because we had already done the legal bit, we had complete freedom to do what we wanted with it. We wanted something that was a true reflection of us as a couple – nothing stuffy, or long and boring. We had Tom's Dad as our Celebrant, and we wrote our own vows. Neither of us knew what we were going to say but when we read them to each other they were so similar. We were laughing and joking, but also had moments of being deeply heartfelt and emotional. We had a reading by one of our good friends, and she picked 'The Hot Priests Wedding Speech' from Fleabag. Which wasn't something I had seen someone do before, and it fit our vibe completely.
Tom and I are very social, we love eating, drinking and spending time with our friends
We had asked people to spend three days with us abroad. So it was important to us that the whole weekend just felt like a big, group holiday for everyone without too much structure or fuss. Tom and I are very social, we love eating, drinking and spending time with our friends. We really wanted this to be a party where our guests felt relaxed and comfortable, and it was.
Wedding Vendors
Venue: Chateau Les Carrasses | Photographer/ Videographer: Rita & Clem  | Brides Dress: Cynthia Grafton-Holt | Hair and Make Up: Peach Blush | Florist: L'atelier fleur d'o | Grooms Outfit: Suit Supply