Laura & James, an Irish couple based in Melbourne, chose to get married in South West of France, in a small village south of Toulouse called Cintegabelle. They both love France and Laura spent many holidays in the region. Beautiful photographs from Mark Ward, Awardweddings will give us an insight in the couple's wedding, who tied the knot on a beautiful summer day last July.
After looking at several venues in the area, their hearts were set on Domaine du Beyssac, an old abbey in the grounds of a gorgeous and rustic French Chateau. Hidden at the end of a little lane boarded with trees, the property is in heavenly settings, surrounded by fields with views of the Pyrenees. Serenity and beauty best describe this place.
Living on the other side of the world and not really speaking the language, the couple contacted Clementine Ward from Awardweddings to organise their wedding. Together they chose a team of local suppliers to benefit from the best prices and give an authentic experience to their guests coming from all over the world.
They rented the 12 bedrooms at the venue as well as gites in the area and spent several days around the wedding to finalise the last details and enjoy the area.
Following the beauty preparations at the local hairdresser, the ceremony started at 3pm in the magnificent village Church. This Church is well known for having one of the most beautiful organs in Europe. The local organist accompanied their ceremony with magical music. Two English and French priests directed the service.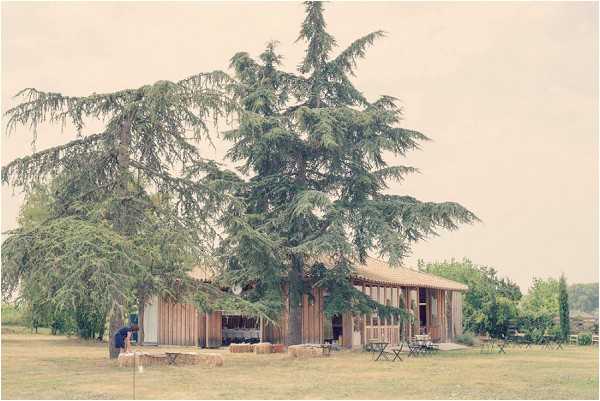 The group climbed up a little hill behind the Church to get their group photos taken in front of the Church, Windmill and views of rolling hills and the Pyrenees mountains in the background. They then all went to the venue for a cocktail reception, dinner and dancing. On the way there, the bridal party sneaked away for some photos in the local fields.
The cocktail reception was served in the old abbey around the pool, with jazz background music.
Catherine, Awardweddings' resident 'decoration fairy', helped the couple to highlight the beauty of the venue with a rustic theme. In the garden, they had a photo-booth made of a frame hung in a beautiful tree and a wine barrel for guests to fill in the guest book. Paper decorations, candles and fairy lights enchanted the garden. A seated area was created with straw bells.
In the dining room, the vaulted ceiling with exposed beams was lit with fairy lights and cream veiling. The long rectangular tables had burlap runners with log centerpieces displaying purple and pink flowers in Le Parfait jars and candles. The napkins were decorated with lavender and foliage.
The party enjoyed a typical French meal and ended with an exquisite traditional French wedding cake. They partied until the early morning on the sound a fantastic rock band.
Snapshot of Laura & James getting Married in South West of France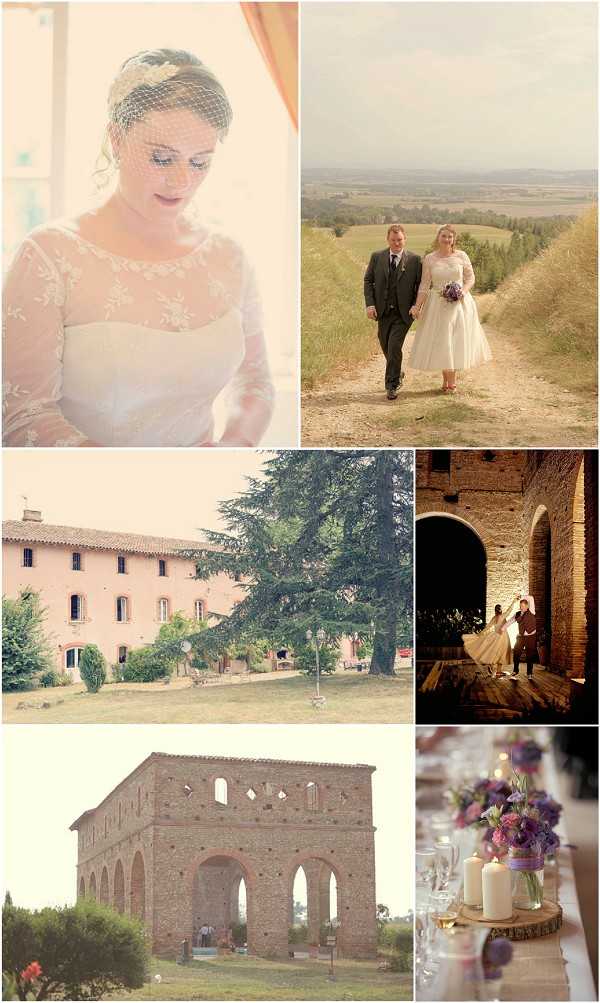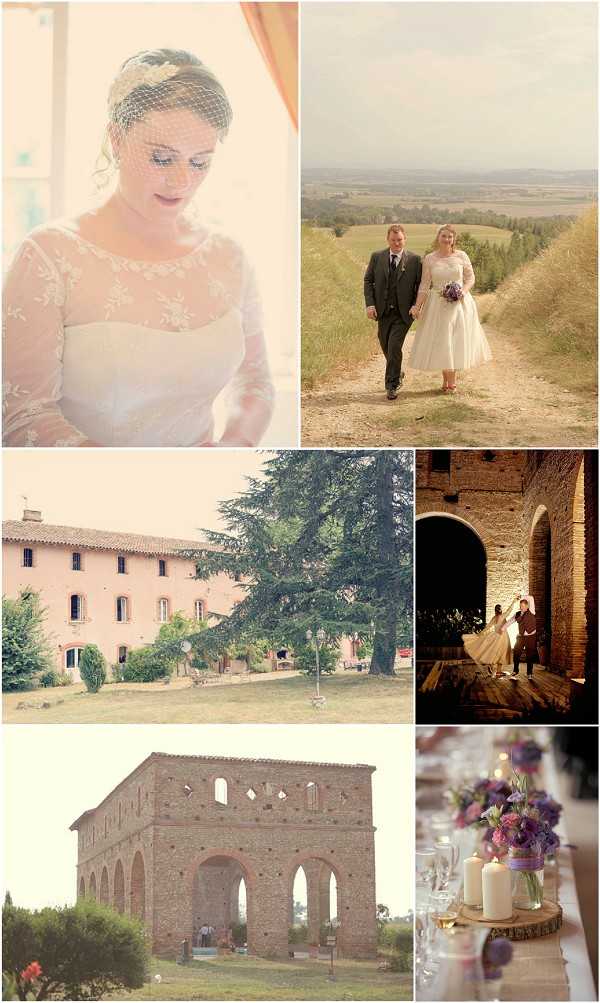 Wedding Vendors
Photography: Mark Ward, Awardweddings | Organiser: Clementine Ward, Awardweddings | Venue: Domaine du Beyssac | Decorations: Catherine Woodcock, Awardweddings | Flowers: Camomille Flowers |  Hair: Severine Coiffure, Cintegabelle – Make-up: Audrey, Yves Rocher, Auterive  | Caterer: Saveurs Dubois | Music: Fuzz group