We're off to the Haute-Savoie region for a intimate chic Chateau de Moulinsard wedding in Annecy France.
We love the autumnal shades adding beautifully to this majestic chateau. This inspiration shoot was planned by HedHera and featured stunning florals by Laure Lalliard with the whole day captured by photographer Julien Bonjour and videographer White production.
We'll now pass you over to Anne-Clothilde of HedHera who will be walking us through this wedding in Annecy…
It was one beautiful September morning that the idea was born. Let's go back a few months before to contextualize the scene. I have just opened my agency: I have just been trained and I now know where I am going and how I will communicate. My first desire was to assert my particular taste for French know-how, well-made choices and my love for the sense of detail. Incurable romantic, it was essential for me to take a real couple, but not just any couple! A couple in love for 12 years, with looks that do not deceive, with naturalness, spontaneity and freshness. Through this shoot, I also wanted all women to identify themselves. A woman neither too skinny nor too curvy, simply "normal". Sensitive to the beautiful choices, I like to highlight the craftsmanship, the taste of the job well done and the French values of yesteryear.
My project was to mix the genres and recall the trends of the 2019 season: Elegant and refined wedding with a touch of modernism, hair accessories, ultra-naked make-up, "undulating" hair, craft stationery (ecological) and autumn colors.
I opted for a decoration similar to the one I want to bring to my agency, namely chic, elegant and refined.
The place is a strategic choice on my part as it is majestic and has history. It inspires French weddings and is the image of what I expected from this shoot.
A love at first sight 12 years ago, two soul sisters, a sweet and romantic story, travels, projects, a marriage proposal and then an intimate marriage in the heart of the Haute-Savoie. Simple but majestic, loving and wild, sweetness and complicity. Their story may seem mundane, but it is not, about a marriage almost to a real marriage but it is not. A couple welded and united by a deep and sincere love, tender glances and sweet words. The key to their happiness? Humor and tenderness.
For even more from this wedding in Annecy check out this gorgeous wedding film created by White production:
Intimate Chic wedding in Annecy France Snapshot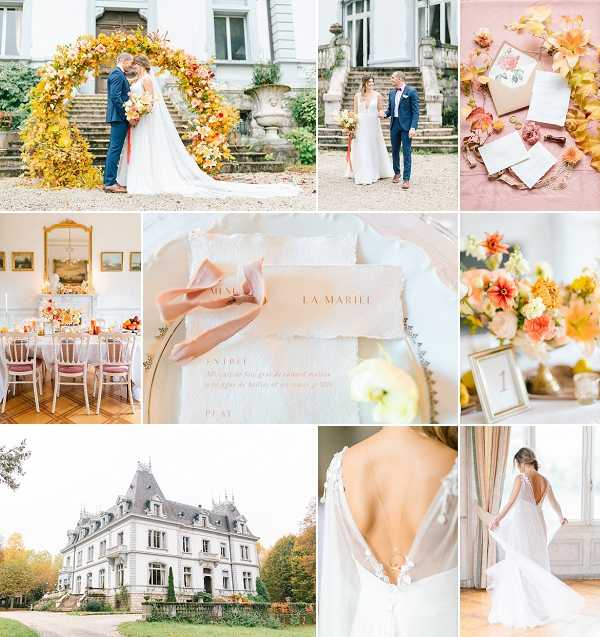 Wedding Vendors
Reception Venue Chateau de Moulinsard | Planner HedHera | Photographer Julien Bonjour | Videographer White production | Hair and Make Up Marine Beauty Artist | Florist Laure Lalliard | Dress Mademoiselle Rêve | Accessories Mélaine Mon truc en bulle | Accessories La maison Potamine | Stationery Promesse graphique | Celebrant HEDHERA | Hire Loc' à souhait by mariage à soie | Decoration HEDHERA