We start the week with a summer wedding at Chateau de Lacoste Dordogne a beautiful backdrop for a wedding set in the french countryside.
Newlywed Laura takes us through the decision to get married in France and the details of her big day: "We chose to get married abroad because I am British and Brian is Irish – wherever we decided to marry, half the wedding party would have had to fly somewhere anyway! Having attended Brian's brother's wedding in Italy some 6 years ago we were pretty set on a foreign wedding from the outset – it was so much fun, cheaper, and allowed them to select a more intimate range of guests 😉
We chose France as the weather was almost guaranteed to be better than either England or Ireland, and we quite fancied the idea of a weeks holiday in which we could just have a really good time with our closest friends.
In choosing our venue, we wanted somewhere where people could also 'do their own thing' during the week and it just had to be near Sarlat in the Dordogne – a town we have both visited a few times and absolutely adore for it's old french charm and honey-coloured stone.
After much trawling of the internet, we discovered Chateau de Lacoste – it fitted all of our criteria – it could sleep the right amount of people, it was in the right location just 15 minutes' drive from Sarlat, and most importantly it was within reach of several different airports which was a must since our guests were coming from all over Europe. It also has a stunning chapel on site which saved us a huge amount of additional trawling! We went to visit the venue 9 months (which was also 9 months before the wedding!) after booking it; it is one hell of a stunning place, set high up on a hill both the approach to Lacoste and the views from the Chateau garden and grounds were just breathtaking.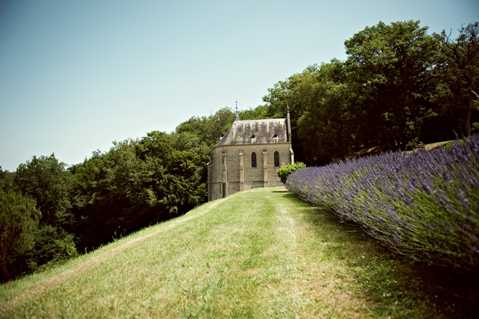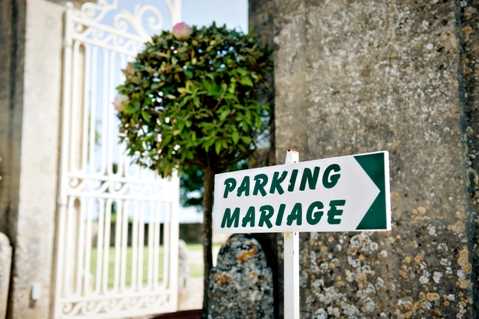 Arriving in June we were happy to see that everything was just as it had been during the recce and better even! The roses were in bloom and the sun was out – a lovely 28 degrees was just what we were after! By the time the 28th came round we were all a little apprehensive about the weather as it was getting a little too good (the previous day had been 37 degrees). Thankfully we had pure blue skies and a little breeze to take the edge off a very warm 34 degrees..!
 I had envisaged a slightly rustic but soft and summery 'theme' for our wedding and made so much myself! From the invitations and ceremony booklets to the place and table names, menu cards and doillie confetti cones – as much stuff was 'made' as possible. (The day before I did have a little production line of volunteers though, helping tie raffia around the booklets and sliding place names into corks!! – see pic attached).
I took little ideas from here and there that I though went well together – wooden easels, wine corks as place names, raffia to tie booklets with, beautiful wood paper (for nearly everything). Even the signs for the bar and Cheeseboard were displayed in lovely wine bottles using the corks – these matched our blackboard seating plan with table lists 'framed' with wood paper!
My wedding dress was handmade by the team at Chanticleer in the UK, bought through Loves Legacy in Co. Leitrim. Chanticleer offer a custom service so in fact with the amount of changes I asked for from one of their stock designs, I ended up with a completely bespoke dress unlike no other! It's light, 100% silk material and nets made it really perfect for destination wedding. I had my nails done by local beautician Jane Emerson a couple of days beforehand, with a hair and makeup trial and lash extensions as well. For a wedding abroad I would definitely recommend heading over a few days beforehand and having a trial done, especially if you have not met your stylist beforehand. Jane did a wonderful job on my hair on the day and put the girls' hair up into a beautiful classy up-do to suit both their faces and their dresses.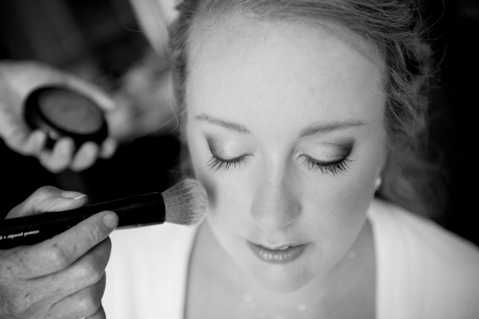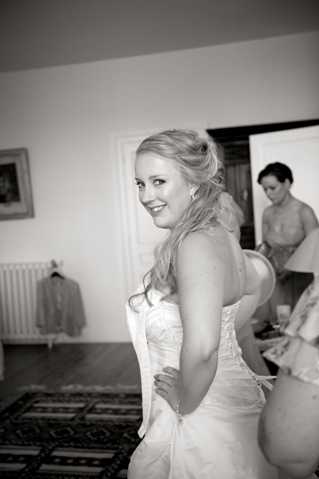 For the bridesmaids' dresses we went for gorgeous dusky pink coloured, just-below-the-knee dresses from Debenhams – beautiful dresses and the perfect length for a hot summer's day! There were on sale so a bargain! Brian thought it would be a great idea to buy a size 22 dress as well for extra matching fabric – a fab idea since we had 2 ties and hankies made from this for the best man and groomsman! As the dresses were bought quite early on in the wedding-planning these dictated the colour theme for invites / stationary / flowers etc.
In terms of jewellery, our earrings and necklaces and my bracelet were hand made by friends of mine at Trinket Box  in Dublin. I asked for simple jewellery as I had trawled the shops and found nothing I liked that suited my budget. This way I could pick the chain and length for the necklaces and I chose freshwater pearls and swarovski crystals.
 We had a gentleman from Celebrants in France do our humanist wedding ceremony for us (as you have to be resident in France to register your marriage there we had a secret register-signing in Ireland before we left.) and Armelle and Ariane from Musique-Mariage-Réceptions played beautiful music before, during and after our ceremony at the reception. Our flowers were chosen around the 'vieux rose' or 'old rose' buttonhole flower chosen for the groom so a delightful selection of pink and purple flowers decorated the alter and were used as centre pieces for our tables. These were supplied by the talented florists at Art-et-Fleurs in Sarlat.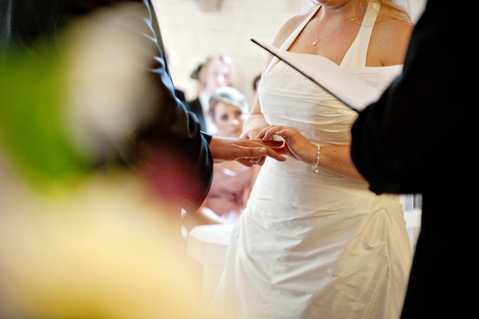 To help with proceedings on the day we hired Beth Stretton from Marry Me In France. We couldn't have done it without her; she completely took the stress out of the day, moving chairs back and forth, lighting and extinguishing candles, setting up our bar, cheeseboard and cakes and ensuring all our payments were distributed to the musicians / caterers and so on. She thought of things we had never even thought of, such as putting a mic in the dining room for speeches, and finding tablecloths for bar tables from nowhere! If your ever planning on a DIY wedding I definitely recommend having a wedding planner there for the day!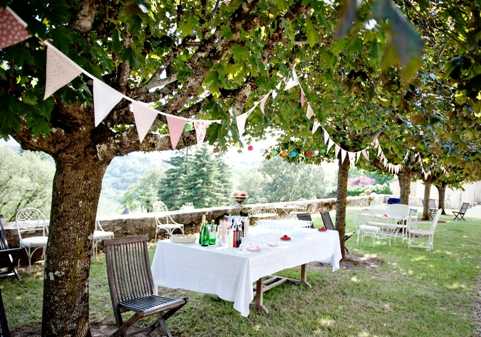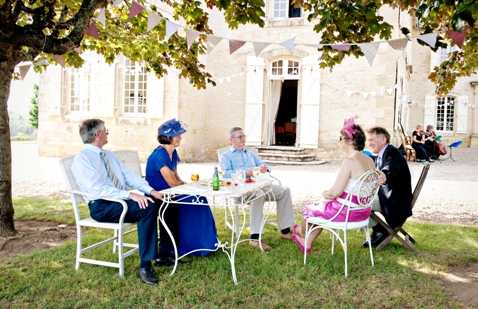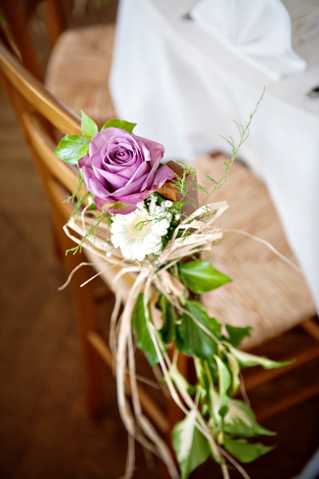 Beth's sister, Amy, runs catering company Chez Amis, who caterered at our wedding. Beautiful slates of canapés were produced and our 3 course meal was made with nothing but the freshest local ingredients. Even now our guests still talk about the food, it was just stunning. Amy's team were extremely efficient and professional, replacing wine on the table, serving people and keeping everything topped up without anyone even noticing!.
After the dinner and speeches we had a surprise from our band Hicksville, led by George Smith the musicians strolled around our dining room singing 'love and marriage' – it was fantastic!! Our first dance was to 'Dream a Little Dream', played and sung by our band. We love this song as it is so us and not too slow. It fitted with our French wedding perfectly!
The band had everyone up and dancing throughout their set, with a mixture of 80s songs and up to date more rocky songs. They even through some ceilidh music in there and had everyone dancing to 'Galway Girl'! The band left us their lights and speakers after their set so we turned the dance floor into a bit of a nightclub and danced til the early hours. This was followed by a rather impromptu 'trash the bridesmaid dress' session up at the pool!! Fabulous memories!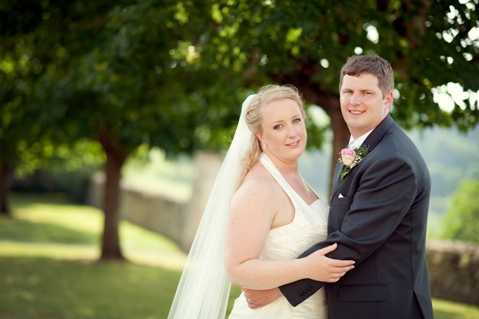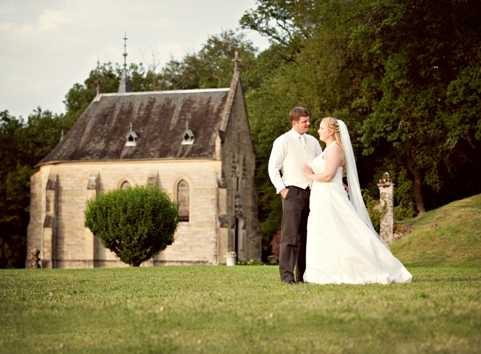 Last but not least I must mention Karen McGowran and her husband Neil for their amazing job on our photographs. We couldn't find any photographers in the region whose style suited our tastes and Karen, who was recommended to me by a friend from Newcastle, has a non-intrusive, natural style of shooting. She captures the little details that often photographers miss,which is fabulous considering the effort that goes into selecting and making those little details! With Karen's fabulous value for money and the option to have all of our images on CD to do what we want with, we were happy to have found a supplier from the city that we first met and fell in love. As we had no opportunity to fit in our pre-wedding shoot, Karen kindly suggested a post-wedding shoot which we did two days afterwards in the gorgeous rustic village of Daglan.
All in all, a great time was had by ourselves and our guests and none of it would have been possible without the fantastic team of people there to help and support us in the year leading up to our wedding, as well as on the day.
If you are thinking getting married in France, do get in touch with Beth Stretton at Marry Me in France. She can arrange as much or as little as you would like and will be sure to think of things you yourself would never have dreamed of. She has a fantastic team around her and can recommend the best of what the Dordogne has to offer, making your wedding day absolutely unique and flawless."
Oh to be walking of into the french sunset….
Congratulations to Laura and Brian.

Credits:
Wedding Venue: Chateau de Lacoste
Wedding Dress: Chanticleer
Wedding Photographer: Karen McGowran Photography
Bridesmaid dresses: Debenhams
Jewellery: Trinket Box
Wedding Hair and Beauty: Jane Emerson
Celebrant: Celebrants in France
Wedding Music: Musique-Mariage-Réceptions
Flowers: Art-et-Fleurs
One the day co-ordination: Marry Me in France
Caterer: Chez Amis