Today's spotlight is on a long-dreamed-of château wedding, at Chateau de Chantilly no less, where every element was custom-designed and produced by renowned luxury wedding planners  Scarlet  and their 100-strong global team. We'll let them take you through every dazzling detail. 
Chateau de Chantilly, with its 115 picture-perfect hectares, exquisite art collection and film-set good looks, draws millions of visitors every year – yet only holds a select number of events. In 2019, this princely palace became the stunning setting for the marriage of Karen and Sam from Hong Kong – and 100 guests who jetted into Paris from across the world.
They were greeted in the French Garden of the Maison de Sylvie with crisp Champagne and music courtesy of The Traveling Hands. Michelin-starred Julien Lucas and his La Capitainerie chefs then presented a five-course French feast – a delicious precursor to the following day's celebrations. Scarlet event did a wonderful job organizing it and they will tell you all about this amazing wedding.
A sense of ceremony
L'Ile d'Amour (or the Island of Love), watched over by a statue of Eros, set a truly romantic scene for the big day. In the balmy Parisian air, Karen stepped down from her fairy-tale horse-drawn carriage and walked the 100m aisle towards her groom. Sam waited beneath an intricately adorned gazebo, woven with an enchanting archway of flowers in blush tones.
Looking every inch the Princess, Karen wore couture Ellie Saab with a flowing veil featuring flower motifs that mirrored her bouquet – itself tied with a pastel pink ribbon matching the shades of the floral designs. But, as we'll reveal, this was just the first of Karen's beautiful gowns.
A toast to romance
Following photography in the English Garden, the wedding party made their way into Château de Chantilly itself – or so they thought. This was a couple with a truly bespoke sense of style, and so the reception was held in a custom-crafted pavilion that Scarlet had built especially for their day. Made almost entirely from glass, it framed magnificent views of grounds and blue skies above.
"Ever since I was young, I have dreamt of having a chateau wedding. When I was 22, my Mother gifted me an antique tiara from Cartier. From that moment on, I knew I would only wear it to my own wedding and that would be in a grand chateau. "
Karen – the bride.
Gold and blush dominated the palette inside the reception. Romantic roses, peonies and peach petals tumbled from shimmering urns and around gold candlesticks, while menus featured gold leaf detailing. Beautifully in-keeping with the grand setting, it was here that Karen and Sam sat down to banquet tables and a dinner dedicated to the finer things in life: truffle, lobster and filet of beef, hand-carved at the tables by the chefs.
The cutting of the cake heralded Karen's first 'costume change'. Again created by designer Ellie Saab, she switched her outfit in time to take the first slice of their five-tiered wedding cake, created in Paris by master Pâtissier Bastien Blanc-Tailleur.
Gold embellishments reflected the setting and table designs, while intricate feather-like sugar work paid homage to the lace on Karen's wedding dress.
A stylish soundtrack
At Scarlet, our focus is on bringing the newlyweds and their guests together to celebrate in sensational style – on an epic scale. So Karen and Sam's wedding party danced to the tune of a six-piece soul band before all eyes turned to the sky, as a spectacular firework display crowned the evening reception.
To be sure everyone had the best possible vantage point, we created another bespoke feature: a custom-built terrace beside the conservatory. Standing with their guests, Karen and Sam pressed the button to begin their personalized Disney-themed fireworks, designed for this  Paris wedding  by the pyrotechnical wizards behind the Olympics and World Cup events.
In harmony with the glittering display. Karen changed into a statement Vivian Luk dress – its rainbow shades of layered tulle a nod to the vivid fireworks above.
The bride's final gown was a vintage look. Karen wore a 1920s Marchesa design in gold and took to the dancefloor with her father before her new husband stepped in. Their first dance set the tone for the night ahead, as 100 guests waltzed, shimmied, and rocked out to a live band in the picture-perfect Parisian moonlight.
Dreamy Chateau de Chantilly Wedding Snapshot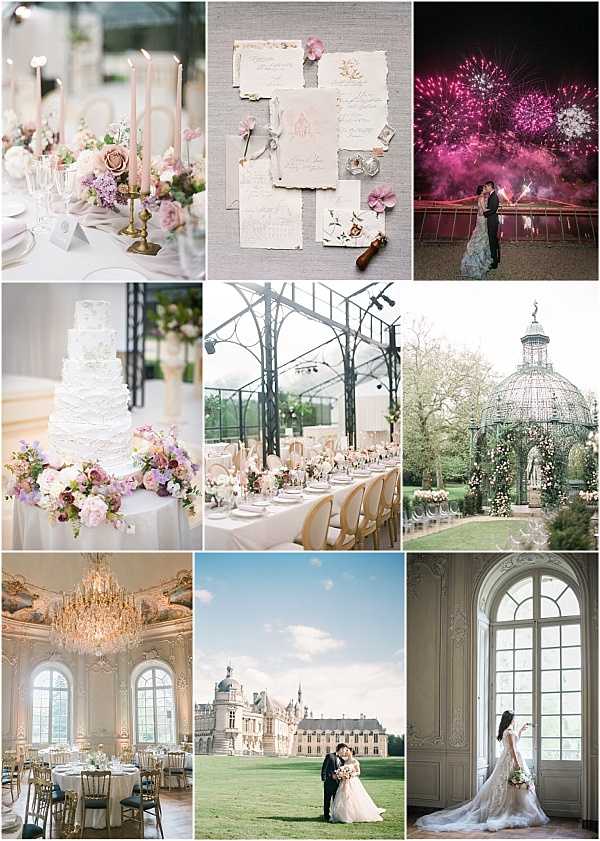 Dreamy Chateau de Chantilly Wedding Vendors
Planner:  Scarlet  | Photographer:  Jada Poon  | Bride's Dress:  Elie Saab, Vivian Luk, & Marchesa | Hair & Makeup:  Cherry Wong  | Venue:  Chateau de Chantilly  | Florist:  Floraison Paris