Where Elegance and Timeless Charm Embrace the Beauty of Chateau Gassies.
Ceremony at a French Chateau
We chose the idyllic Chateau Gassies setting for our wedding ceremony. With its grand architecture, sprawling grounds, and enchanting manicured gardens, the venue near Bordeaux exuded a sense of tranquillity and sophistication, setting the stage for a magical celebration. The timeless beauty and touch of elegance effortlessly complemented our ceremony design and elevated the unforgettable experience.
Ceremony Design & Inspiration
We drew inspiration from vineyards on a dreamy summer day; the natural beauty of blooming grapes, wildflowers, and rich greens. A harmonious color palette ranging from delicate lavender accents to deep plum tones, along with lush garlands adorning the ceremony space, evoked a sense of intimacy, vibrancy, and abundance.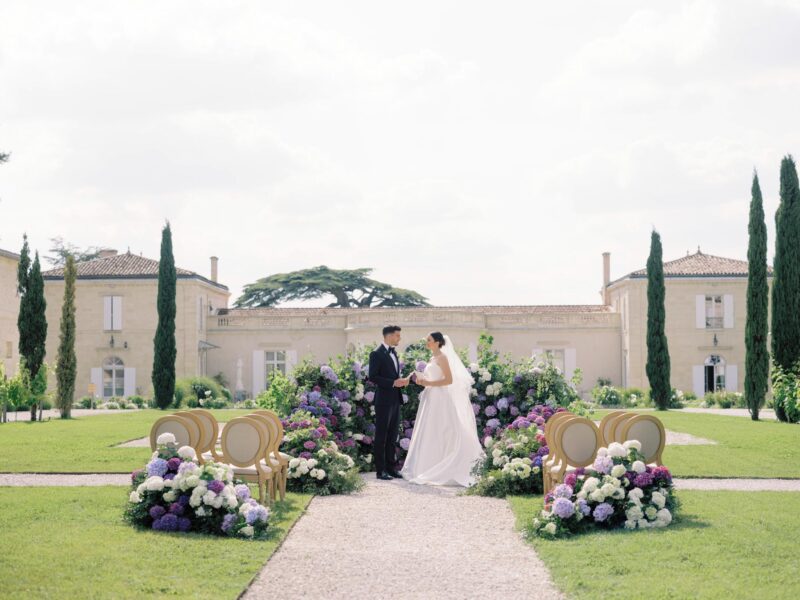 Dinner Venue & Design
The dinner took place on the wedding chateau's terrace, offering a panoramic view that showcased the breathtaking beauty of Bordeaux city. As the sun began to set, casting a warm, golden glow over the cityscape, the twinkling lights came to life, creating an enchanting and romantic ambience.
The tables were adorned with delicate floral arrangements in a palette of purple and a hint of vibrant pink, gracefully intertwined with green foliage, creating an organic and lively tablescape.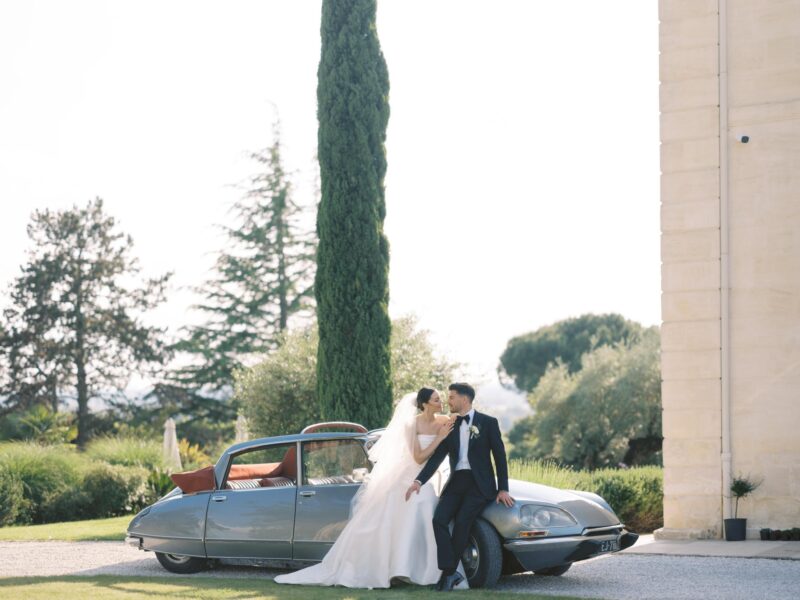 Fashion
Bridal gown:
The ceremony dress by Alberto Palatchi showcased a timeless Princess cut design. The strapless neckline added a touch of elegance, while precious stone embellishments at the neckline and back bow added a captivating sparkle. 
The bride wore a stunning creation from Atelier Pronovias for the reception. The dress featured a trendy halter neckline that added a contemporary flair to her look. The detachable floor-length collar accents effortlessly enhanced the bride's elegance and created a captivating entrance as she transitioned from the ceremony to the celebratory atmosphere of the reception.
Groom attire:
The groom exuded timeless elegance in a classic black tuxedo for the ceremony. As the celebration continued into the reception, he embraced a more contemporary look, donning a stylish dark blue double-breasted suit, both impeccably tailored by Blandin Delloye.
Highlight
Grooming:
A fresh haircut from local barber for the groom just before the wedding ceremony gives a refined look that perfectly complements the elegance of his special day.
Riding Away:
An unforgettable ceremony exit with a beautiful ride with French classic car, Citroën DS limousine. As newlyweds take this first-ever ride together, winding through the picturesque vineyard during the beautiful sunset. 
Suppliers Team
Wedding Venue: Chateau Gassies
Planning & Design: Dentelle Events
Photography: Still Miracle
Videography: Live production Official
Floristry: Benjamin Jouet
Rentals: Options Bordeaux
Makeup: Marie Guerlain mua
Bridal Hair: Jennifer Artisan Coiffeur
Bride Dress: Mary Mariees
Groom Suit: Team Blandin Delloye Bordeaux
Groom Shoes: Pierre Monserant
Groom's Hairstyling: Les Bucherons
Car: Bordeaux Classic Cars
Wedding Bands: Pauline Debaje
Accessory: Parenthese Bordeaux
Stationery: Dentelle Events