Photographer Elizaveta shares some colourful inspiration with us today with this fabulous collaboration between a French florist and a chef….
"It's not often that we talk about food in wedding editorials, and yet it's one of the most important aspects of any wedding day!
French chef Émilien Le Normand, owner of the Michelin-rated restaurant Les Coqs, which is nestled between Paris and the grandiose Château de Fontainebleau, wanted to show how couples can combine colourful, flavourful dishes to match their wedding décor. French florist Hélène, owner of Atelier Mimoza, created several stunning centrepieces and an arch with seasonal blooms that were captured by Elizaveta Photography.
The Florals
Hélène chose a cheerful colour palette of white, pink, periwinkle and hints of red to mirror the dishes. This year brides are not afraid to use colour in their décor and flowers are one of the best ways to do so. Talk to your florist ahead of time to find out what options you have depending on the season and choose a set of colours that work harmoniously together (don't worry, your florist or wedding planner can give you a helping hand with that).
Hélène also recommends keeping the centrepieces wide but short, so as not to block the guest's view across the table. These kinds of florals are very versatile and work at larger weddings with many tables as well as at micro weddings taking place in your favourite restaurant.
The Dishes
Émilien believes in the saying that "we first eat with our eyes", which is why his plating is simple, elegant and mouthwatering. He recommends choosing a wedding menu that includes seasonal fruits and vegetables and even adding edible flowers to give guests a rainbow of colour on their plates.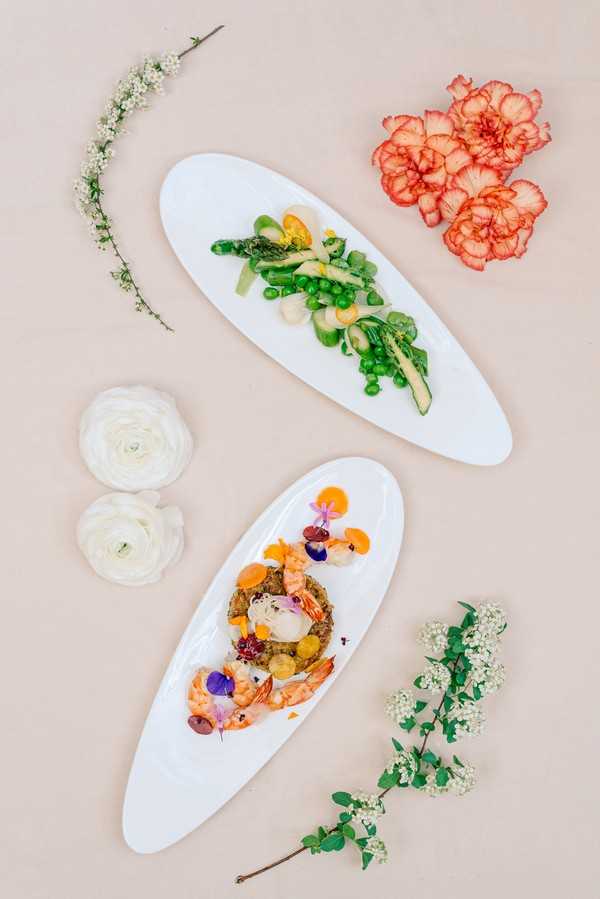 To make sure that the food takes center stage, the chef prefers to use neutral tableware and linens. By coordinating with your caterer and florist ahead of time, you can create a visual feast for your guests that will add a memorable touch to your big day."
The Florist And The Chef – Pairing Colourful Florals And Flavours, The French Way Snapshot
The Florist And The Chef – Pairing Colourful Florals And Flavours, The French Way Vendors
Photographer Elizaveta Photography | Florist Atelier Mimoza | Catering Emilien Le Normand, Chef & Owner of Les Coqs | Stationery Dilani Schipper Calligraphy