Planner My Riviera Weddings, photographer Cécile Potier and amazing team present to us today a light, airy, breezy midsummer's dream wedding in La Vendée. Prepare to be whisked away…
"Once they were particles of light, now they are the radiant sun"

~ Rumi
Two young hearts collided as one
"In a magical setting lost in time, hidden in a nook between rock and ocean. Undisturbed but by the elements themselves where the sole witnesses of the sacred blessing between two young lovers was nature itself. This exchange of vows was not just a marriage between man and woman. But was the marriage between nature and sustainable, locally hand-crafted and sourced items.
Stunning unspoilt region of La Vendée in France.
Two young hearts collided as one, that fine June Summer's day on the beach of "La Mine" in Jard-sur-Mer in the stunning unspoilt region of La Vendée in France.
Candice and Lori – two falling stars in the approaching twilight dusk. Read out their promises to one another as the breeze made the background dance. With the uttered words read out from the hand written calligraphy cards in natural paper, crafted by Marion Papier Machine:
Our Runaway Love
My whole heart will be yours forever. This is a beautiful start to a lifelong love letter. I will become yours and you will become mine. I choose you.
Citation Alfred de Musset
I am lost, you see, I am drowned, flooded with love; I no longer know if I live, if I eat, if I breathe, if I speak; I know I love you"
From the boho chic hand-crafted macramé wedding arch by Olivia Maria Creations adorned by dainty dried flowers from Pétales & Brindilles. Carefully hand-dyed petals that made up a flower garland by Un Papillon S'Envole, each made for a beautiful eco-conscious setting.
Delicate florals were hand-dyed with avocado, tea, spices and clay. Inspired by garden and wild flowers found in the flora of the beautiful surroundings.
The wedding bands were set on an elegant, embroidered, dried flower hoop by Olivia Maria Creations. Hers a delicate diamond encrusted asymmetrical linear design by Misaki Monaco. Featuring two small pearls at the crossing, a nod to the ocean and Candice's and Lori's souls symbol to their paths crossing.
The bride's blushing look was achieved with a natural wave hairdo and illuminating makeup by Aya Les Ateliers d'Audrey. Candice's golden locks shimmered in the evening sunset, adorned with a dried flower head piece by Pétales & Brindilles. The only jewellery were delicate long wool macramé hoop embroidered earrings by Made With Love by Natalia.
Dressed in a minimalist two piece bespoke wedding gown by Paris custom-made dress-maker Geraldine Daulon. The "SAYURI" wedding dress from the "Mother Nature" collection. Oozed a modern femininity perfecting the beach wedding mood with a relaxed and practical brassiere top and a flowing slit at the thigh skirt.
Minimalist evening picnic by the ocean for the bridal couple
The groom favoured chino trousers in sand tones and a light-weight breathable linen shirt rolled at the sleeves, matched with IKKS leather suspenders and a delicate groom button hole dried flower arrangement by Pétales & Brindilles.
Sustainable, recycled elements adorned the natural rock formed plateau table that nested a minimalist evening picnic by the ocean for the bridal couple. Accompanied by the lull of the ocean's enchanting background, this was a timeless moment of love that the couple had wished for, meticulously organised by My Riviera Weddings, reminiscing the values that these two matched souls believed in and which was echoed throughout the boho chic sustainably-conscious décor.
Recycled landfill cotton macramé plate mats and coasters
Hand-poured Made With Love by Natalia natural soy wax recycled oyster shell candles from La Guittière. Scented with lemongrass essential oils along with OVO Things Candles. Beeswax candles in their ceramic holders, sea shell, sea urchin shaped natural candles as well as Made With Love by Natalia lunar cement holders were lit.
Recycled landfill cotton macramé plate mats and coasters by Made With Love by Natalia. Held the beautiful art de la table from Pétales & Brindilles – pink blush and white sandstone tableware.
Nods to the past marrying the future and elements of travel for these wandering lovers. Were found in the mementos dedicated to voyage in the vintage suitcase and a sun – coloured vase along with a beautiful hand crocheted throw from Milota Brocante.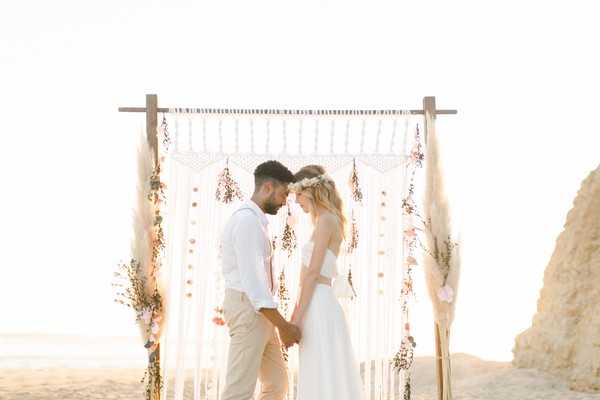 Attention to detail was apparent down to the giant dry-flower adorned balloon and stunning Summer. Bridal bouquet by Pétales & Brindilles and Un Papillon S'Envole with a macramé bouquet tie by Olivia Maria Creations.
Variety of texture and colours rendered the arrangement a natural delight
The bridal bouquet bursted with Summer essence and was made up of Hortensia as the centre flower, eucalyptus along with pampas grass. Elegance, softness and variety of texture and colours rendered the arrangement a natural delight for all senses. A keepsake for years to come unscathed by the hands of time.
As the sun began to set, the couple enjoyed a final toast of champagne watching the sun set after a dance and walk in the cooling waves. The soft ocean breeze made the strings of the arch breathe an air of magic. As glimpses of the setting sun winked and played hide and seek through the artwork along with deep shades of blues of the water.
Speckles of light from the flickering natural candles accompanied the couple ending their al fresco elopement. Lying back on a soft arrangement of cushions, the pair relished a custom-baked two-tier nude sponge, fruit and cream wedding cake by La Fabrik du Dessert. The cake was simply adorned with dried flowers from Pétales & Brindilles and a simple pink "love" wire cake topper by Made With Love by Natalia.
Wedding vibes inspired by and for nature by eco-conscious suppliers and crafters "Made in Vendée."
A Midsummer Night's Dream Elopement in La Vendée Snapshot
A Midsummer Night's Dream Elopement in La Vendée Vendors
Planner My Riviera Weddings | Photographer Cécile Potier | Videographer La Mollusquerie | Brides Dress Geraldine Daulon | Accessories Made With Love by Natalia | Hair and Makeup Aya Les Ateliers d'Audrey | Decoration Pétales et Brindilles | Florist Pétales et Brindilles | Decoration Olivia Maria Creations | Decoration Un Papillon S'envole | Stationery Marion Papier Machine | Cakes La Fabrik du Dessert | Decoration Milota Brocante | Models Candice & Lori