I'm super excited to share my recent inspiration board with you… a Glamorous French Riviera Wedding! Who doesn't love an elegant black tie event with cocktails in the sunshine and what better destination than the famous Cote D'azur.
I'm rather girlie to say the least so I had so much fun selecting these pretty details which beautifully incorporate a subtle touch of coral, the colour of summer pour moi! I found choosing the colour palette for my wedding quite difficult, with so many fabulous combinations I was always changing my mind. I found inspiration boards extremely helpful when finalising my decision.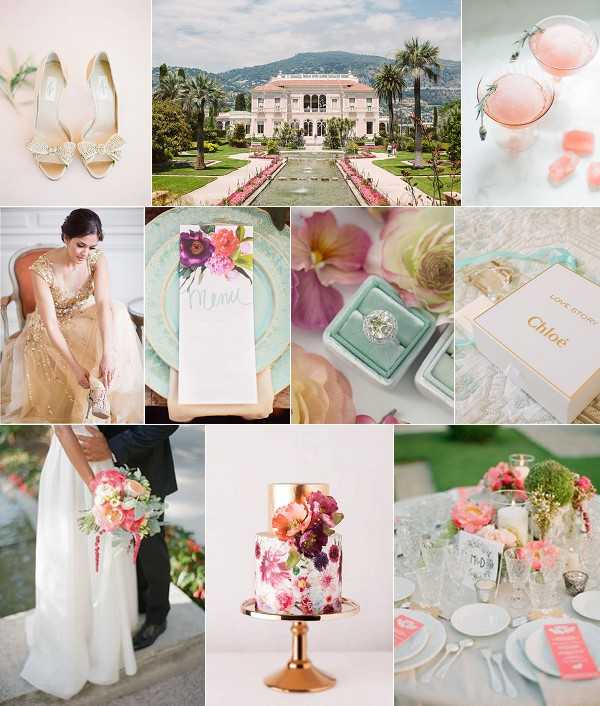 Glamorous French Riviera Wedding Inspiration – Shop This Look:
The MOST glamorous venue on the French Riviera for me has to be Villa Ephrussi de Rothschild which overlooks the Bay of Villefranche and the Bay of Beaulieu. The views from every corner of the villa are breathtaking! Not only will this prestigious pale pink villa dazzle you with its beauty but the musical gardens will keep you mesmerised for hours! Can you imagine the Musical fountains playing out a grand aquatic ballet while you marry your Prince charming… Dreamy!
For the perfect French Riviera floral designers look no further than the innovative event stylists Wayne Riley Flowers, you'll be amazed with their floral creations. To view some of their stunning designs click here.
The Mrs.Box is a colorful limited edition vintage inspired velvet heirloom ring box, which makes the perfect wedding gift to present your beautiful ring. You can even personalise them with custom monograms.
Valentino or Jimmy Choos, which would you choose? A glamorous wedding doesn't seem complete without a killer pair of heels… for me I'm all about bows!!
Forget the white or ivory debate why not steel the show like our stunning bride Krystal who wore a divine gold Noel Chu couture dress, you must see it for yourself here.
A final touch just before you walk down the aisle to marry your one and only… a spritz of Chloé perfume! Each time you wear your wedding day perfume in the future you are guaranteed to be flooded with the wonderful memories of your special day!
I hope you enjoyed todays coral prettiness. To view even more beautiful inspiration boards on FWS click here.
With love,
Christina x
Credits
Top image: The Mrs.Box, Image by Josa Villa
Inspiration Board Created By: Christina Sarah Photography | Top Left Image: KT Merry Photography | Top Middle Image: Christina Sarah Photography | Top Right Image: Erin Mcginn | Middle Left Image: Lauren Michelle Photography | Middle 2nd To Left Image: Love by Serena | Middle 2nd To Right Image: Josa Villa | Middle Right Image: Christina Sarah Photography | Bottom Left Image: Greg Finck Photography | Bottom Middle Image: Mango Studios | Bottom Right Image: Greg Finck Photography
Save
Save
Save
Save