When this rustic wedding on Corsica popped into my inbox from the lovely Chloé at Caught the Light, it was perfect timing. As soon as I got back from our trip to Provence I have been planning my next getaway and Corsica is top of the list, although I have never actually been to this beautiful looking island before.
Seb and Cat's wedding ceremony in the picturesque woodland campsite owned by Seb's parents, is the perfect blend of ethereal romance before the whimsical pale pink and white wedding reception.
Seb and Cat met in Hong Kong in 2010, while both of them were working for the same bank and introduced through colleagues. Cat was born in Hong Kong, but grew up in Vancouver, Canada. Seb was born in the UK but grew in both Corsica, France and the UK.
The couple got engaged during a long weekend getaway in Phuket, Thailand.  It might have been pouring monsoon rain outside, but lady lucky shined on Seb as the day of the proposal, blue skies were in abundance.
When it came to the wedding, the couple said: "We definitely wanted a destination wedding since many of our family and close friends did not live in Hong Kong.  We chose Porto Vecchio in Corsica not only because its such a uniquely beautiful place but also because 1) It is where Seb's family home and place of business is located (they own holiday rentals and a campsite), 2) we were able to accommodate our guests all in one location, making it convenient and also a mini holiday for our friends and family and 3) it had the woodland surroundings which we were looking for."
The couple planned a relaxed, fun, simple-but-chic country.  "We kept our palette to two main colours — pale pink and white, as a nice contrast to our green surroundings. Our late afternoon ceremony took place in a beautiful wooded area on the campsite, followed by cocktails by the pool at the main house and then a dinner reception on the terrace with live music and dancing. To mix some Chinese tradition into the wedding, we performed a traditional tea ritual during the ceremony."
Cat:"Since we did not hire a wedding planner, we organized everything ourselves, down to the smallest details. We had most of our decor shipped to Corsica from Hong Kong and ordered online also. Seb and his family are fluent in French, so we did not have much difficulty sourcing local vendors for flowers, catering and entertainment, which was a big help."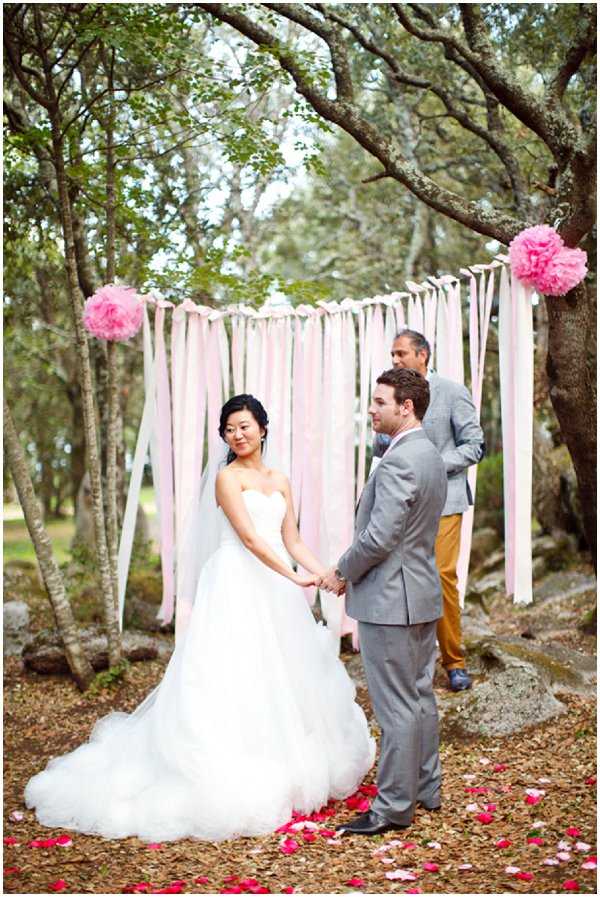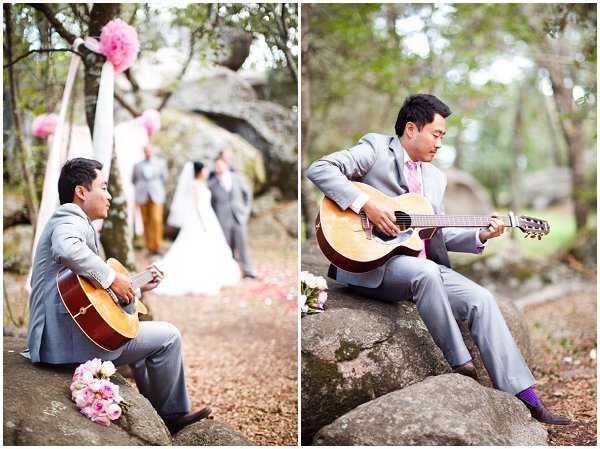 Cat: "I had my two wedding dresses made in Hong Kong, and Seb had suit made there as well. For the ceremony, I wanted something dreamy, joyful and tulle – tulle to me feels so youthful and fresh. I thought it matched perfectly with the ceremony decorations also. Later on for the reception, I changed into an elegant, fitted lace gown with a sheer back that I paired with a pearl necklace and a pearl sash at the waist."
Seb opted for a bespoke light grey suit with a pink lining and shirt to match the wedding theme.
Cat:"There were so many memorable moments of the day, and the day went by so quickly it seems like a wonderful blur, but I really loved it when we got my brother Steve, who was also our guitarist for the ceremony, to get up and play a couple of songs with the band after dinner! "
Seb "My favourite moment was seeing my wife for the first time in her dress of course! I loved the ceremony and the jokes that our mutual friend Ali dropped in to the ceremony as he officiated. And overall, it was great to see the concepts we'd elaborated come to life, whilst showing off Corsica to our closest friends."
Cat: "When it comes to advice for other brides I would have to say that if possible, having two dresses for your wedding is a wonderful thing. It's nice to have two looks and changing dresses sets a different mood for the reception while giving some variation in wedding photos.  In Chinese weddings, usually the bride has a few gown changes — a western style wedding dress, a Chinese cheongsam, and an evening gown.  Although I didn't go for the cheongsam because it didn't fit our country theme, it was nice to change into something I could actually sit down in for dinner!"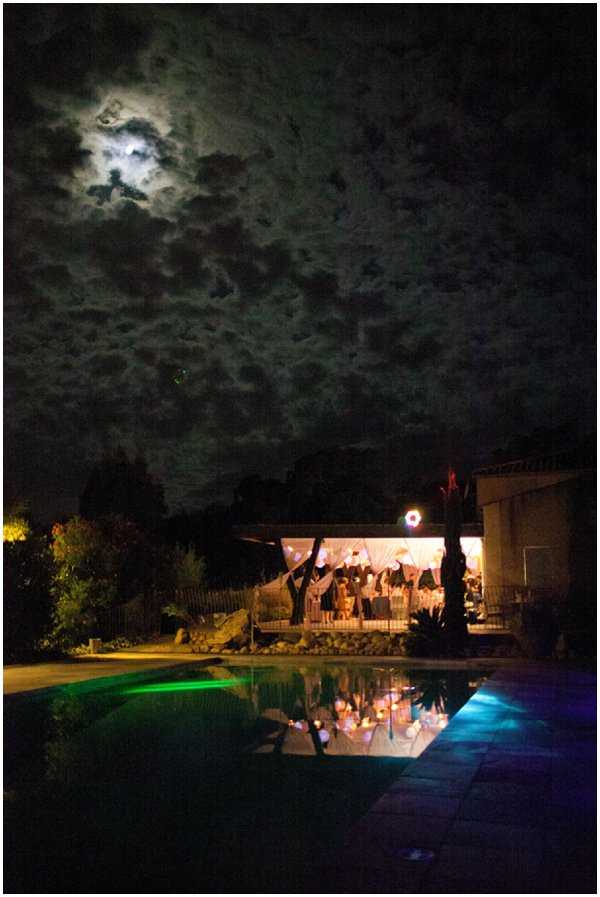 Corsica is definately added to my vacation wish list!

Wedding Suppliers:
Venue – Camping La Vetta
Catering – Côte des Nacres
Florist – La Boîte à Fleurs
Reception band – Tradinoi
Wedding cake – Cake des Lys
Photography – Caught the Light
Ceremony decor – designed, sourced and created by the couple with help from friends and family
Bride's dresses – bespoke from Hong Kong
Jewelry – gifted from bride's mother
Groom's attire – bespoke from Hong Kong