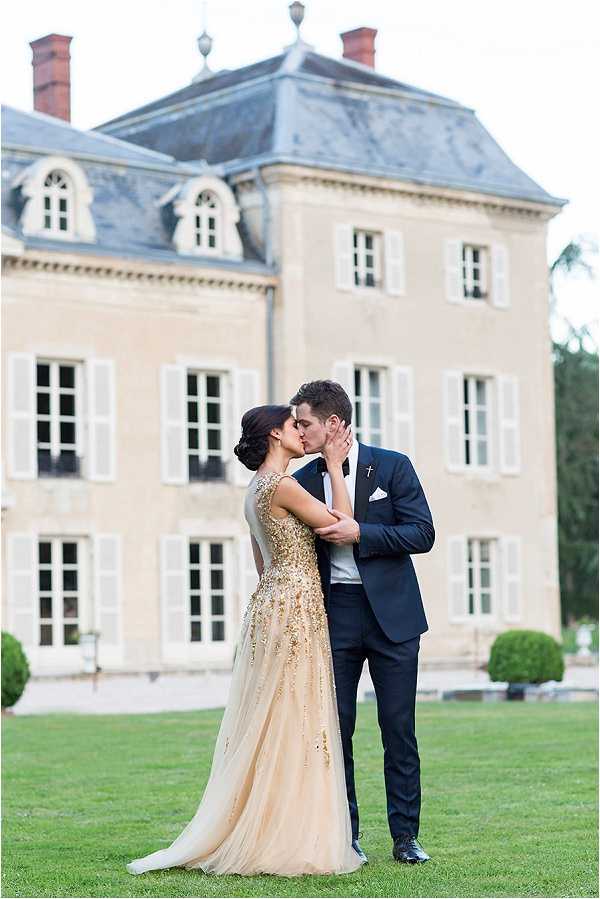 Happy Monday and we are welcoming you with a fabulous destination wedding in Burgundy full of old world elegance and style, captured by Lauren Michelle Photography.  The wedding of Krystal and Rob is dreamy from start to finish, planned by Fete in France at the stunning Château De Varennes, but it is Krystal's Noel Chu couture dress that steals the show for me!
Bride Krystal takes us through their love story and wedding day:  "In hindsight the word that our friends and family most commonly use to describe our wedding is a "fairytale".  I certainly did not set out with that ambition and in fact I never had a "dream wedding", but sometimes the best things in life are unexpected and surprising.  Rob and I were an unlikely couple. Having grown up on opposite sides of the world and from vastly different cultural backgrounds, it was inconceivable that our paths would cross.
However, fate or providence had other plans in store for us.  Our careers brought us to Hong Kong and it was in this city, a place we now call home, where our lives would be changed forever.  I remember the night we met, a chilly evening in January 2011.  I was out with a few friends when I bumped into a colleague at a local bar.  I distinctly remember his instructions, "don't move, there is someone I want you to meet".
I was immediately drawn to Rob's confidence, boyish charm and warm smile, though in that moment I never expected that he would eventually become my best friend and life partner.  Over the years we have had the opportunity to travel the world together, sharing many adventures and new experiences.  It was on one such trip, in a secluded bay along the Great Ocean Road in Australia, where Rob asked me to marry him.  It was without a doubt that I said yes.
Coming from a large family, Rob had always envisaged having a big, traditional wedding.  On the other hand, I was a reluctant bride and had always imagined eloping.  After much debate and consideration we finally agreed to host an intimate affair.
Three things were a certainty – it would be a destination wedding, we wanted a huge party with our families and best friends, and Lauren Michelle would be our photographer.  I knew Lauren from growing up in Sydney and have always been in awe of her talent.  Whilst our careers have taken us to different parts of the world, I could not have trusted anyone more to capture the love, spirit and style of our wedding.
As for the dress – I wanted to look "red carpet worthy" on the big day.  When I met Noel Chu for our initial consultation I was yet to try on a single wedding dress.  However, based on Noel's extensive portfolio I was confident she would bring my vision to life.  I worked with Noel for a year to design, create and refine this couture gown.
After narrowing our search for wedding venues to France, Chateau De Varennes was recommended by a close friend.  After doing some research online and speaking to Sonia, I felt completely at ease and knew this was the place for us.  Varennes was the first and only venue we considered.
With guests travelling from four continents, we wanted to make their trip memorable and be able to spend quality time with all our loved ones.  I knew that planning a wedding from a different country and time zone would be a challenge so I enlisted the support of Fête in France.  Anne led us through every step of the process, including styling and planning 4 days of events.
With Anne we created a modern take on a Gatsby themed party which among other decoration translated into sourcing custom gold sequins tablecloths and pairing them with modern "ghost" chairs as well as adding a touch of feathers to the centerpieces. Anne also organized for crystal chandelier to be installed in the dinner area and light up letters with our initials on the dance floor among many other special touches.
One of the most distinctive parts of the wedding was the ceremony.  Pierre-Henri from Gracefully invested several months into crafting and delivering a personalised ceremony that deeply reflected our characters, background, cultures, beliefs and values.  He had many creative ideas to ensure our ceremony was unique and engaged our family and friends.
The most spectacular moment of the wedding was the fireworks display. The fireworks were a hit with the guests and there are few times in our relationship where I have seen Rob more excited.  They certainly set the tone for the dancing and late night party that followed.
We are so thankful to our guests for not only making the journey but bringing the party to Burgundy. The photos and video perfectly capture the essence of our wedding and bring back many special memories."
For more beautiful weddings at Chateau de Varennes click here.
Old World Elegance Destination Wedding in Burgundy Snapshot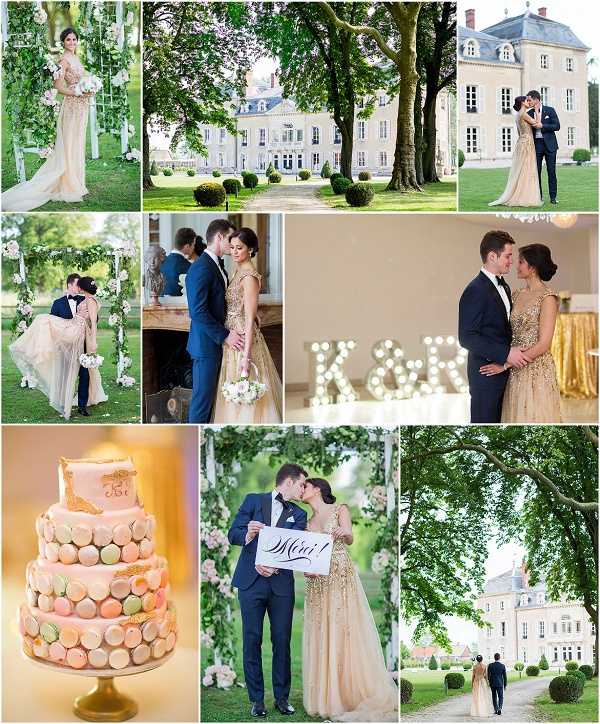 Wedding Vendors
Photography: Lauren Michelle  | Cinematography: Studio Artifice | Coordination: Fête In France | Event Planning: Fête In France  | Floral Design: Sol Y Flor  | Wedding Dress: Noel Chu Atelier | Invitations: Wedding Paper Divas | Bride's Shoes: Jimmy Choo  | Catering: Laurent Peugeot  | Makeup: Annette Thornton | Calligraphy: Studio French Blue | DJ: AVDJ | Celebrant: Gracefully | Venue: Château De Varennes | Bride + Bridesmaid Robes: Wedding Prep Gals | Bride's Fur Cape: Flemington Furs | Ceremony + Cocktail Band: Scarlett Entertainment | Chandeliers + Lighting: Phos | Favour Bags: Wedding Chicks |  Groom's Shoes: Dominique St Paul | Live Sax: Ben Jammin'  | Signage: Studio French Blue |