Hello lovely readers!  I have an ultra romantic dusky pink wedding to share with you today and you might recognised the venue Château de Vallery, as it is the same wedding venue that Halle Berry and Olivier Martinez got married at.
Nell and Cody just like Halle and Olivier fell in love with Château de Vallery, designed by Pierre Lescot in the 16th century.  It sits just south of Paris in the village of Vallery in the heart of the burgundy wine country.
The chateau was home to the Prince and Princesses of Conde and boasts 28 guest rooms.  Nell and Cody's guests enjoyed a full itinerary of activities before the big day, including a wine tasting in the medieval wine cellar and then a Morrocan feast given in the Riyad.
French Wedding Style – Photography © Encre Noire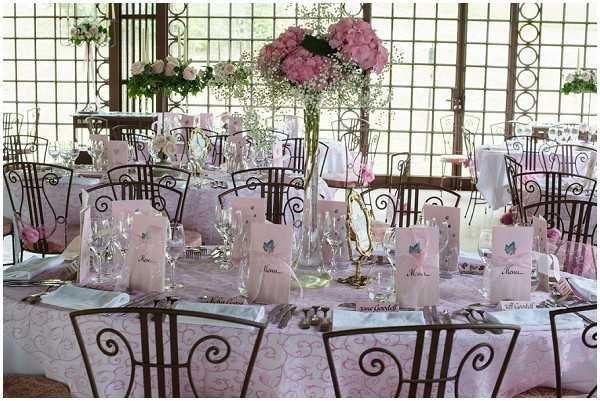 Bride Nell says: "This wedding, our wedding, would not have happened without my mother in law Muffie Freas. She organized the whole thing, talking to the vendors, sending hundreds of emails, making long distance phone calls, and scheduling Skype calls, not to mention all of the money she and my father in law put into giving us the wedding of our dreams.
I have always loved France.I spent a year in Aquitaine between my senior year of high school and my freshman year of college as a Rotary Exchange student and fell in love with the country. Since then, it's been a dream of mind to go back, and secretly, to get married there. Because of France's wedding laws, we had been legally married privately (just the two of us) in Texas on New Years Eve 2012, but we still couldn't wait for our real wedding, surrounded by friends and family in June of 2013."
The festivities commenced around 3 o'clock in the afternoon on June 11th, when guests began arriving. The groom, Cody, and his groomsmen, father, and brother carried everyone's luggage to their room, while the bride and her sister escorted each guest to their room, where there was a welcome box full of local and French themed goodies, bottled water, and a bottle of wine from a local winery.
The 3 day wedding celebration kicked off with an intimate wine tasting in the château's medieval wine cellar, where we were introduced to wines from the château's collection and fed delicious hors d'oeuvres. The wine tasting was followed by a feast in the Riyad, a beautiful Moroccan themed room. After the meal, the bride and groom played the shoe game, and guests were welcomed into the Loft area for games, snacks, and of course, more wine. It gave us more time to mingle with and talk to our guests.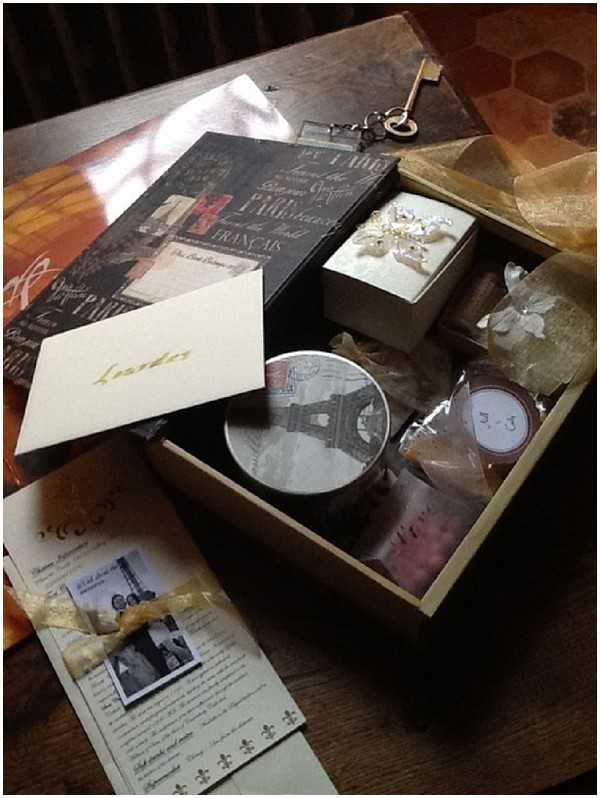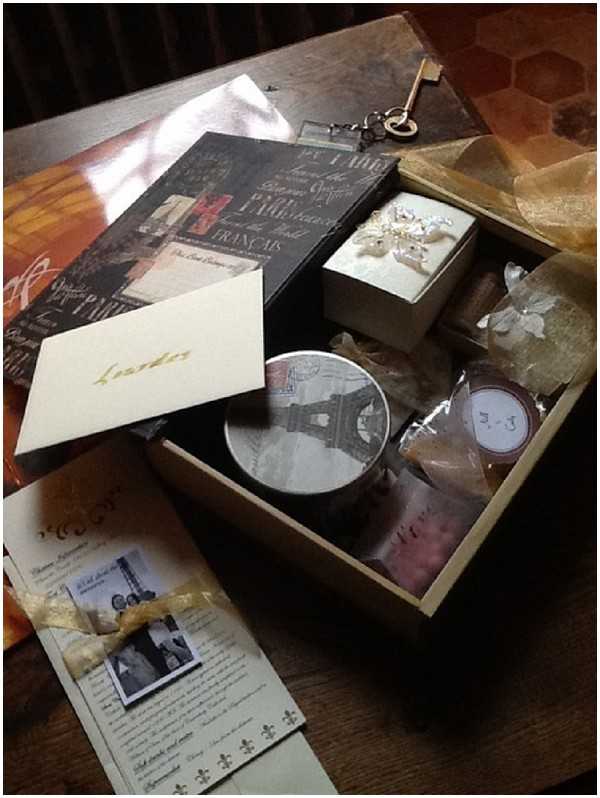 "The following day guests were given a tour of the château, which included the honeymoon suite in the largest  dovecote in France and the local church where all the princes and princesses of Condé are buried.  Brunch was served all morning in the Riyad, and the lawn was open for games like croquet, badminton, and bocci ball (the groom and I even got in on a pre-ceremony game). Guests could also take a dip in the comfortably heated pool or use the castle's tennis courts."
The bridesmaids, certain family friends, and family members of the bride were treated to a Bridesmaid's luncheon, held in the Grand Condé suite, and hosted by the mother of the Groom's best friend. It was such a wonderful luncheon, unfortunately, the location of the hair and markup people had to be changed, so not many of the bridesmaids actually got to be there.  The Bridesmaids began getting their hair and makeup done for the 4:00 ceremony at 11:00 A.M., and the bride and mother of the groom at 2:00 P.M.
We had our hair and makeup done by two amazing French artists. They were kind and funny. I speak French, so i was able to understand most of what they said. After our hair and makeup were complete, my wonderful bridesmaids helped me into my perfect dress, a pink Amalia Carrara princess ball gown. This dress was perfect.
As soon as we visited the château, I knew that this was the dress I would have to wear. I had a beautiful champagne colored beaded headpiece to put on with my matching pink veil. The hairdresser actually had to pin my veil on because there were so many combs on my head that day. I was so excited and nervous. Thankfully, I had amazing girls with me to help me remember to eat, drink, and breathe.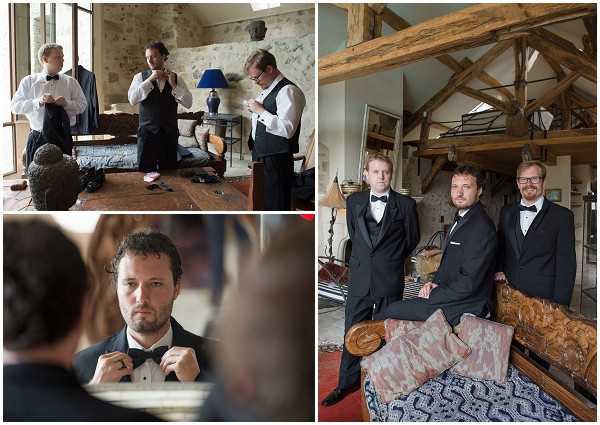 The wedding ceremony itself took place in the château's rose garden at 4:00 P.M. on June 12, 2013. The garden is such a beautiful place, surrounded by flowers, and bathed in sunshine. My favorite Broadway show has always been The Phantom of the Opera, probably stemming from my romantic notions of Paris, and the fact that it was the first professional show I saw when I was a child, so Cody and I decided to make All I Ask Of You, the song I walked to down the aisle with my father. He walked me up the baby's breath lined aisle, up the garden steps, and handed me to Cody, while my bridesmaid Maggie (who had already walked up the aisle and then run back around) carried my train.
The ceremony was incredibly beautiful and full of both French and American traditions, including a reading from the marriage Bible by my sister, a ring blessing ceremony, and a flower ceremony (in lieu of a candle or sand). Our celebrant was An amazing Frenchman named Pierre-Henri Therond of Love Gracefully. We had met with him prior to the wedding, on Skype, and he was able to customize the ceremony to be exactly the way we wanted it.
We received so many positive comments from our guests about his very moving words. The ceremony was topped off with a beautiful butterfly release, which was a complete surprise for me, orchestrated by my mother in law and Mr. Therond. 
After the ceremony, we thanked our guests in a receiving line, and took a few group pictures. Cody and I, along with my maid of honor then hiked up the hill (in huge, but gorgeous Badgley Mischka pink wedges) for some private pictures (my veil was filthy by the end), while our guests were able to munch on hors d'oeuvres and sip on champagne. While our guests moved in to the Salon de Musique, to prepare for dinner, the girls and I snuck off to bustle my gown. Dinner was a five course French meal of beef Wellington, lobster, fois gras, and so much more.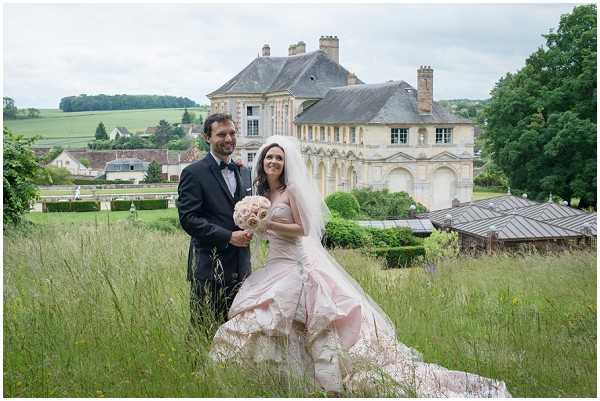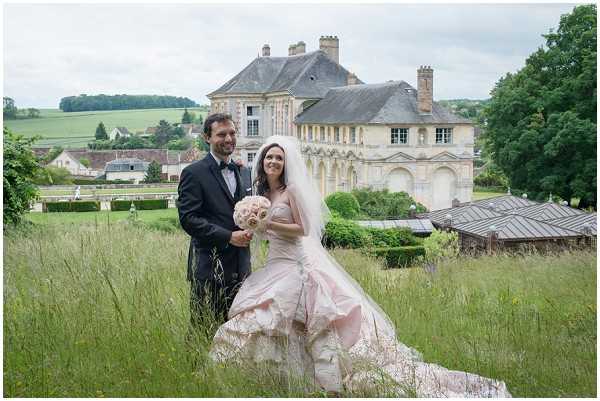 The menus, seating chart, escort cards, table numbers, and name cards were all designed and created by the incredibly talented Jean-Jacque Grand. All of the flowers and decorations were designed by Roseline Chabolle. She did such an amazing job. Speeches and toasts were with interspersed throughout dinner, with both fathers, the maid of honor, the best man, and a bridesmaid giving toasts.
My younger brother Alex closed the speeches with a beautifully read a passage from my favorite French book Le Petit Prince (The Little Prince) by Antoine St. Exupery, that I had chosen for the occasion and requested his reading. After dinner, we all moved into the Grand Galerie for dessert (including the French version of a wedding cake) and dancing. The galerie was decorated so elegantly with balls of roses and ivy hanging lightly from the high ceilings, and set off by pink lights.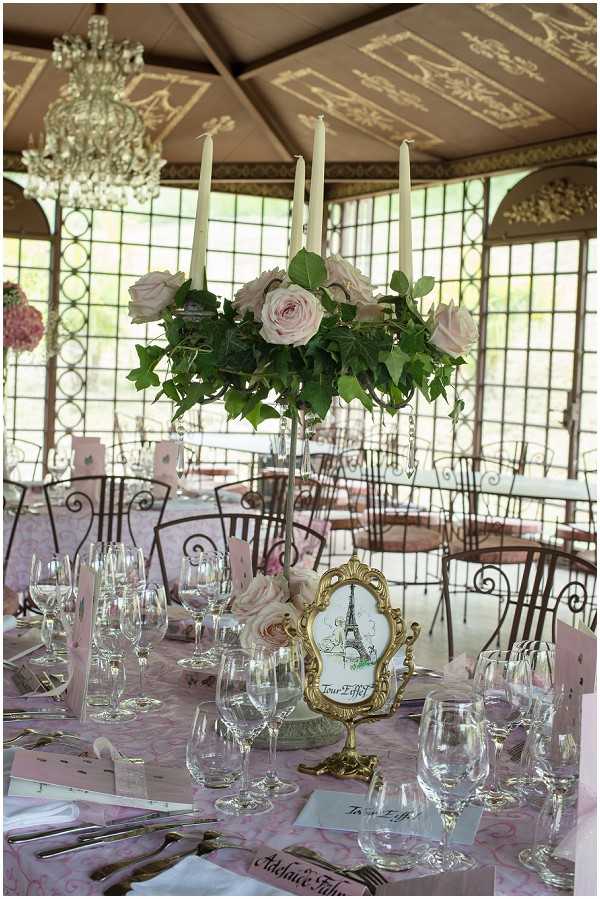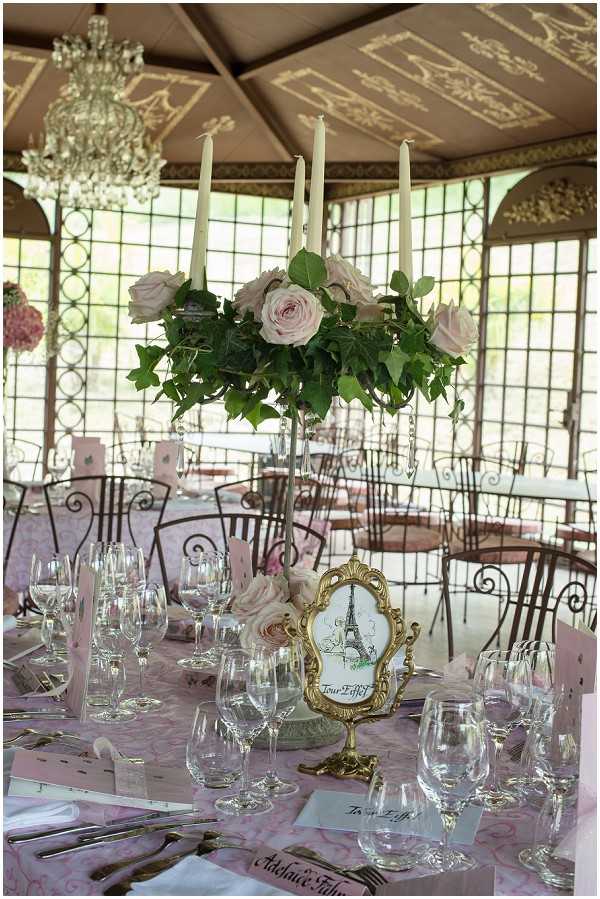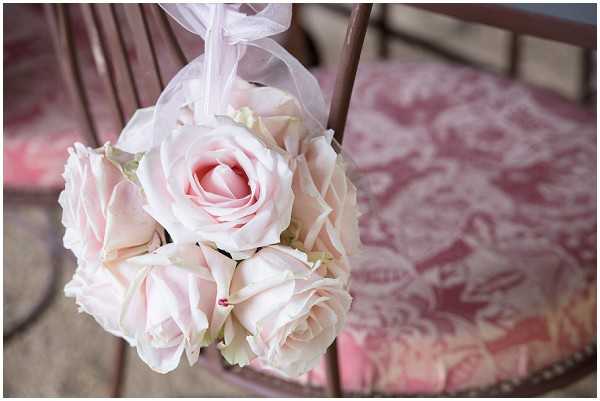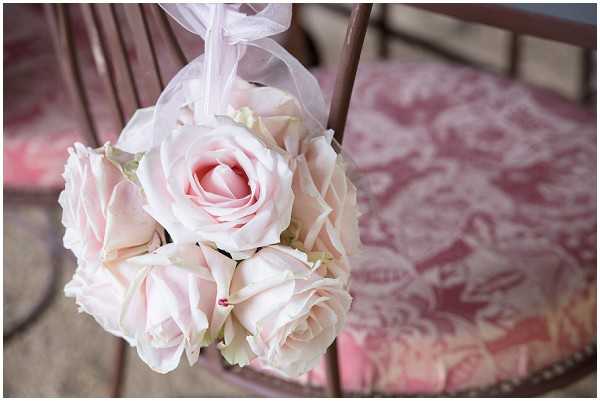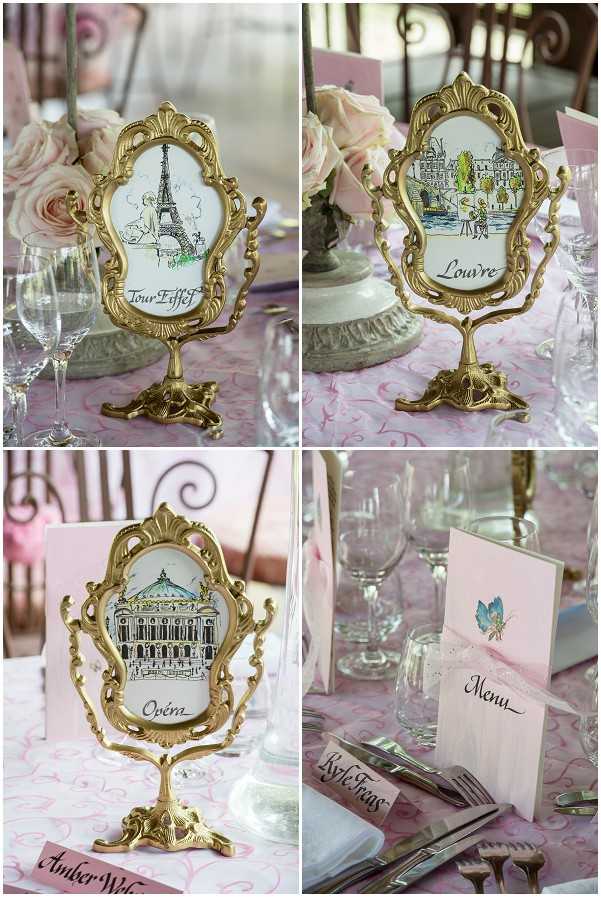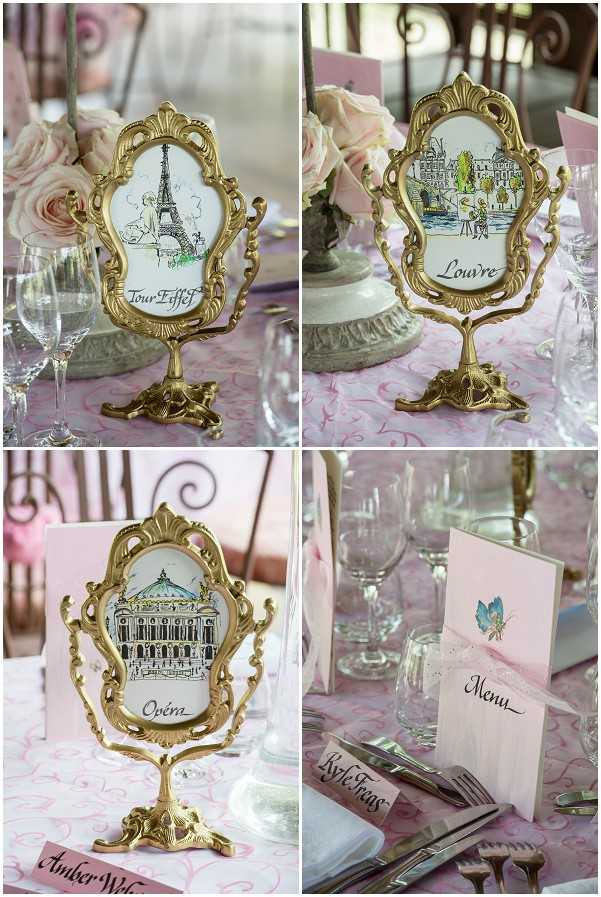 During the party, we were escorted outside onto the lawn for a dazzling 15 minute fireworks display, followed by the sparkler lined entrance of our delicious American styled wedding cake. We worked with the designer, Cristina Lasarte of Paris Luxury Cakes (she also created the food for our Bridesmaids luncheon) to create our perfect cake. The white and pink cake was just what we were hoping for, with just a touch of sparkle.
Our cake topper was a custom made penguin couple that we ordered from a shop on Etsy. After the cutting of the cake, we had our first dance as an officially married couple. We danced to All I Ask of You, a song that we both treasure as a couple.
This was followed quickly by the father daughter dance to I Wanna Hold Your Hand by the Beatles, a song that my father used as a lullaby during my childhood. After the first two dances my bridesmaids helped me into my party dress, a snazzy white flapper dress from Neiman Marcus and some sparkly silver Toms.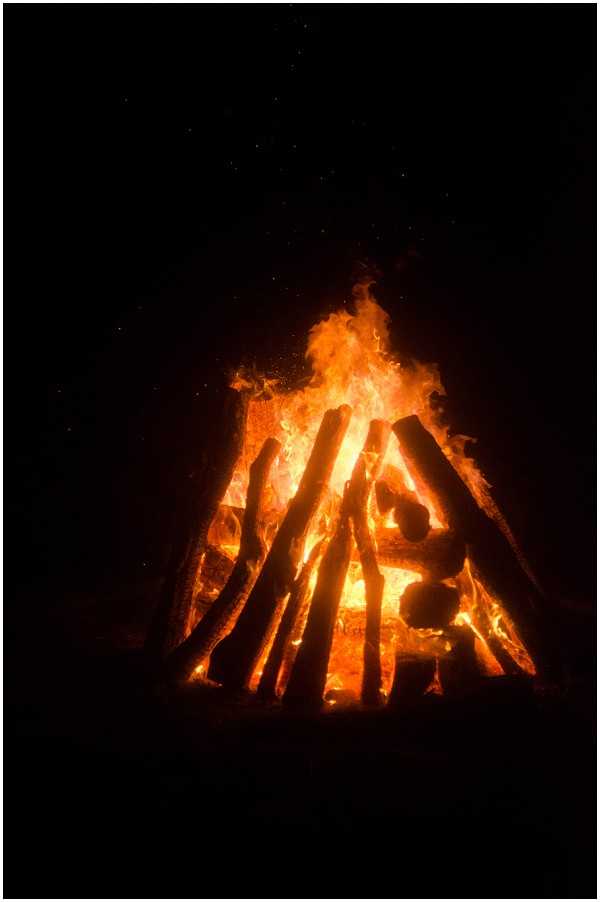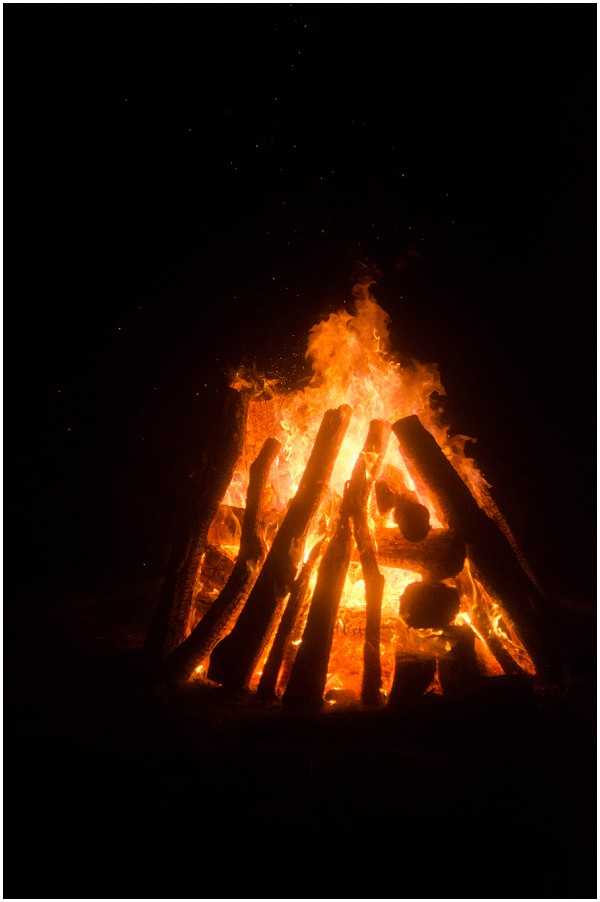 We spent our honeymoon traveling Western Europe, with stops in Geneva, Venice, Rome (where we parted with the guys), and Monaco. "
Thank you to Nell and Cody for sharing their dusky pink wedding and be sure to view their wedding vendors below.


Wedding Vendors:
Venue: Château de Vallery
Invitations/Kaekemono/table plan Palais Papillon Jean-Jacque Grand
Celebrant  Love Gracefully Pierre-Henri Therond  
Cake Paris Luxury Cakes Cristina Lasarte
Flowers  Roseline Chabolle
Photographer   Encre Noire
Fireworks  Nuitfeerique
Caterer  Les Premices
Makeup Poudre moi  Frederic Leignadier
Dress  Amalia Carrara
Shoes Jimmy Choo
Party Dress Neiman Marcus
DJ  Samy
Videographer Jonathon Vansteenberghe
Butterfly Release Butterfly Weddings Felix Lopex