It's all about romance today with our fine art wedding in Paris, every detail and photograph oozes romance, that's the beauty of a fine art inspired wedding. The whole day was planned by French eco-sensitive wedding planner Elodie of JEEVAN.
Our bride wore two tailor made dress' by Galatee and her bridesmaids complimented her beautifully in their champagne dresses!
From pretty wedding stationery to gorgeous locations this fine art wedding in Paris captured by Gigi Fine Art is full of inspiration…
Our love story began at college in 2009. When we first met, Soufian said "One day, I will marry you". It was a real love at first sight moment for both of us. 15 years later, we said cheers to the new Mr and Mrs Borgi with the wedding taking about 18 months to plan. For the wedding itself, it was very important to us to hand select vendors with a refined approach to create an authentic and natural feel, we were delighted with them.
Our photographer; we wanted a typically Parisian photo shoot and natural pictures. Gigi was perfect, inspired by fine art photography, we really loved her poetic and delicate universe.
We were inspired by nature, and we selected a green, gold and white color palette to harmonize with the setting of the Chateau du Bois du Rocher. We wanted to showcase a wedding that feels feminine, inviting while still maintaining an elegant and chic aesthetic. We choose, Elodie, from JEEVAN agency, for her eco-sensitive approach, and also because she understood our less-is-more approach. Everything was perfect and done in a stylish way.
Combining charm and discretion, Chateau du Bois du Rocher was the perfect place for our outdoor ceremony; he gets plenty of sunlight and there are tons of beautiful botanical gardens. At the same time we didn't want to go to far from Paris.
Two cultures and families coming together as one and we wanted to involve our loved ones as much as possible. I am Portuguese and Soufian is Tunisian. The service was performed by a ordained minister and an imam.
I wore 2 beautiful tailor made dress by Galatee. Embracing Parisienne chic, I choose a combi-pants for our civil ceremony, and a glamour style with a focus of feminine attributes for our outdoor ceremony and dinner. Our memorable day was full of love thanks to our vendors, friends and family. As a bride, my advice is to hire a wedding planner. You won't regret it! It was well organized and all our guests enjoyed our special day.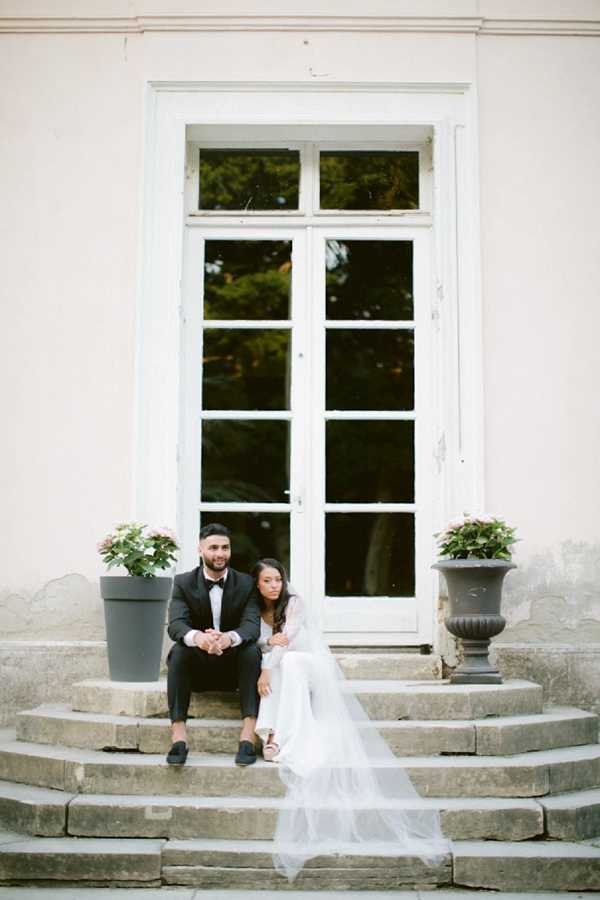 Congratulation Camila & Soufian from everyone here at French Wedding Style!
For even more fine art wedding inspiration check out this:
Fine Art wedding in Paris Snapshot
Wedding Vendors
Photographer Gigi Fine Art | Planner JEEVAN | Venue Chateau du Bois du Rocher | Brides Dress Galatee | Catering Grand Chemin Traiteur | Florist L'atelier Fleuriste | Stationery Cotton Bird | Entertainment EAVENTS | Grooms Outfit DE FURSAC | Grooms Outfit Hugo Boss | Shoes Louboutin | Shoes Jimmy Choo | Accessories Maison F Paris | Accessories MADEMOISELLE CHAPEAU | Hair Flo Coiffure | Make Up Glam by Majha | Accessories Mauboussin | Accessories The Mrs Box | Accessories be LOUNGE