Save all the dances for me !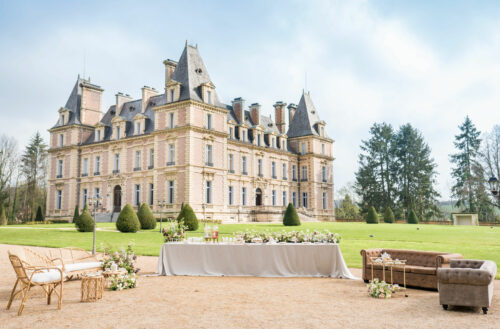 One hour away from the city of Lyon, the story takes place in the wonderful Domaine des Halles.
The bride and groom are a Japanese couple and are fascinated by the French art de vivre.
Wanting to get the complete feel of an elegant and intimate French wedding, they had no less than 40 guests for that unique styled shoot.
In the morning, the couple chose to get ready in one of the castle's suites.
The bride was in a tailored bathrobe for the getting-ready pictures. Later with the help of her close friends, she slipped into her signature Mademoiselle Reve marriage dress, and put on her veil, hand embroidered in Provence with the phrase "Until the end of Times".
The groom got ready with his groomsmen on his own side of the castle wearing a tailored tuxedo, and wrote his vows while waiting for the first look…
After the preparations, the couple met each other for an intimate first viewing and then went to meet their guests for the ceremony.
The florist created the most beautiful flower arrangements looking like an indoor garden in one of the reception halls of the chateau. The gorgeous flower girl, the officiant, the musicians and the singer along with their 40 guests were all there for an unforgettable ceremony.
An outdoor tea party followed the ceremony, the table was set with the most exquisite vintage and unique pieces.
After this convivial moment, people started dancing while the live band played during the reception.
Elegant, intimate yet cheerful – no one wanted the day to end. And maybe, that's what a French wedding is all about after all.
Suppliers:
Venue: Domaine des Halles
Planner: Ecrin de nacre
Photographer: Lyrem Photography
Second Photographer: Coraline Salgueiro
Brides Dress: Mademoiselle Reve
Weddingplanneur: Idyle Wedding Planner
Cakes Poesie patisserie d'emotion
Hair: charlotte frizura
Makeup: Elsa Durrens
Florist: Margaux chapus
Grooms Outfit: Sebstien Le guillou
Stationery: Hellosnowflakes
Entertainment: Coffee Tone
Accessories: Auguste Event
Other: Ajra Jewelery
Decoration: Mamzelle Vintage
Voile: Manon Ponson
Lingerie: Atelier Aime Couture