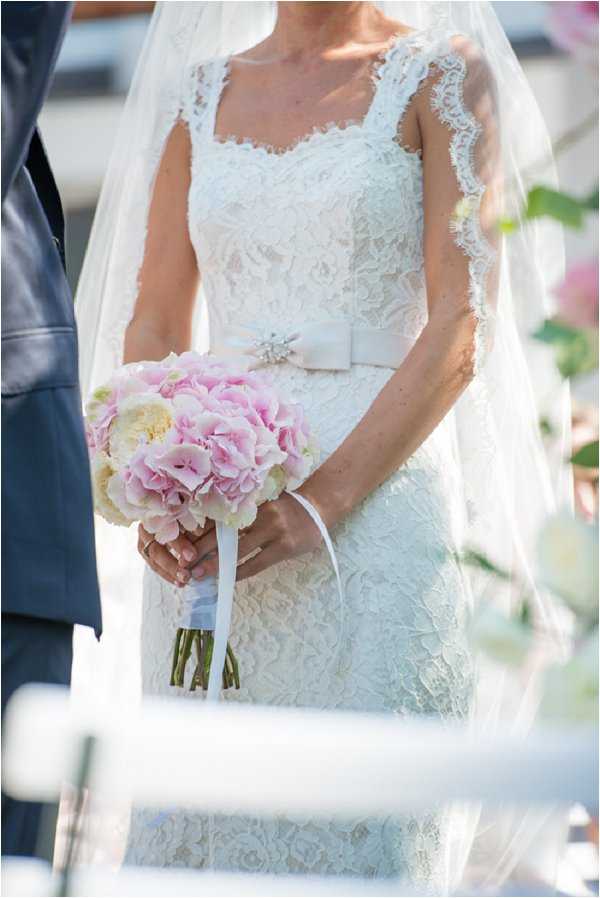 Happy Monday and we are starting the week of with another stunning real wedding, this time the beautiful real wedding of Olivia and Sam in the hills of Nice and moving onto a wedding at Paloma Beach.
Olivia and Sam planned an utterly charming and chic wedding in the hills of Nice at  Sam's parents house, completely with stunning floral decorations and a floral arch that will leave you swooning!  Olivia and Sam thought hard about how to give their wedding guests the full French Riviera experience and continuing the wedding celebrations at Paloma Beach is the perfect way to do this.
The whole wedding was captured by experience photographer Julie Michaelsen and thank you for submitting this wonderful wedding.
Bride Olivia takes us through their big day:  "We celebrated our wedding in Nice, France in September last year. I had always wanted to get married abroad and Sam had spent so many of his childhood summers in the South of France it seemed like the obvious place to say our vows! Sam's parents summer house there had become a place we visited many times with Sams' family so it was no surprise that Sam proposed to me on the beach where we would eventually celebrate our alfresco wedding outdoors with all our closest friends and family! 
We were married in the garden of Sams' parents house who both worked so hard to make sure that the garden looked beautiful in time for the big day! With the help of Au Nom de la Rose, (a beautiful florist in nearby Nice) flowers was made a real theme for the day! Catherine the owner emailed with me back and forth as she made my vision for the day come alive! I wanted us to get married under a floral archway which the florists executed so beautifully!
The florist Au Nom de la Rose specialise in roses but were flexible in that they were happy to include hydrangeas too, which I loved! Catherine also suggested lovely little personal touches such as using the rose 'Rosa L'anglaise' meaning English Rose which was such a thoughtful suggestion!
Because of it being Nice in August I decided to make the orders of service into little fans just in case people got too hot in the sun. I saw this on pinterest and I would definitely recommend this to any couple getting married in France during the summer, it really does get hot! We also provided white umbrellas to shield people from the sun, several people mentioned they were very grateful for this! 
I found my dress a lot faster than I thought I would! I had an idea in my head of what I wanted but when I started looking I made sure I kept an open mind and tried on lots of different styles, I would really recommend other brides to do this, buying a dress is hopefully something you'll only do once, so try on as many a possible, and really enjoy the experience, it's a rite of passage! 
I ended up buying my dress from White Rose Bridal, the covered buttons all the way down the back of the dress felt so elegant and the scalloped hem line matched my Joyce Jackson veil which I adored wearing. I was a little sceptical about hiring a hair/ make up artist in France as I wasn't sure I would be able to communicate quite what I wanted.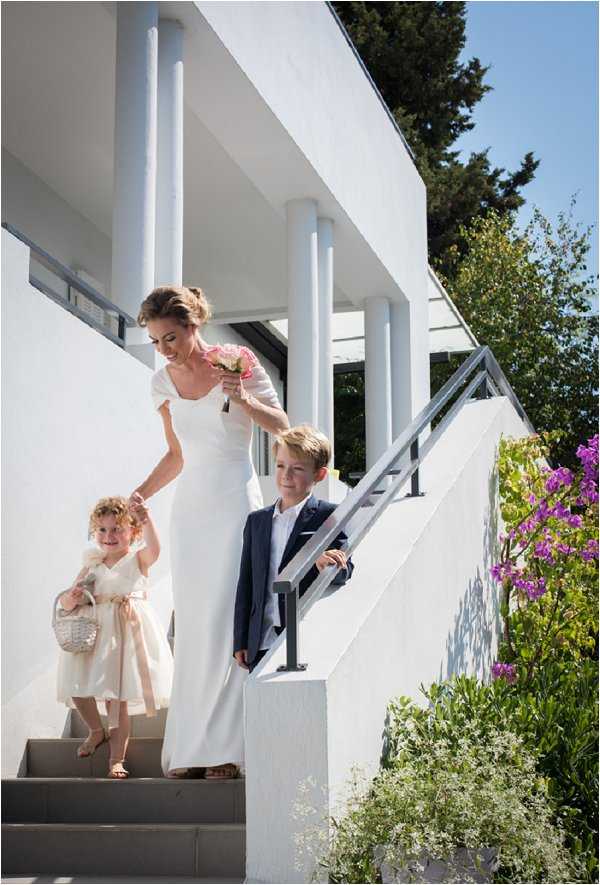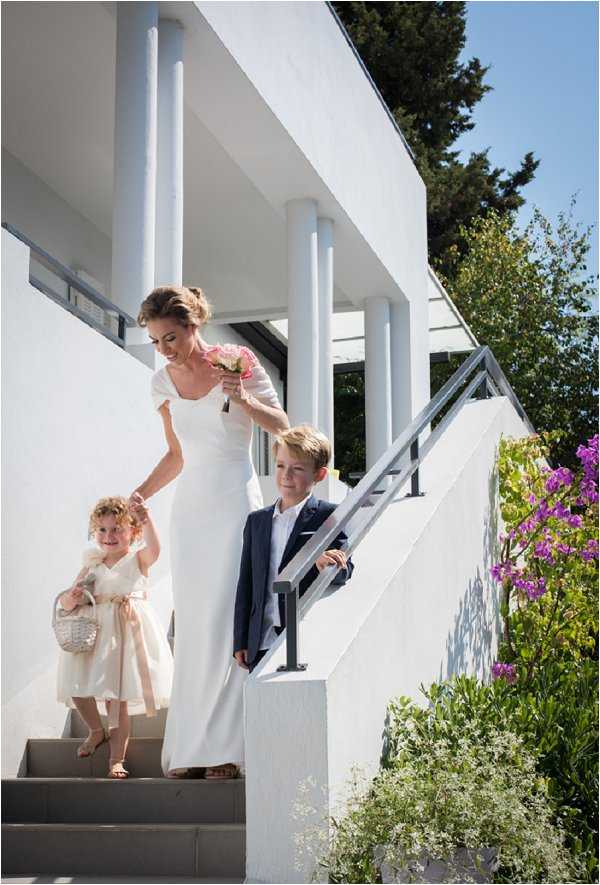 I don't tend to wear that much make up and was very conscious of my make up looking natural whilst also lasting in the heat. Vicky was recommended to me by a family friend and was fortunately very happy to travel to France. She did hair and make up for me, my mum and sister and we loved the result!
My sister Hannah was my one and only bridesmaid and we had her dress made by Emma Beaumont, a dressmaker based in Knutsford Cheshire. She created a stunning dress for Hannah which gave her a beautiful silhouette, we decided that she should wear ivory because any other colour may have looked a bit random as there was only one bridesmaid and it felt like an appropriate nod to our British roots…channeling Kate and Pippa 🙂 
After the ceremony we loaded our guests into an open top double decker bus to take everyone on a little tour of the Cote d'Azur which everyone really enjoyed! Not everyone knows the area that well so if you can help people turn the wedding into a mini-holiday I think it makes the trip extra special for people. It was a really great way to transport a lot of people to the reception venue which was held at Paloma Beach, where Sam had proposed to me! 
Paloma beach only take on a small number of weddings a year as it means they have to close the beach to other visitors so we felt so lucky to be able to celebrate there! 
The staff were so helpful and their attention to detail absolutely incredible! The views from the beach were stunning and was made even more atmospheric with candles and lanterns!
We decided to arrive by speedboat which we thought would be a fun way to greet our guests, I love the photos from that part of the day and it was really great to have a few minutes alone after having just gotten married! 
After a champagne and canapé reception on the beach with people chatting and reclining on the sun loungers we were seated for the speeches. They were executed so well, with lots of laughs and tears! 
For food, we chose a selection of cold starters that included: crudites, tomato and mozzarella and an artichoke salad. For main course we offered a choice between sea bass, chicken or a vegetarian option.
We wanted to keep the menu, simple, fresh and light because of the heat no one would have enjoyed a heavy dinner! We opted for a Cheese wedding cake, which we thought was the perfect way to complete the wedding breakfast especially as we were in France. However, the caterers had never seen this before so we decided to provide it and even smuggled the Appleby's Cheshire (Sam's favourite cheese) from the UK!
As people dined under the stars we had a surprise and last minute entertainer joins us; Alex Stewart. He performed a set of jazz and contemporary lounge music as well as playing our first dance song. Whilst people finished their meals he wandered through he guests and charmed his audience by serenading ladies and generally impressing us with his incredibly soulful voice and stage presence! 
After the first dance people flocked to the dance floor where they stayed for the rest of the evening, dancing the night away under the stars, it really was the most magical day and night! "
Wedding Suppliers:
Wedding Photographer– Julie Michaelsen Photography | Wedding Reception Venue: Charm | Wedding Dress: Dress from White Rose Bridal | Bridal Accessories; veil from Joyce Jackson at Rainbow Club| Bridal Shoes: LK Bennett | Florist: Au nom de la rose | Hair and Makeup Artist:  Vicky Quinn | Bridesmaids Outfits: Emma Beaumont | Flower girl Outfit: J Crew| Grooms Outfit: Austin Reed | Grooms Shoes and accessories; White shirts: TM Lewin , ties from Suit Supply, shoes from Samuel Windsor  | Stationery & Invitations: Invites: CardLab  | Wedding Band/ Entertainment: Alexander Stewart | Wedding Celebrant/Officiant: Celia Ford Drummond: