A Feast of Love: Party Wedding Magic at Domaine d'Essendiéras
Are you ready for an amazing love story? We have a stylish Domaine d'Essendiéras real wedding to share with you with an utterly romantic love story to go with it!
From the stunning location to our brides Bespoke Bridal wedding gown you'll be spoiled for inspiration for your French wedding. Not only that but talented photographer and FWS vendor Jess Martinez Photography was there to capture all the beauty. Jess is a Spanish destination wedding photographer based in the south of France specialising in her style of photojournalism and fine art.
We'll now pass you over to our gorgeous bride who will be walking us through her big day (don't miss her great piece of advice near the end of our feature)…
Kevin and I met in 2014. My aunt invited me to go with her on a 30 day cruise through French Polynesia and Hawaii – obviously I jumped at the opportunity! However, when I arrived at the cruise I quickly realized that there were very few people my age that were able to go on such a long vacation. They actually did a census and average age of the passengers on the ship was 72 (I was 24 at the time). I remember thinking it was going to be a good chance for me to spend time with my aunt work and catch up on all my reading, but there wasn't any chance of meeting friends my age.
That all changed though when they gave us a tour of the ships gym facilities and I met the Irish fitness instructor, Kevin. Kevin and I hit it off immediately and began spending all of our time together, but since he was working on the ship and I was a passenger we had to be very coy about it. We would schedule times to meet each other off the ship but could never be seen by anyone on the crew because it was completely off limits. We quickly realized that this was going to be something serious and wanted to continue beyond the ship, so we made a deal. When the cruise ended, he would come and meet my family in America and then I would move to Ireland and be with him. I moved to Ireland in June of 2014 and the rest is history!
We have chosen to have a destination wedding because I'm American and Kevin is Irish we knew that people were going to have to travel regardless of our location. We really wanted our puppy, Tugger, to be a part of the ceremony so we needed a place that we would be able to ferry to from Ireland (there's a lot of restrictions around flying with her type of breed). We also really love France so choosing that country was pretty simple.
We picked venue after touring around several locations in the area. Domaine d'Essendiéras was the last place we looked at and we fell in love immediately. I remember seeing the main castle and thinking "this is it." While planning our wedding, we just knew we wanted an amazing party. Our friends and family were all travelling from so far to attend, we wanted to make sure they had a great time.
Next step was to find our suppliers, Hitched in France directory was a huge help, they gave us recommendations for all of our music! For flowers and design I found people through Instagram.
Jess Martinez Photography and Yoanna of Simply Lovely Film were absolutely amazing! They met us the day before to take some scenic shots and chat through what we wanted on the day. They also stayed late to capture our fireworks. We really love our pictures and video, I would highly recommend them to anyone else getting married in France!
If I can give an advice for couples planning their wedding, it would be : Find suppliers that you trust and just leave it to them! They know what they're doing.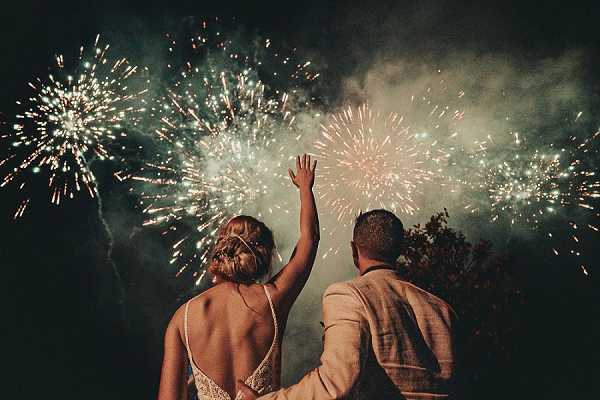 Congratulations to our beautiful bride and groom from everyone here at French Wedding Style!
For even more from this stylish wedding at Domaine d'Essendiéras check out their wedding film created by Simply Lovely Film…
Party wedding at Domaine d'Essendiéras Snapshot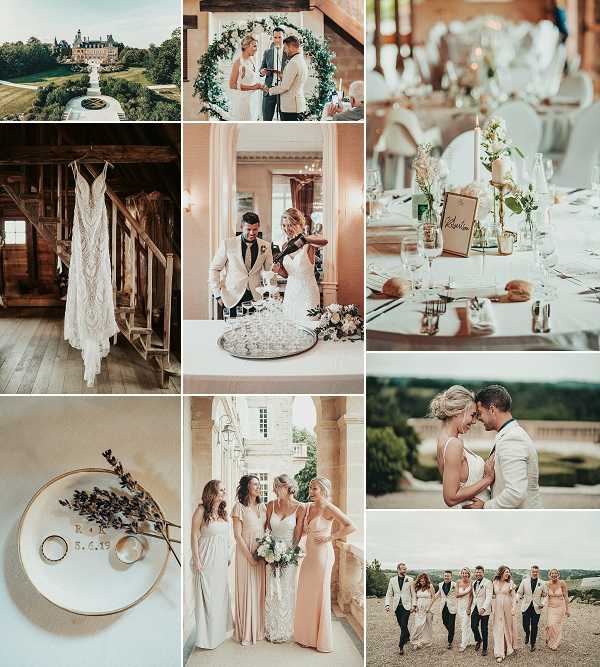 Wedding Vendors
Photographer Jess Martinez Photography | Videographer Simply Lovely Film | Decoration Le Coeur Sauvage | Wedding Dress Bespoke Bridal | Venue Domaine d'Essendiéras | Catering Domaine d'Essendiéras | Hair Tayler Omidi | Band True Rumours