You can never have too much of a fairytale, so today we have the second part of a real life fairytale wedding in France.  Recently I was delighted to share with you the wedding video of bride Renata and her French husband, but today we take an in-depth look at the two cultural sides to this wedding union,a Catholic and Muslim wedding, with a photo session in Paris all captured by Studio Cabrelli.
Bride Renata talks us through the different ceremonies and speaks plainly as to what it is like to plan a wedding in France: "The first ceremony was at Chateau d'Esclimont and I ws very nervous!! You know those last minute things that can happen and you think: oh my God this is all ruined!!!  I had a friend who got very drunk the night before the wedding and she slept outside the building… so the morning of the wedding she was feeling very sick… Because of that, our transport was delayed about 2 hours to leave central Paris… and the wedding was also delayed 2 hours….   Dominique from Studio Cabrelli was great!! He showed a lot of patience and professionalism!!!
I found very hard to organize a destination wedding, cause you have different party types and the French can be quite particular!!!  The ceremony was celebrated by a Brazilian priest that has been living in France for the past 30 years! It was lovely, half in Portuguese and half in English and my closest friends also said some beautiful words!! After the ceremony we had a cocktail, followed by a beautiful cheese cake and Champagne!!! However we didn't even see it…  as we were busy taking pictures in the garden!!
The day goes by so quickly,  that the only way to relive all those moments are through  the photos and videos taken that day.  After the wedding we had a photo shoot session in Paris, near all the places we love!!! It was sooo romantic… and we even met the famous comedian Jamel Debbouze and took a lovely picture with him!.
The second ceremony was a muslim wedding.  Almost 50 people came to my house to collect me for the wedding, there were about 20 cars driving around Paris, making a lot of noise and singing arabic music! I was actually scared when I saw that many people in the apartment I had rented near Champs Elysee.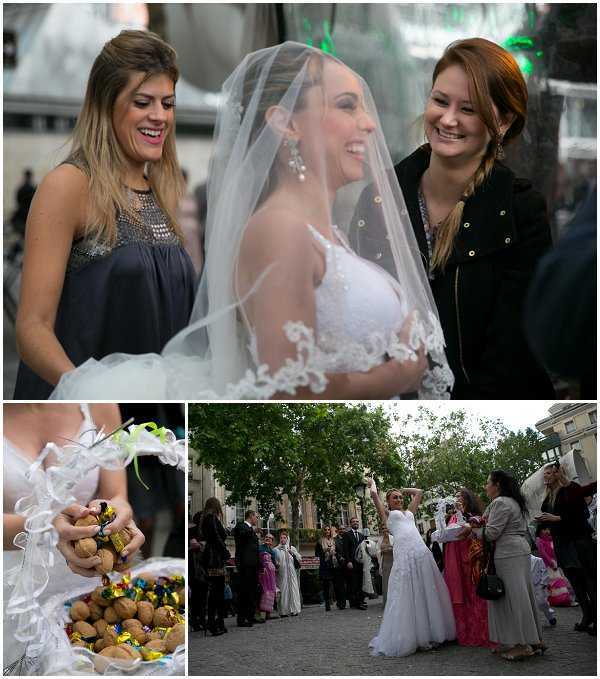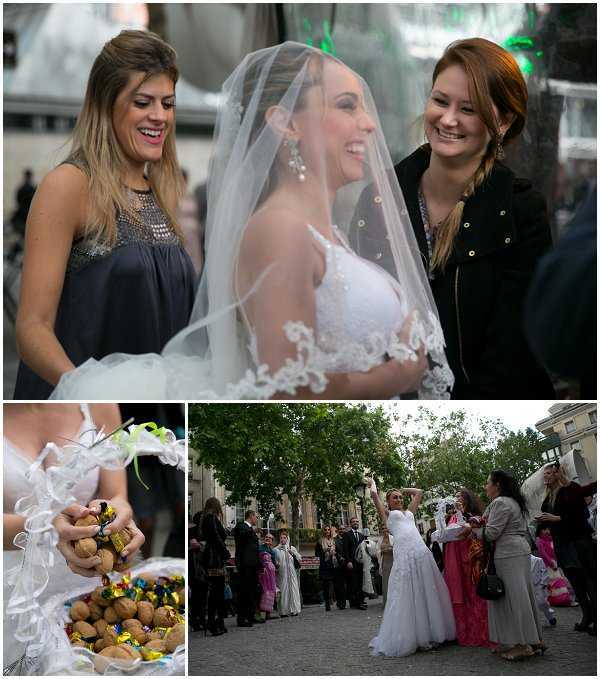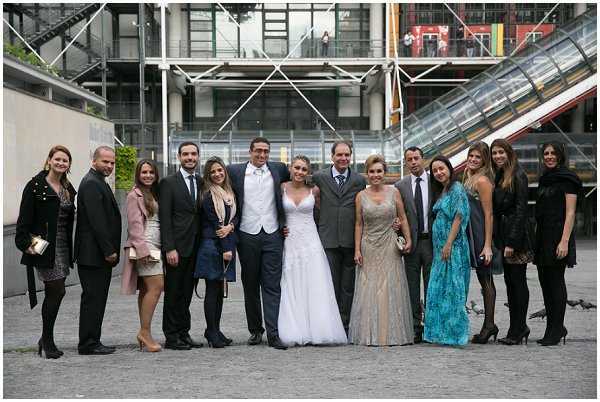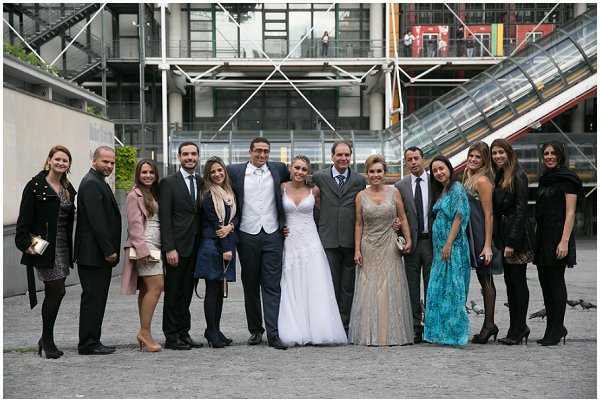 Then we all went to the party…. When I got there we took some pics in front of the Pompdou and then we had the ceremony with the Imam. Before the ceremony I changed into a tunic that covered the hair and hands.
The Imam was very traditional and asked all women to go out of the room. A quick explanation for the request, – my now husband is French but his parents come from Algeria, which was a French colony and is a very open country.  My mother in law doesn't use veil and she wears skirts covering the knee,  so we were all very surprised at the request and I didn't agree.  So it was agreed all women went to the back of the room and the men came to the front. 
The ceremony was actually between my father (very catholic) and my father in law and a cousin (as witness). The Imam explained to my father how things worked, they all prayed together, and in the end the Imam asked my father in law about the dowry and he proceed to take 100 euros from his pocket!! All the Brazilians laughed, as we don't really have many Muslims in Brasil and that was very unusual request for them.
After a while I had to change my outfit again… this time I put a traditional "Robe Kabyle" ( a dress from a certain region in Algeria)… very colorful and everyone loved it!! My mother also got a dress as a  gift – this time my father and she loved it!!! We also had other rituals during the party which included; wearing gloves, a sample of water from Meca and something that looked like a clay (but it wasn't!!)… Due to the cultural differences we couldn't combine both ceremonies and parties together, but in the end it was even more special, because we had 2 typical parties, each one with its own traditions and faith respected!"
What beautiful weddings and a stunning shoot in Paris, I love the image with the saxophonist!


Wedding Suppliers:
Photographer: Studio Cabrelli
Dress: Bergdorf Goodman – NYC
Venue: Chateau d'Esclimont
Florist: Monica Rezende – Bresil
Hair: João Paulo – Brésil
Make Up:João Paulo – Brésil
Decoration: Clarissa Rezende