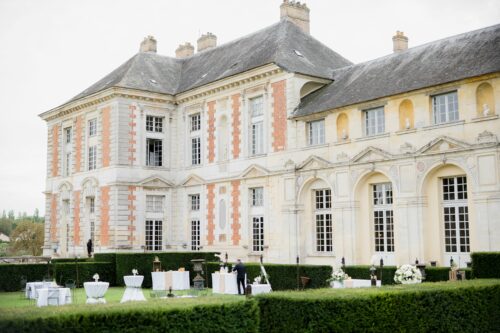 An enchanting wedding celebration.
Yolonda and Craig's dream wedding became a reality with the exceptional services of Dream Paris Wedding. Set amidst the picturesque beauty of Chateau Vallery, just a stone's throw away from Paris, the enchanting celebration spanned two unforgettable days. As their loved ones travelled all the way from the United States to join the festivities, Dream Paris Wedding planned and designed every details, ensuring an extraordinary experience for all.
From the moment the guests arrived, they were captivated by the timeless elegance and charm of Chateau Vallery. The meticulously manicured gardens, the breathtaking architecture, and the romantic ambience created the perfect backdrop for Yolonda and Craig's love story.
"The couple could relax and fully immerse themselves in the magic of their special day."
Dream Paris Wedding's expertise shone brightly. Their attention to detail and professionalism ensured that the couple could relax and fully immerse themselves in the magic of their special day. The wedding planners brought together a team of talented vendors, seamlessly coordinating each aspect of the celebration, resulting in a truly unforgettable experience for everyone involved. From the beautifully adorned ceremony space to the exquisite floral arrangements, every element was thoughtfully crafted to reflect the couple's unique style and vision. The reception was a culinary delight, featuring delectable French cuisine and fine wines that delighted the taste buds of all in attendance.
Yolonda and Craig's wedding, with the help of Dream Paris Wedding, was a true success and will forever be etched in their memories as a celebration of love, beauty, and the power of their dreams.
Suppliers:
Design and Planning: Dream Paris Wedding
Venue : Chateau de Vallery
Caterer : MG Reception Traiteur Guerault
Photographer : Claire Morris Photography
Videographer : Storia Films
Officiant : Ruffled by grace
Hair and Make Up: Widnie Alexis
DJ Band: Curtis DJ Doobie Philip
Violonist: J Hope
Caterer for Brunch: 48H Traiteur
Coffee Truck: Brulerie Saint Jacques