This Tuesday we are whisking you away to the breathtaking Villefranche-sur-Mer on the Cote D'Azur for a luxury Domaine du Mont Leuze real wedding.
A wedding in the south of France is a truly wonderful experience and today's Domaine du Mont Leuze real wedding is certainly no exception. Our bride and groom Samantha and Julien chose the French Riviera as it was perfect for their international guests. Featuring a stunning Lee Grebenau lace wedding gown, an equally beautiful Daphne Newman veil and exquisite planning and decoration by Gustavo Averbuj, the whole day just exudes elegance from start to finish.
To ensure their wonderful day carried on right through to the early hours our bride and groom enlisted the help of FWS vendor High Standard DJs who kept the whole wedding party entertained. High Standard DJs are based in Cannes and say "Whether you are planning your dream wedding party, corporate or private event, we will make sure that you get exactly what you want. We specialise in creating the perfect sound, and selection of music for your special event in the South of France."
We shall now turn things over to our bride Samantha to walk us through her luxury Domaine du Mont Leuze real wedding…
"When Julien and I became engaged it was a given we would get married in the South of France. We wanted a location that was beautiful and also easy for our out of town guests. We had an international wedding, meaning we had friends coming from all over the world, so it needed to be near an international airport. We chose Domaine du Mont Leuze because of the exceptional view. I have been there twice before the wedding and every time I fell in love with the view."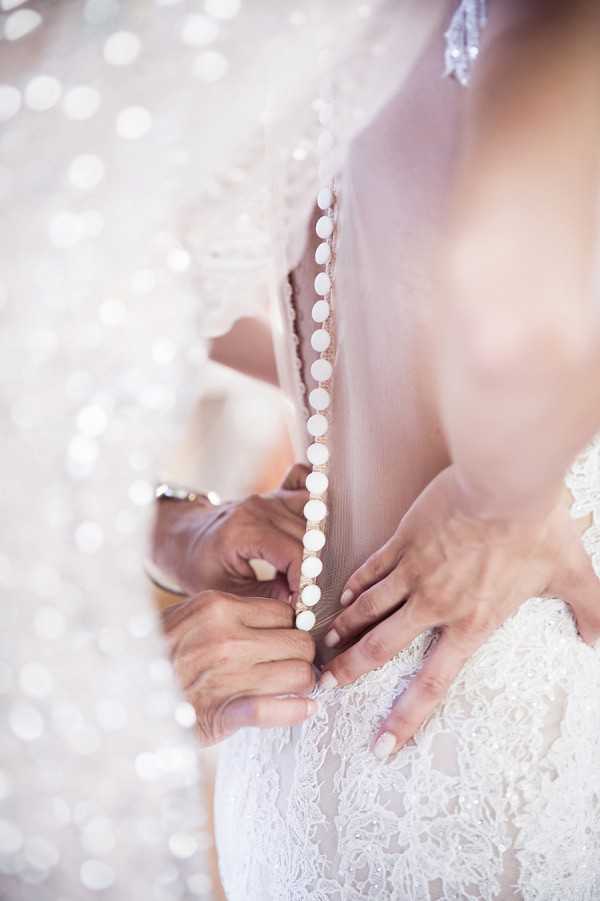 "We really wanted a historical church so we chose the Church of Eze, we really wanted our guest to be WOWED! And what not a perfect location than the medieval Village of Eze."
"I put my trust in Manola Moreno and Gustavo Averbuj to make my vision come alive. We decided that the theme should be transparency so that the guests didn't have anything obstructing their view. I also love eucalyptus and the smell of them so they were in the church and reception venue."
"For photo and videography I worked with Helena Ahonen and Raphael Louis, they both worked closely to capture the love between us and the smiles and beautiful emotions amongst our guests."
"Before deciding on the dress I tried on over 60 dresses! Everything was way too beaded or heavy and you know for a July wedding in the South of France the weather can be extremely hot. I decided on a Lee Grebenau from Sprina Bride in NYC. I loved that the dress was light with a long train and also I could take the sleeves off when the party started! For the ceremony I wore a Daphne Newman veil that added drama and at night I took the sleeves off and wore Ranjana Khan earrings for a more lively funky look."
"Dj Ben Spencer knew this was an international latin wedding so we had a mix of salsa, merengue, and samba to keep us moving till the morning."
And to capture Samantha and Juliens big day was videographer  Raphael Louis, and you can check out the video below:
Congratulations Samantha and Julien from everyone here at French Wedding Style!
Are you planning your wedding on the French Riviera? If so why not check out our guide to your destination wedding on the French Riviera!
Luxury Domaine du Mont Leuze Real Wedding Snapshot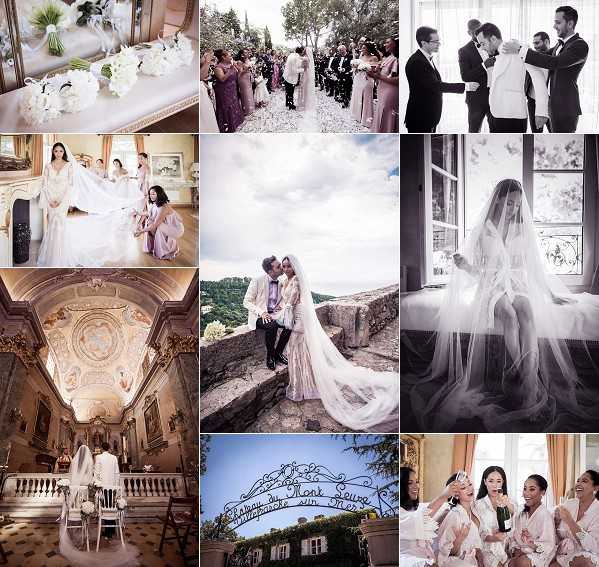 Wedding Vendors
Venue: Domaine du Mont Leuze | Ceremony Venue: Church of Eze | Photographer: Helena Ahonen | Videographer: Raphael Louis | Brides Dress: Lee Grebenau | Hair: Eric Stipa Monaco | Make Up: Joe Ghannam | Accessories: Daphne Newman | Grooms Outfit: Ermenegildo Zegna | Decoration: Gustavo Averbuj | Catering: Saveurs et Prestige | Entertainment: HSMD Event DJs