Starting off the week with a fabulous real life Dordogne wedding of Graham and Evelyn at Chateau Soulac in South of France captured by Lydia Taylor Jones Photography, it might be cold and wintry outside but this sunny wedding in France will cheer you up!
Upon the recommendation of a colleague Graham and Evelyn took the wise choice of hiring a wedding planner to organise and co-ordinate their destination wedding in France, enabling themselves and 23 wedding guests the chance to enjoy the Dordogne Valley sunshine, scenery for the four day wedding events.
Newly wed Evelyn talks us through her big day: "We decided when we got engaged that we wanted a small intimate wedding with just our closest friends and family there to celebrate with us. A work colleague of mine had gotten married in France and highly recommended his wedding planner so we decided to contact her. We arranged a visit to France to look at some possible venues and the minute we set foot in Chateau Soulac we had no doubt it was where we wanted our wedding. 
 Chateau Soulac is an amazing place. It sleeps 23 people which was just the right number for our family and wedding party. We always wanted an outdoor wedding and the views of the Dordogne Valley were just spectacular. The building itself is beautifully refurbished and the grounds are immaculately kept providing plenty of space and areas for the events of the four days. Jo and James Bussell are the owners and they provided a 5 star service over the weekend! Could not recommend the place highly enough!
 Our wedding planners Louise and Beth from marrymeinfrance.com were fantastic and made everything so easy for us especially as we were planning the wedding from Ireland. We only had to make two trips to France during the planning. They arranged every detail according to our tastes and needs and kept us updated constantly by e mail. Whoever said weddings were stressful hasn't met these two ladies!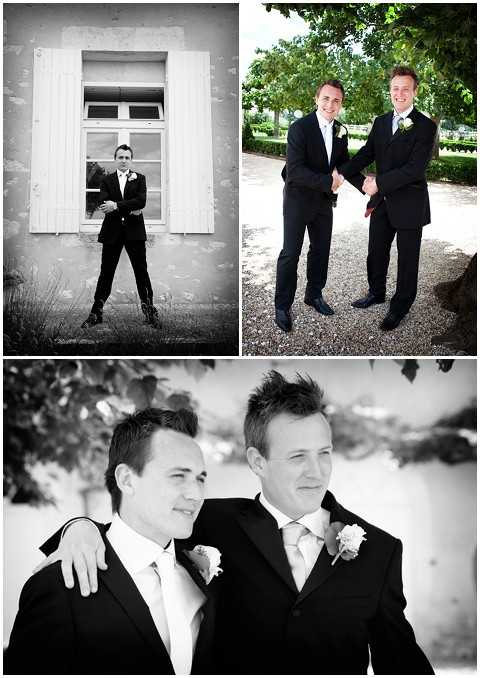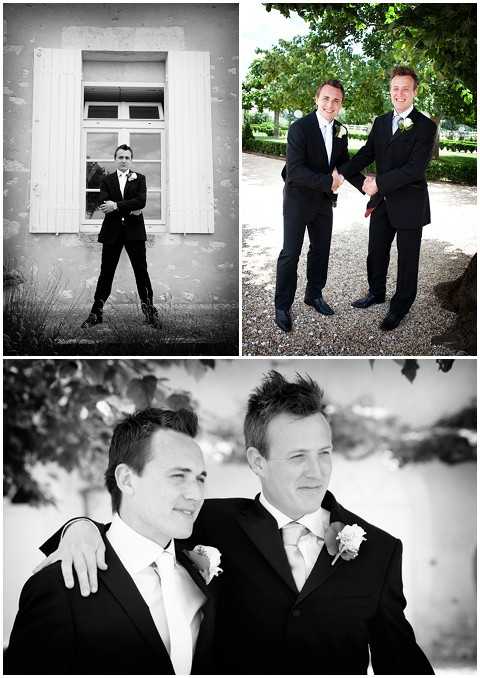 Our caterers Chez Amis were also fantastic. The food was beautiful and Amy the chef was so helpful with the difficult task of deciding on a menu. She also suggested having a wedding cake of cheese which we would never have thought of and went down a treat with the guests served later in the evening with crusty bread!
We would also highly recommend Luminous who turned the Chateau into a virtual fairytale with lighting for the reception.
Font Vidal a local vineyard who provided the wine for the wedding were also very helpful when it came to choosing the wine. We had to get that right as we were getting married in a Vineyard! They were very accommodating with quantities and the wine itself was a huge hit with all our guests!
 The day itself went off without a hitch thanks to Louise and Beth who arrived early and stayed all day to ensure everything was perfect!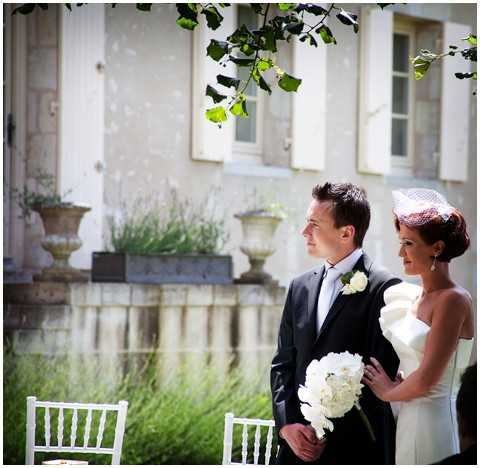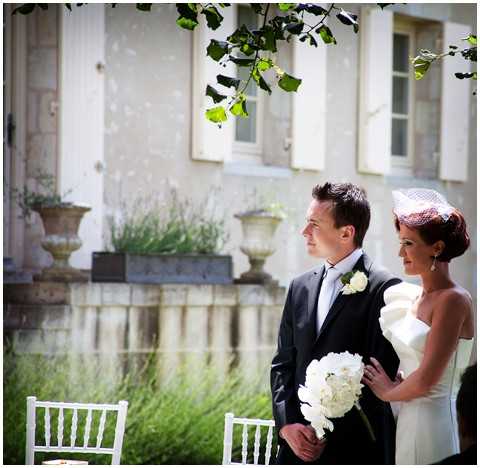 As with all brides nerves are inevitable but thanks to family, friends and an amazing make up artist and hairdresser (and of course some bubbly!) the atmosphere was one of fun and naturally a few tears thrown in.
The ceremony was held in an outside area with breathtaking views and a naturally formed aisle of trees. Our celebrant Jean Sait had written the ceremony for us which helped make it very personal and naturally emotional.
The only element that didn't cooperate was the wind which swelled up during the ceremony but looking back it provided a natural air conditioner to help keep everyone cool!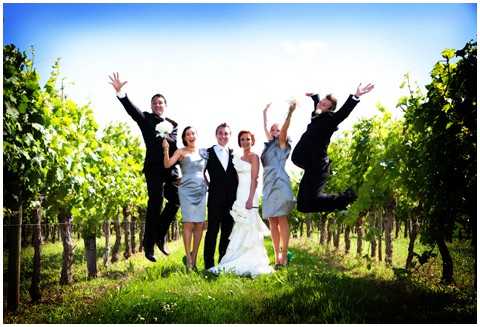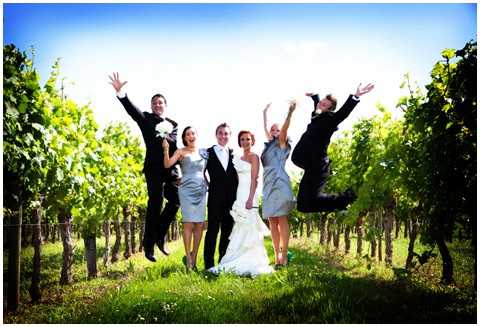 The band Hickesville played during the ceremony and entertained the guests afterwards by strolling around the garden as everyone sipped Champagne. It was exactly the relaxed atmosphere we had hoped for.
The wedding meal was held in a barn on the grounds which thanks again to our wedding planners looked amazing and provided a very intimate setting for dinner and the speeches. After dinner Hicksville again took to the stage and ensured the dance floor was never empty. They finished by leading everyone outside to dance under the stars and fairytale lighting around the grounds. 
We had an amazing day which continued long into the night and and into the following 3 days!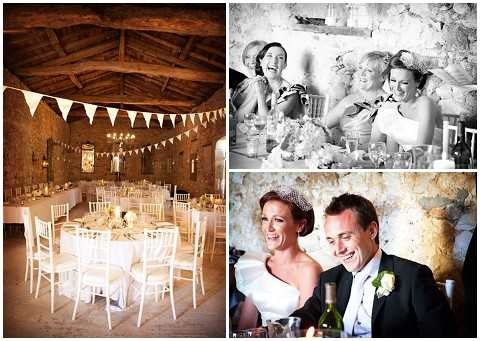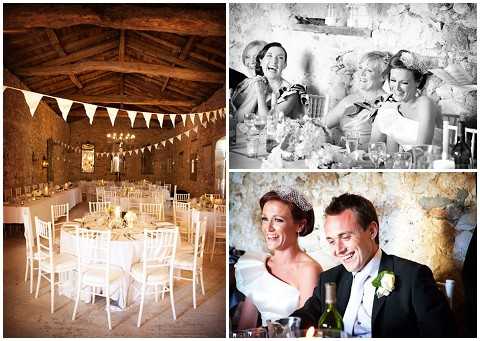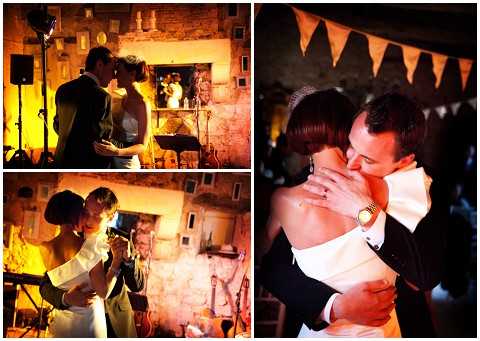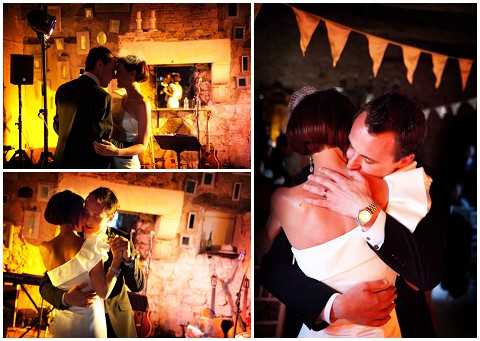 Getting married in France was definitely the best decision we ever made. We had 5 amazing days with 60 of our closest friends and family in an amazing venue and country. Lydia is a fantastic photographer and she really managed to capture the day and atmosphere for us.
Most people didn't want to go home! Some guests are even planning to go back this summer to soak up some more of the French countryside! The Dordogne region was not an area that was familiar to many people but has made a lasting impression on all who joined us for our big day."
Evelyn is a beautiful bride, glamour meets demur style and with fabulous make up and love the eye lashes!  Have a fabulous start to the week and do leave your comments for Evelyn and Graham.
Monique xx
Wedding Suppliers:
Wedding Photographer: Wedding Photographer Dordogne
Wedding Venue: Chateau Soulac
Wedding Planner: Get Married in France
Caterer: Chez Amis
Band: Hickesville
Celebrant: Jean Sait
Wedding decoration: Luminous
Wine: Font Vidal