Happy New Year lovelies, I have a stunner of a wedding at Chateau de Varennes for you today. I hope you had a wonderful Christmas and a fantastic start to 2016!! Can you believe we are already into the first week of the new year? Let's kick it off with a bit of glitz and glamour.
I'm a lover of colour but I do adore this white, gold and leafy green colour scheme which fits perfectly with the backdrop of the timeless Chateau and really adds a touch of elegance to the day. Get ready to be swept off your feet with this romantic affair.
Our gorgeous bride Charlotte will be walking us through her very elegant Chateau de Varennes wedding today…
"Both Michael and I decided that we wanted a destination wedding. After being to some beautiful weddings in the UK we decided we didn't want out special day to be compared to anything else and instead wanted something that would be individual to us."
"After extensive research all over the globe and visits to the Amalfi Coast, Italy, and Crete, Greece, looking at wedding venues I had come to a brick wall. I knew I wanted a wedding in the warm sunshine, I had a vision in my head of how my wedding would look, I just didn't know where to find it. Then I found a beautiful chateau in South Burgundy, France – Chateau de Varennes. It was gorgeous! Concerned that my time was running out as we wanted to get married early in the wedding season of 2015 and it was July 2014 by this point, we quickly secured a date and booked the chateau without prior visit. Risky – but thankfully on our first visit in the September we were absolutely blown away by the chateau's beauty."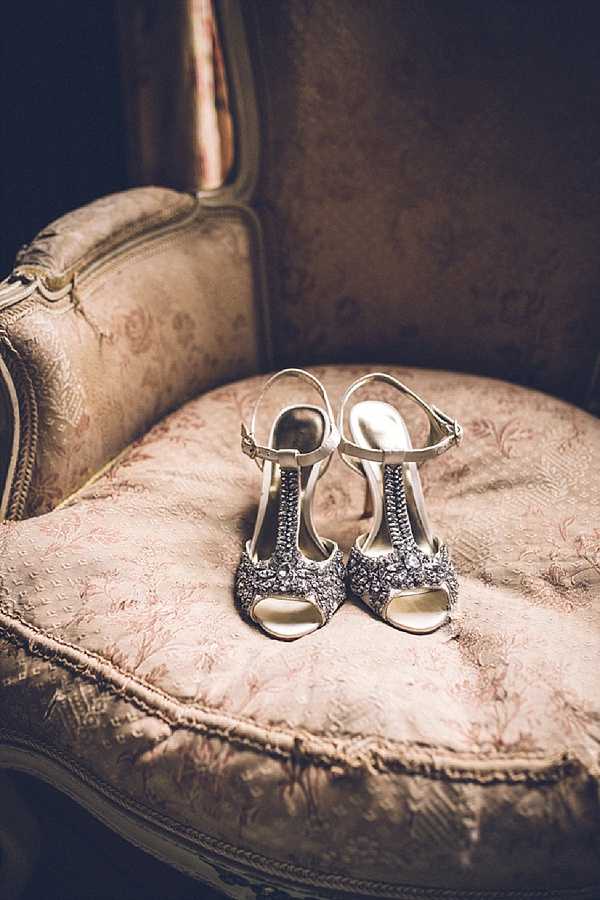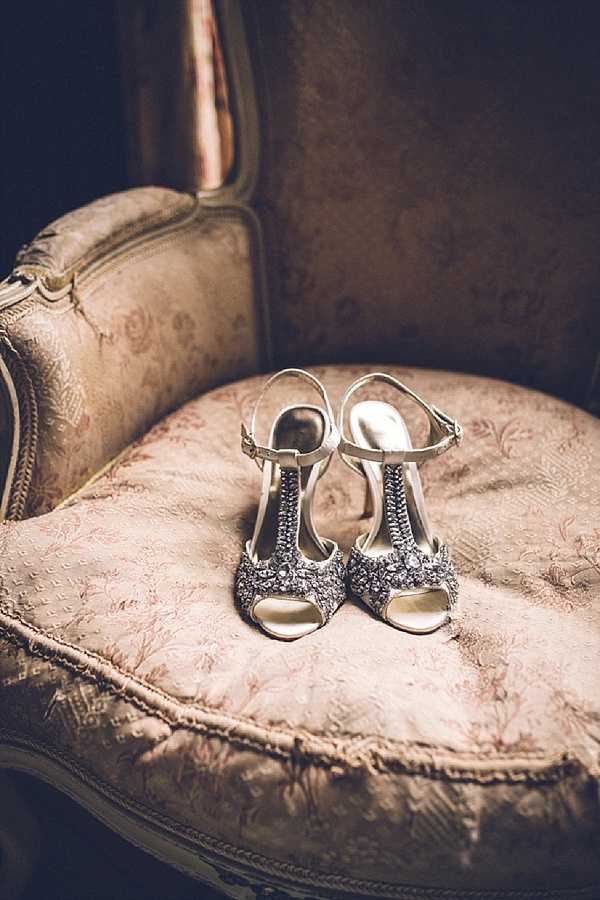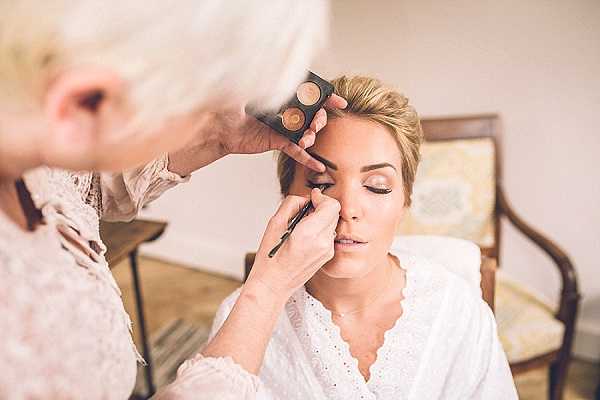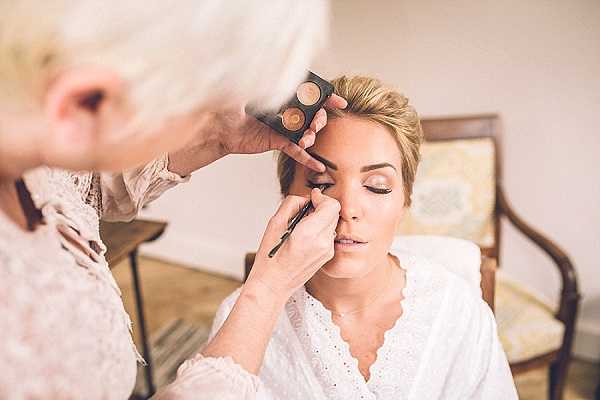 "For me I found choosing a dress quite hard. All the dresses out there are gorgeous, but how do you find one that is your stand out dress, the most important dress you will ever wear! This was hard and it took me 4 attempts!!! In the end, and with the help and kindness of Knutsford Wedding Gallery for putting up with me, I finally decided on a gorgeous Anny Lin gown. With individual flower detail around the sweetheart neckline and lovely fine feathers that floated so beautifully as I walked, I fell in love with it immediately. It was a far cry from my original plan of having something as plain as possible!"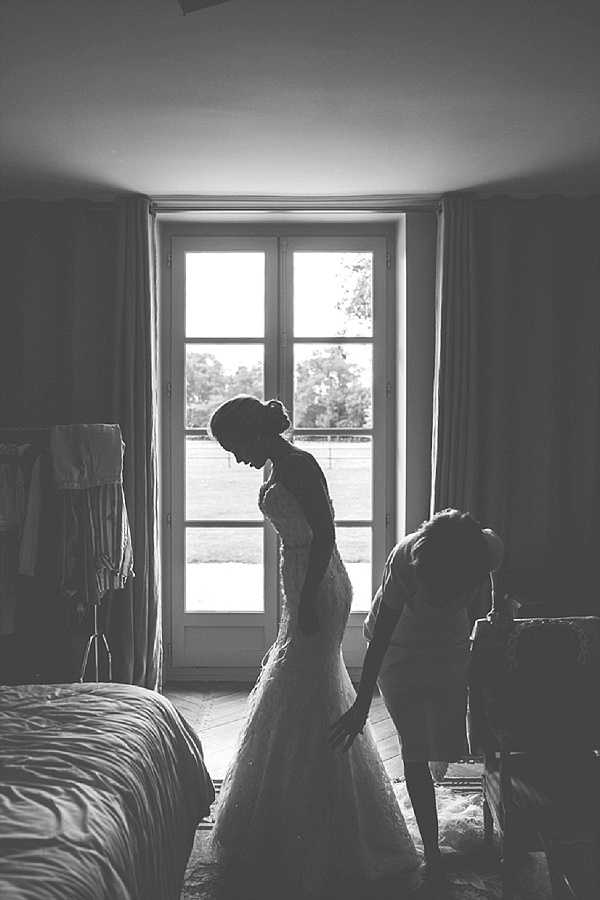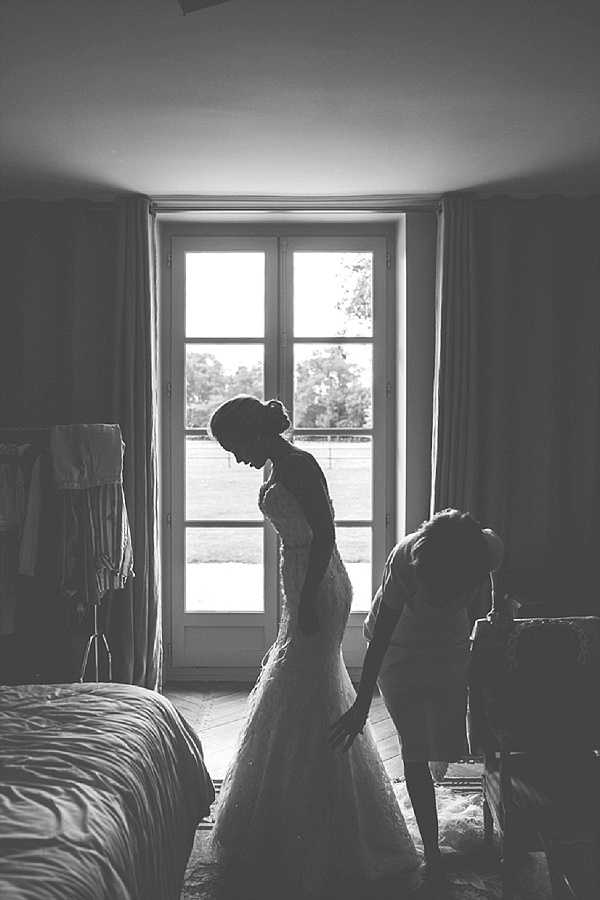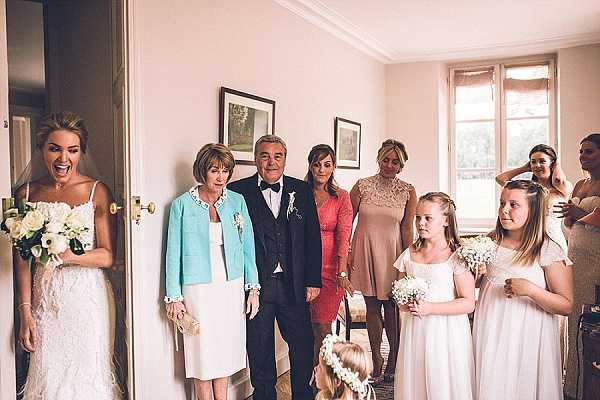 "The bridesmaid dresses were a hard one. After trying on numerous 'bridesmaid dresses', we found that the shapes and styles were not very inspiring. In the end, I started looking on the high street and surprisingly found some lovely options. I wanted them in a sequin gown, which was near impossible to find – until I managed to find THE one in Coast (and even better, it was in the sale). My adult bridesmaids tried these on and they were just perfect. For my 3 little ones I went to Monsoon and bought a really relaxed white dress for them all. They were so light and floaty, so perfect for a destination wedding."
"The wedding started at 4pm and we held our ceremony in the chapel on the grounds of the chateau. The chapel was covered in candles and the aisle was framed with fresh rose petals. My father and I walked in to my sister-in-law and niece singing "The Flower Duet". A real tear jerker – it set the scene so beautifully!"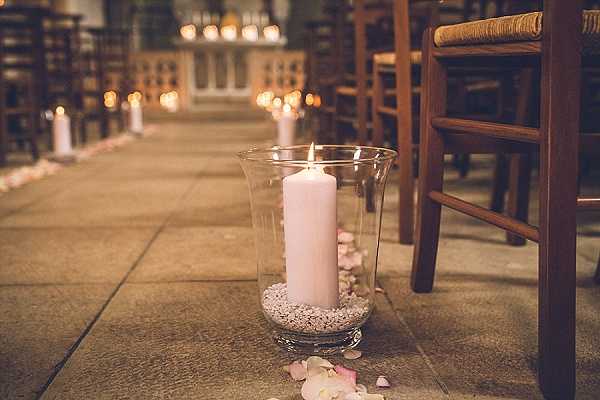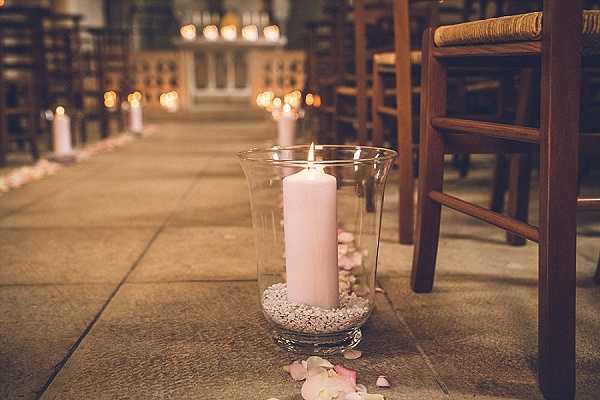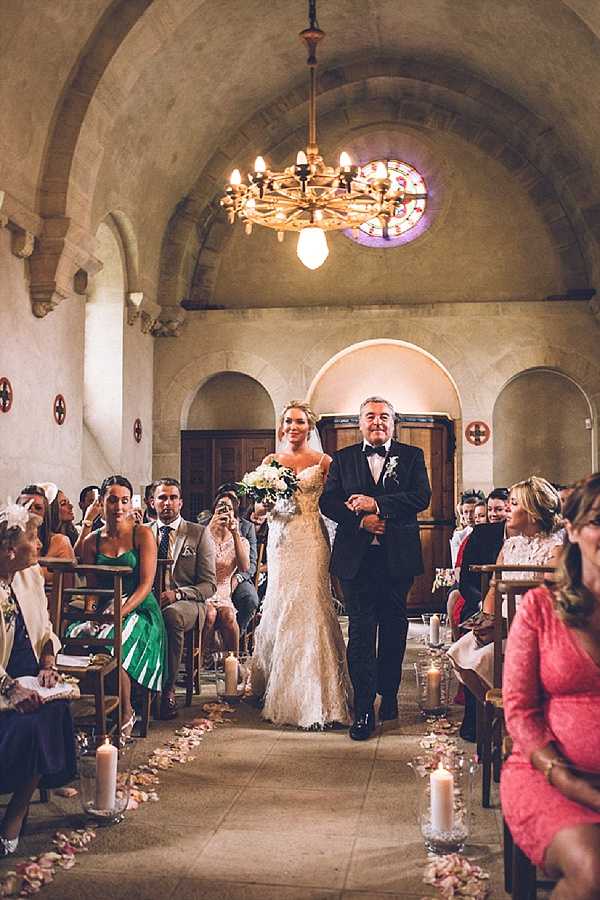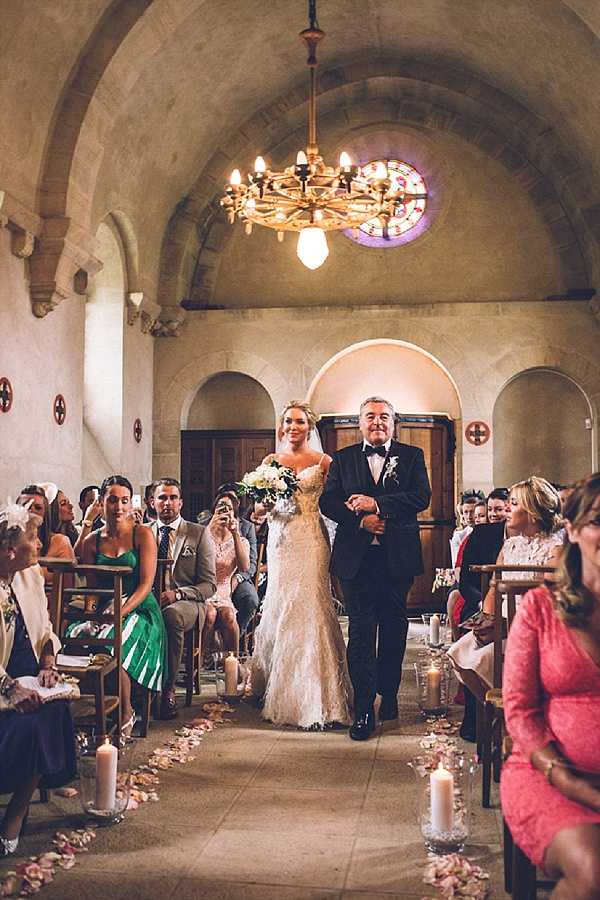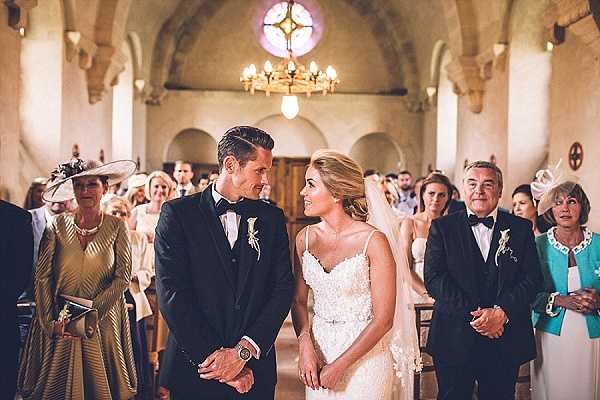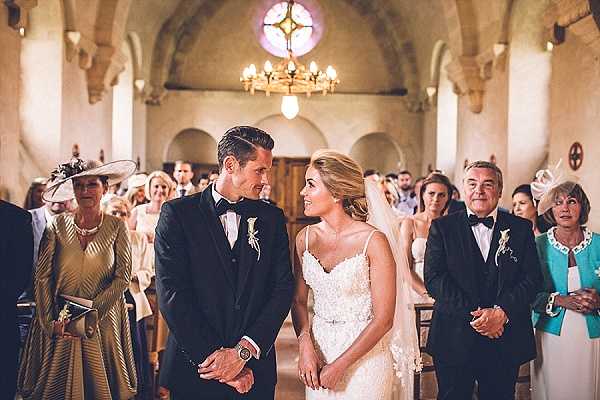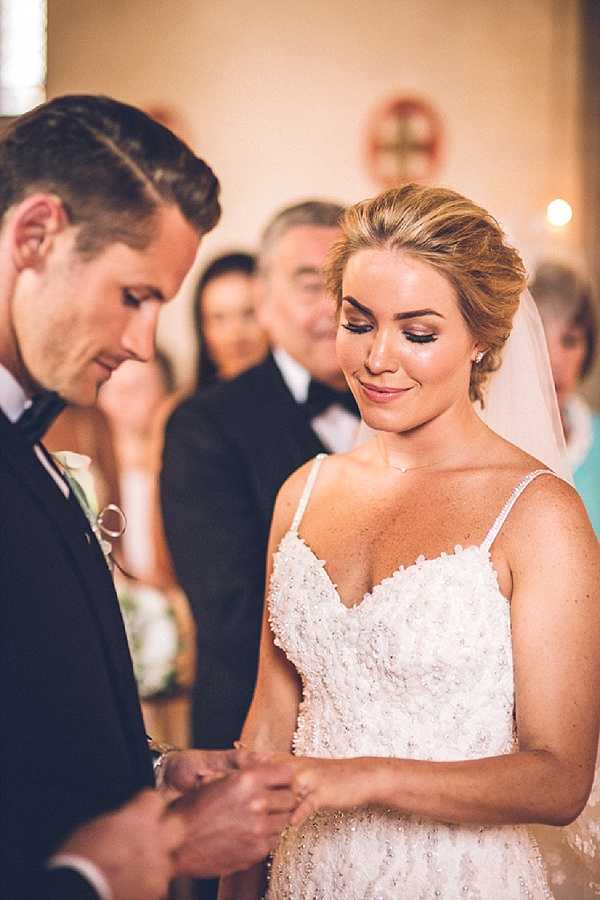 "My vision was to have a mixture of rustic France teamed with glitz and glam. My colour scheme was white flowers and leafy greens, dotted with gold! I absolutely loved my wedding flowers and table decorations. The ladies in the florist were so fantastic and despite the language barrier, we managed sign language our way to my perfect flowers. Luckily they totally understood my vision and they were probably my favourite addition to the wedding."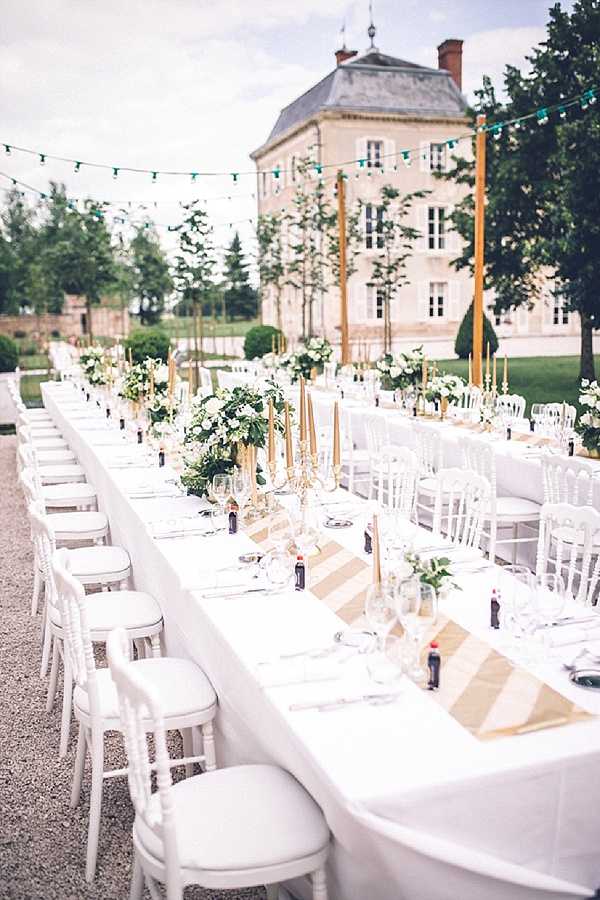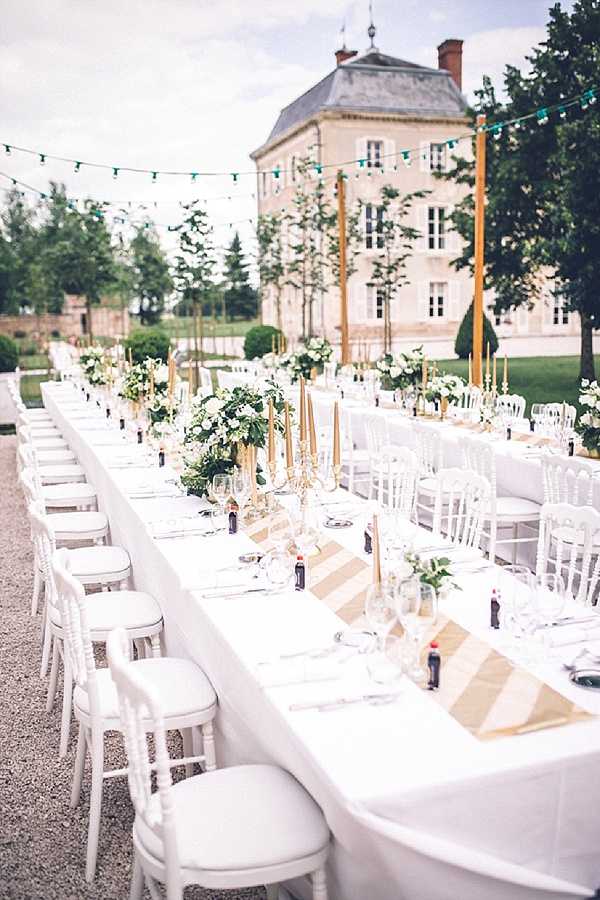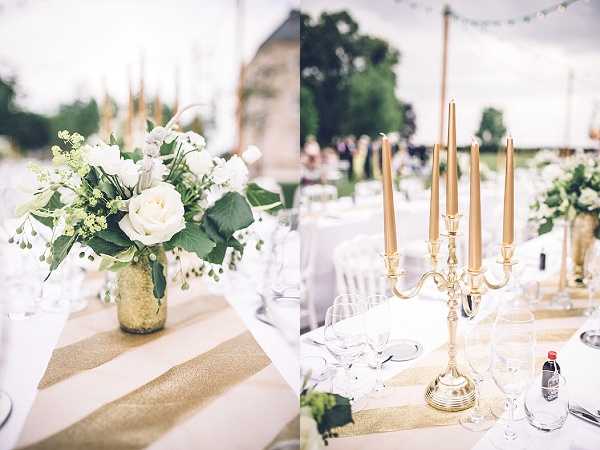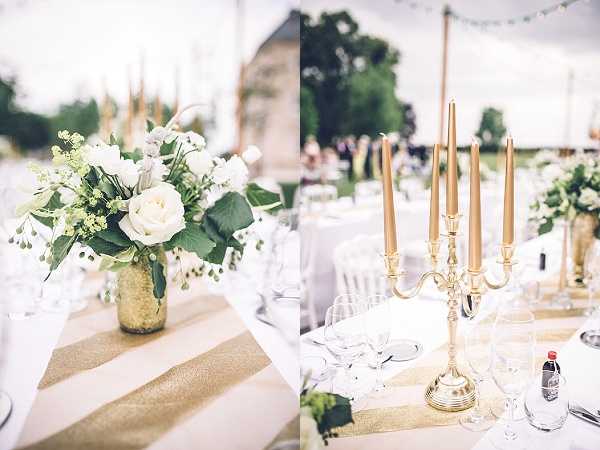 "When it came to picking my photographer I wanted their style to totally reflect the wedding styling. With my colour scheme being white, gold and leafy green I wanted my images to look almost dreamy and romantic. I spent weeks looking online for photographers and did not have much luck. It appears that dark moody wedding pictures seem to be the 'in thing' at the time, but this just would not work with my theme.
I work for a jewellery brand called ChloBo Jewellery and we use a photographer for our lifestyle shots. When struggling for a photographer a colleague mentioned that Amy also does weddings. I knew already that she was a fantastic photographer, however I assumed she focused solely on high fashion shoots, but when I went on her website I was absolutely blown away! She was perfect! I looked through her images and was in love with every last one."
"The men all looked sharp in their suits from Groom Suit Hire. We decided to go for black tuxedos – as there were no 'colours' in the wedding theme, we felt these would look great – and they did!"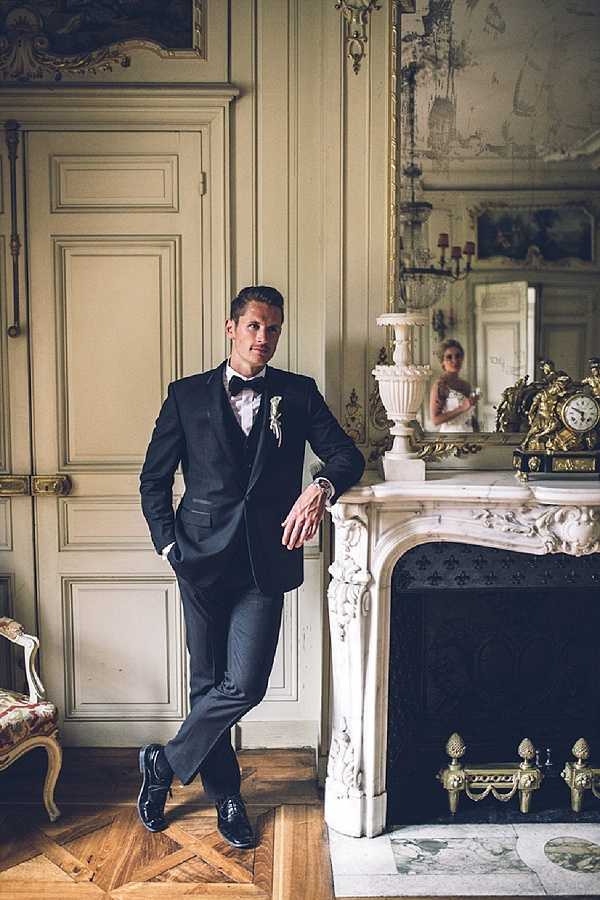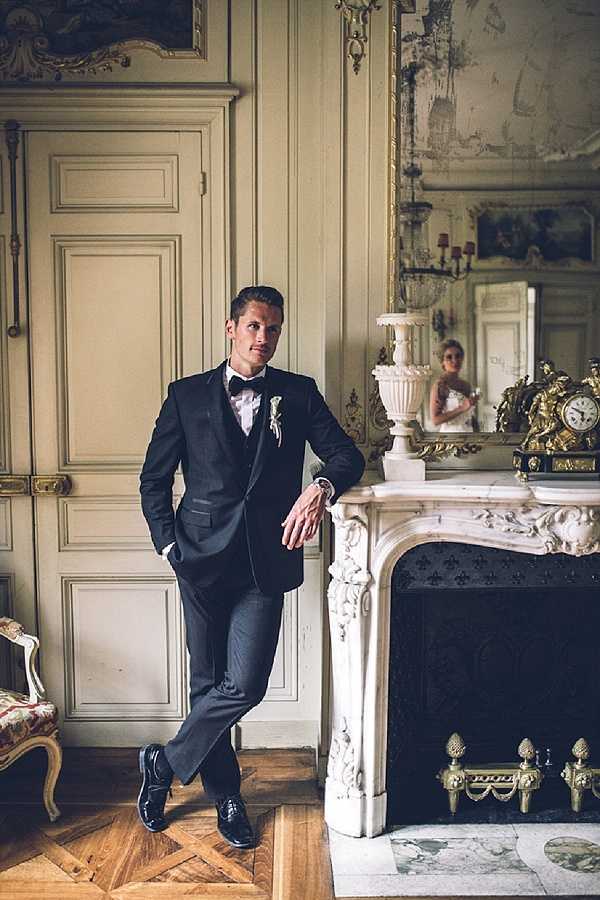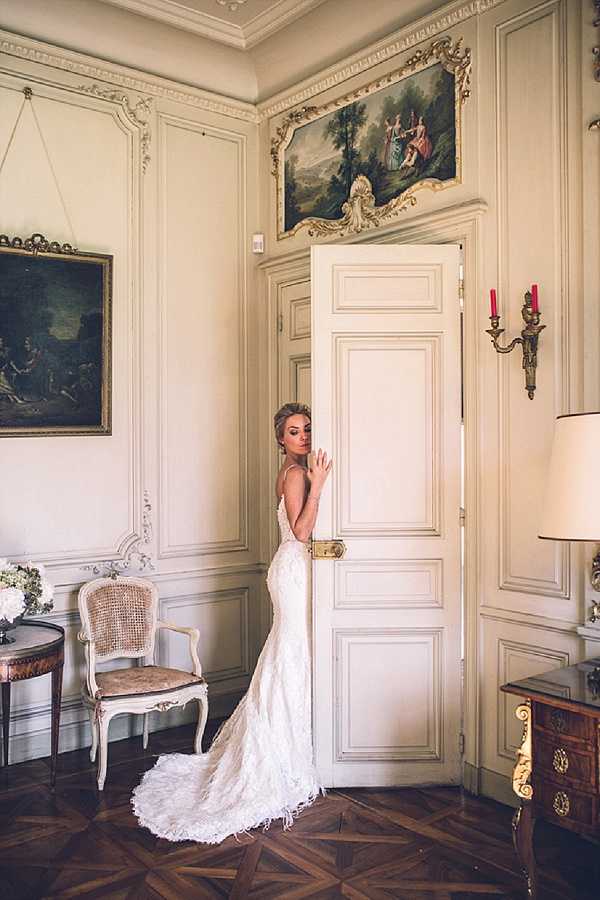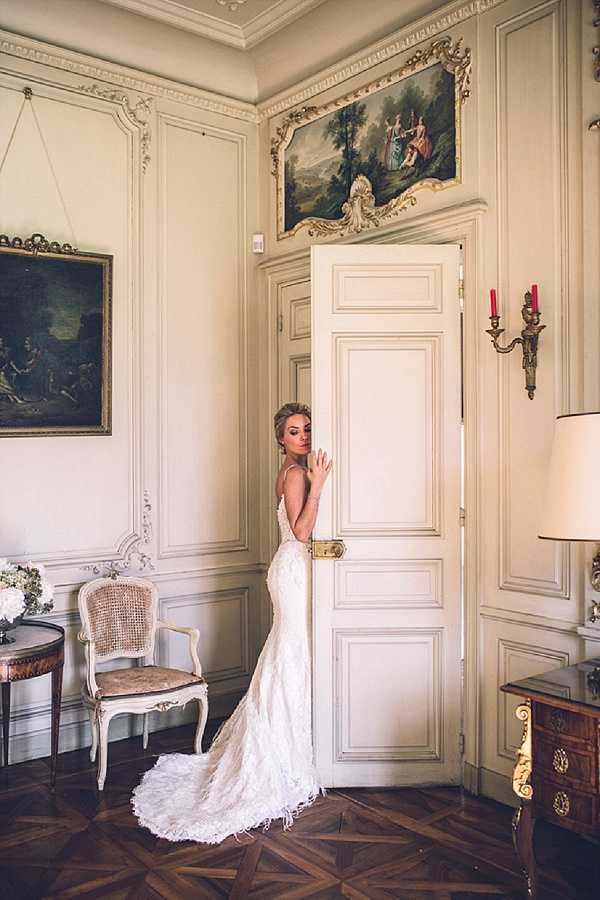 "We met in Chester at a local late night hot spot. Michael saw me and said he quickly knew he wanted me. He introduced himself as we had mutual friends. He would then find out every time I was out and would change his arrangements so he could bump into me. After being in a relationship for just 4 months we decided we wanted to live together and had moved into our first home 9 months into our relationship. I fell head over heels in love with him and was desperate for us to be engaged, however I think Michael liked how the tables had turned and that I was now chasing him!!!"
"4 years on Michael was working offshore and so was away from home but one night I was going out for a meal with a few of my friends to a busy restaurant at Chesters Racecourse, a place I know very well. As we were walking into the bar area I noticed it was closed and I was very confused. I turn around and my friend Sophie, who I had arrived with, was running back down the stairs we had just been walking up away from me. I was incredibly confused, so I turned back around to see what she was running away from – there stood Michael, all suited and booted.
The once "closed" room was filled with candles and looked beautiful. I was so confused that he was here as he was meant to be working offshore, I just didn't know what was going on! He was so sweet and talked me through the whole process starting with 'this is the engagement' and ' I am going to get on one knee now' . He was obviously so nervous! We got engaged and pop goes the champagne! I was so overwhelmed and excited. We then enjoyed a lovely meal and decided to carry on our celebrations by heading to a bar after the meal. We arrive and there is all of our closest friends and family ready to celebrate with us. It was just so so so perfect!"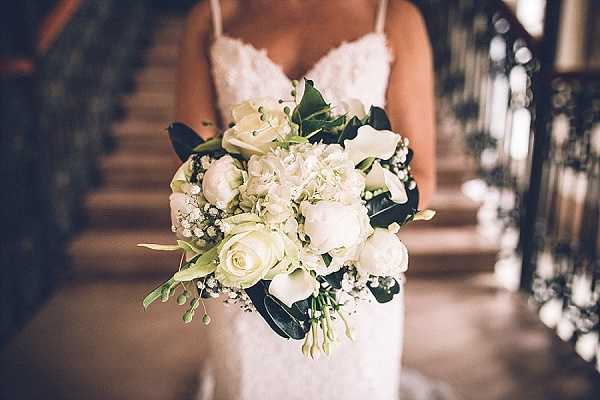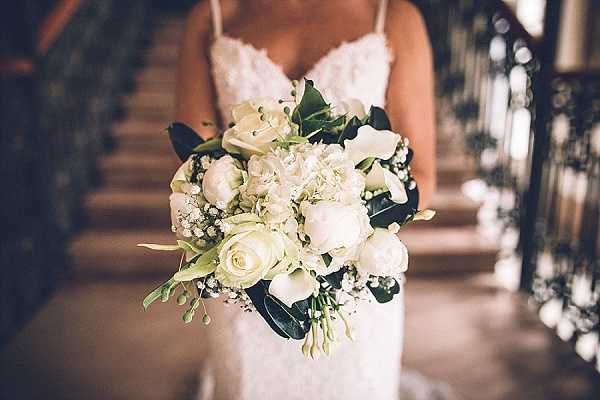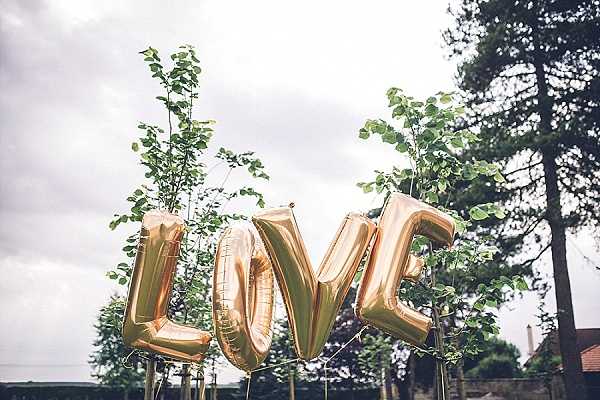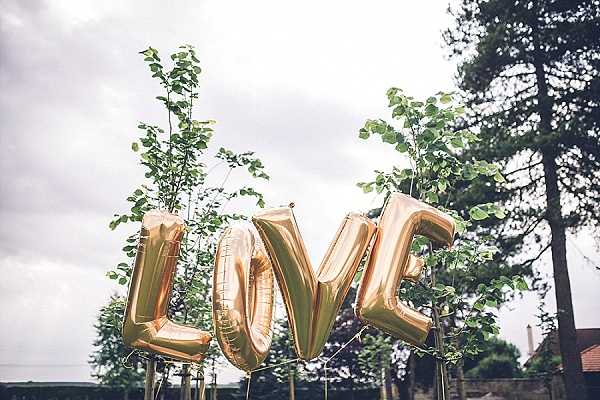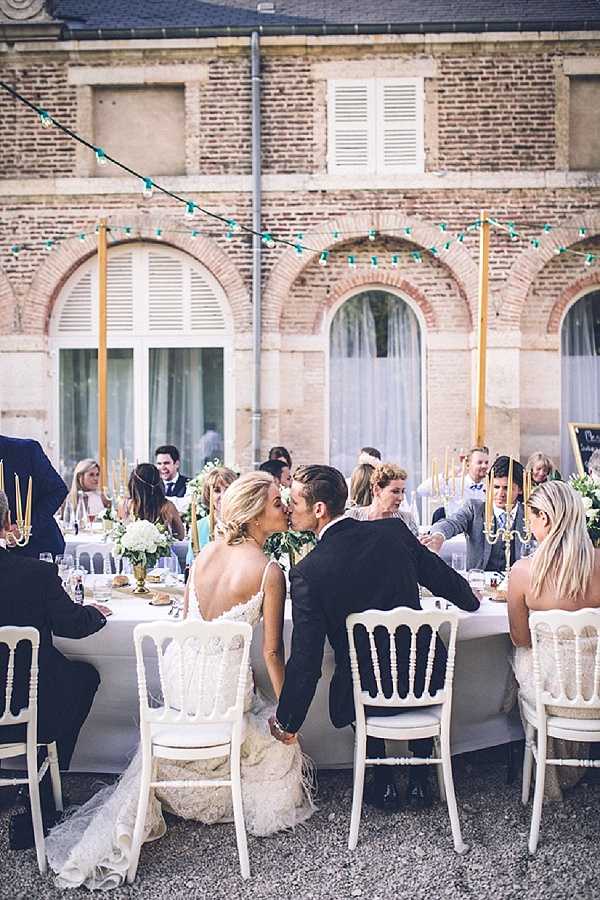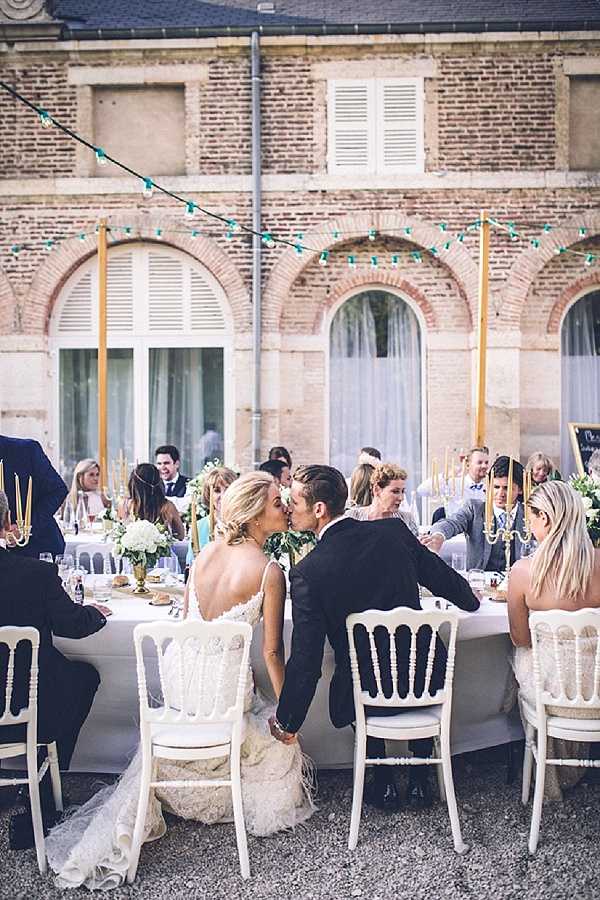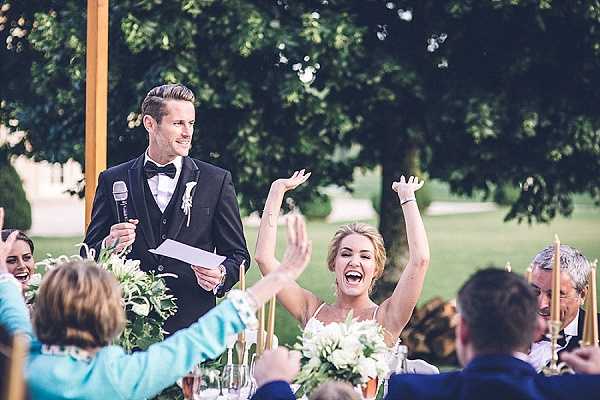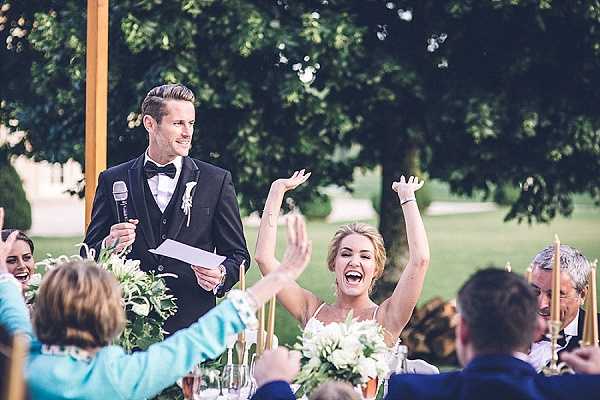 "The band made the night complete! We found 'The Brightlights' online as they advertise themselves as the only British band in France. I think the party at a wedding is so important! We positioned the dance floor outdoors, as it was my vision to dance the night away under the stars and boy, that is exactly what we did!! I cannot recommend the band enough. People were talking about them for weeks and weeks after."
Congratulations Charlotte and Michael, what a stunning wedding! For more gorgeous inspiration check out this Luxury Wedding Inspiration at Chateau de Varennes which we featured in November 2015.
With love,
Christina x
Destination Wedding at Chateau de Varennes Snapshot
Wedding Vendors
Wedding Photographer: Amy Faith Photography | Wedding Planner: Sonia de Truchis at Chateau de Varennes | Wedding Venue: Chateau de Varennes | Wedding Dress: Anny Lin | Bridal Shoes: Dune | Florist: Isabelle Minini in Dijon | Hair: Christelle Beautot | Make up: Annette Thornton Makeup Artist | Bridesmaids Outfits: Coast & Monsoon | Grooms Outfit: Groom Suit Hire | Caterer: Michelin Star Chefs of l'Auberge de la Charme | Wedding Cake & Sweet Table: Cakes in the City | Wedding Band/Entertainment: The Brightlights | Wedding Decorations: Isabella Minini | Wedding stationery: TooWordy | Confetti: Shropshire Petals