Barefoot, minimalist, relaxed and intimate, this bohemian chic wedding shoot in the French Alps will have you longing for warm open fields and the gentle lapping of water by a dock on a lazy Summer's day. Wedding planner & stylist, Sarah, from Darling Folk Weddings talks us through this beautiful shoot.
"This boho and colourful styled shoot, photographed by Klem Photographie, was inspired by joy and nature. We wanted to convey the spontaneity and authenticity of an intimate elopement, and to empower the vibrant feeling that everyone is looking for in a wedding: genuine emotions, and an intoxicating – almost overwhelming- delight to be alive right now, celebrating love with your other half!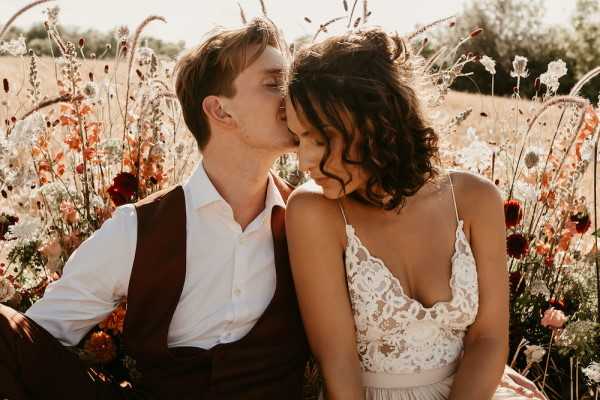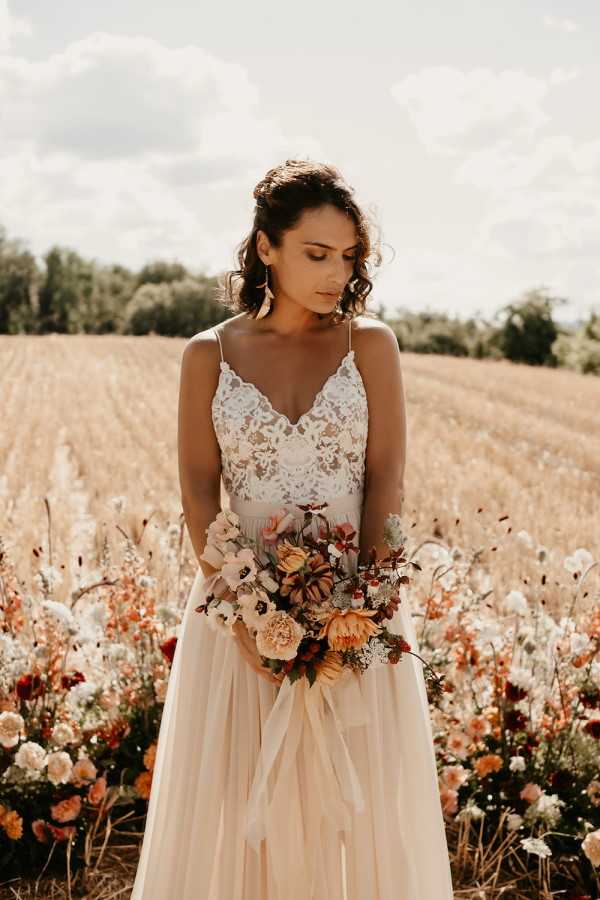 From the natural and warm colours, in the terracotta, orange, and blush tones, to the handmade and bold jewellery by Mignonne Handmade, discover with us this joyful and oh-so-chic atmosphere captured in the French Alps.
Can you feel the radiant love coming from these lovebirds, dancing and kissing under the summer light?
Bohemian and wild vibes meet elegance and refinement. It's all about movement and warmness: the sun coming through the blush and light dress floating in the wind, the couple's moves as they bend to kiss, the earrings' shape, moving as you turn your head, the curves of the bridal comb, the wild floral decor that mixes wheat, fresh flowers, and berries…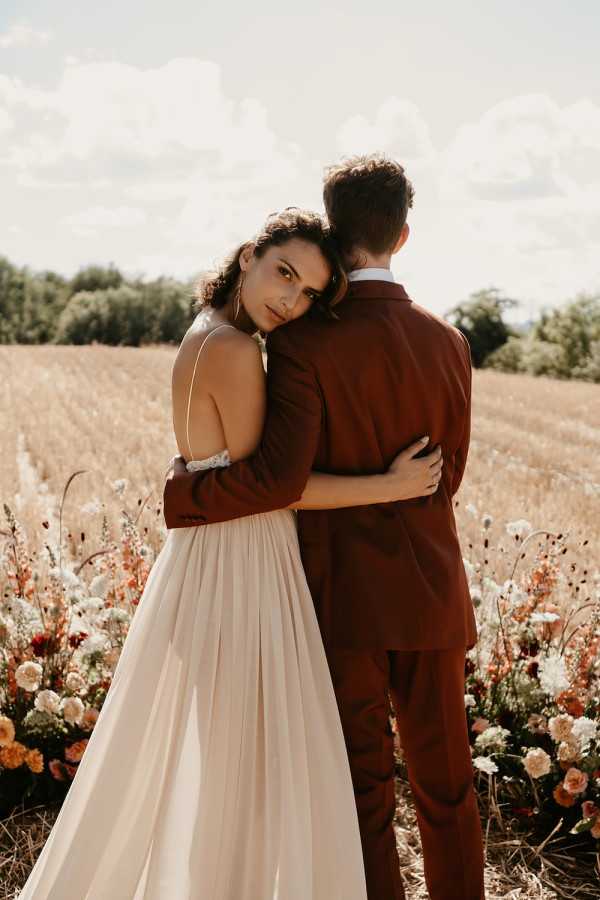 For the design, we went with warm and summer colours, along with modern and minimalist elements. Every detail has been carefully chosen to reflect elegance, with a modern boho vibe.
The groom's suit by Blandin & Delloye has something very classic and chic about it, with its dandy vest and its neat cuts, but with a twist, if you take into account the bold terracotta colour and the modern buttonhole (if you look carefully, you will notice berries! It's such an original and fun association with fresh flowers!).
The stationery, created by CMO Studio fits perfectly into the atmosphere, with its minimalist look and typography. Sober and efficient, it's the living proof that "less is more" when it comes to a wedding.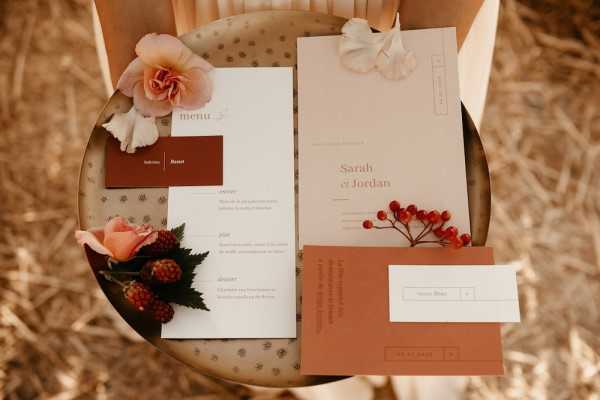 L Maquillage Délicat has given the bride a look that is both natural and glamorous. She wears a glamorous and very modern comb in her semi-attached and loose hair, combined with a gorgeous lace and tulle wedding dress by Mademoiselle Rêve Mariage. With its simple line and its flowing and light fabric, it's the kind of dress that enables the bride to move freely and to be herself on her wedding day.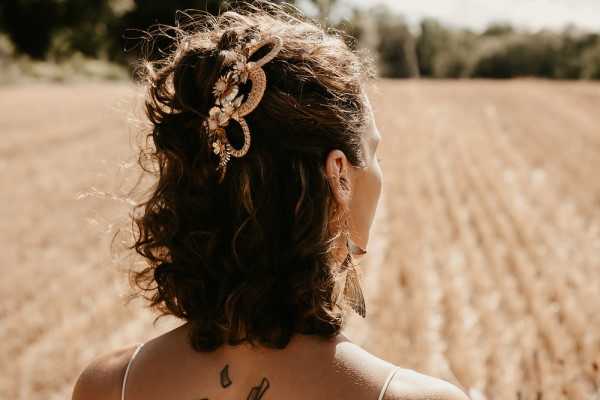 The landscapes for this photoshoot, a field in the middle of nowhere and a dock, are simple but romantic environments. We are reminded of the beauty of nature and of the simple things surrounding us.
We also had a few special guests in addition to our lovely couple: Cléa, our beautiful flower girl, and Nova, our adorable corgi, bring so much joy and liveliness into the pictures!
Cléa and Nova are both wearing flower crowns that were made specially for them by our florist Miss Acacia. Cléa wears a dress that matches the bride's dress blush tones. It was also designed by Mademoiselle Rêve Mariage.
This kind of special attention to detail is also a way to bring your loved ones into the spotlight and to make them feel special.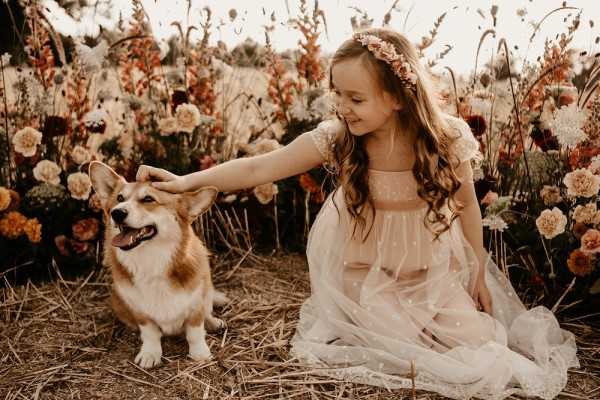 We love these perfect family portraits so much! It's so important for the bride and groom to include their dearest ones on their big day, and kids and pets are just the loveliest when it comes to spontaneous and precious moments.
The kind of moments that turn into fun and moving memories captured by genuine and warm pictures."
Bohemian Wedding in the French Alps Snapshot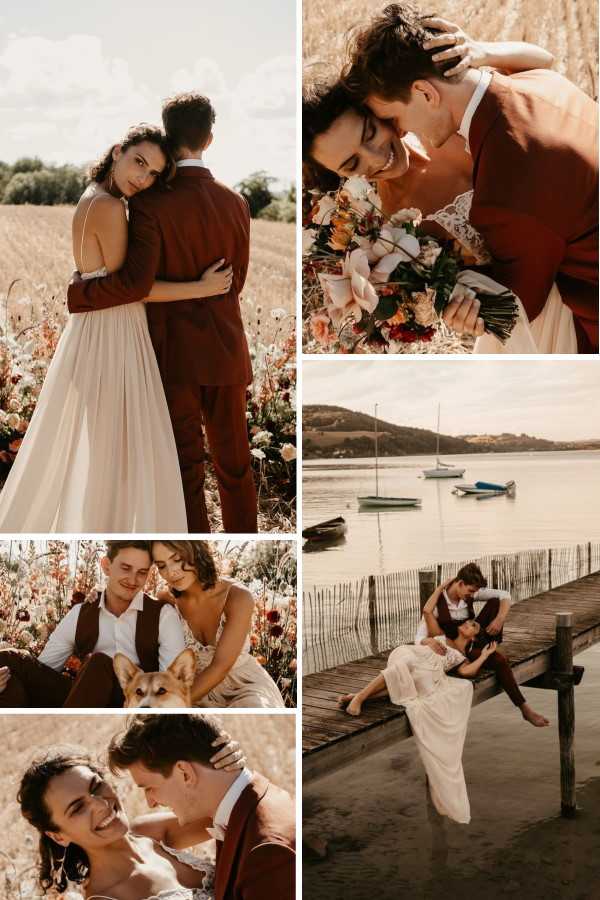 Bohemian Wedding in the French Alps Vendors
Photographer Klem Photographie | Planning & Styling Darling Folk Weddings | Hair and Makeup L Maquillage Délicat  | Florist Miss Acacia | Dress Mademoiselle Rêve Mariage | Suit Blandin & Delloye| Stationery CMO Studio | Printer Spind Print | Accessories Mignonne Handmade | Models Sarah & Jordan