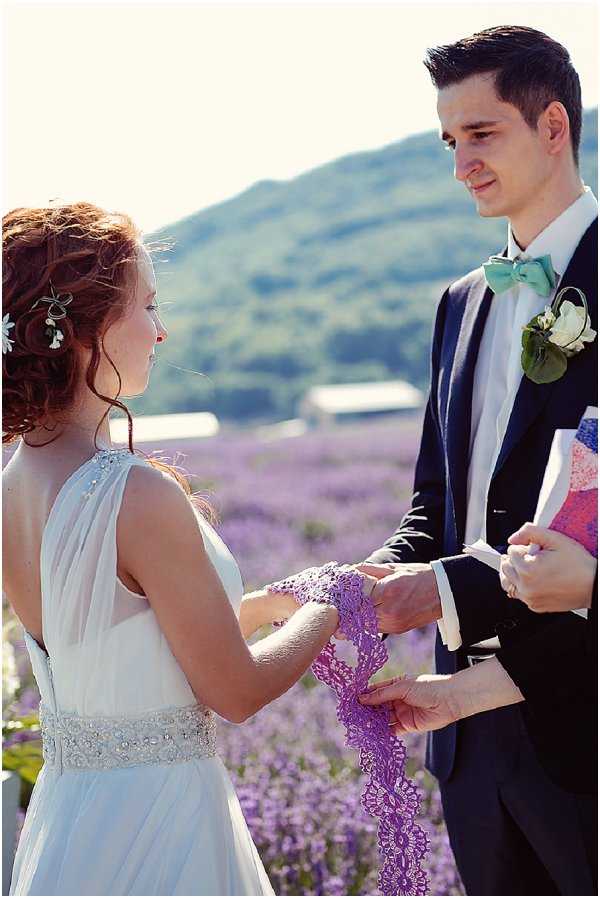 If today's post could be scented, then image the aroma of lavender filling the room as your peruse Lisa and Eugene's lavender field wedding in Provence! This lovely Russian couple Liza and Eugene dreamed of planning an intimate and romantic elopement just for each other. With the help of their wedding planner, Mariage Parisien, and captured by Marina Millepied photography, they organised a romantic symbolic wedding ceremony in the middle of Provence.
As the official ceremony with guests took place in Russia, Liza and Eugene had decided to combine their honeymoon in France with a charmingly romantic wedding in the lavender fields of Lagarde-d'Apt.
The couple was literally fell in love with this place, so full of Provencal colours and scents. Making part of the Vaucluse department, Lagarde-d'Apt is located just on the famous "Route de la Lavande" and offers breathtaking sceneries.
The bride and groom's preparations take place in a handsome provincial town Apt, at La Villa Augustine, a property built in 1912 oozing luxury and ancient-world character of lost generations.
During this time, bulbous flower vases are placed on either side of the path running through the lavender fields and a picnic of champagne and macaroons is prepared against the backdrop of the sunset which bathes the fields in the splendour of evening light.
The celebrant begins the symbolic handfasting ceremony, a ritual dating back to the time of the ancient Celts to express a lifetime of commitment and love between groom and bride, a promise being made after each full ribbon circle around the unified hands of Liza and Eugene…."These are the hands that will help hold your family together as one".
Most unforgettably, the vows are exchanged in the form of two distinct time capsule letters, written down and placed together in a special box, to be kept secret from each other for a whole year. At this time they will read the heartfelt words of their loved one, a special reminder of their beautiful wedding, marriage and future together.
Wedding Suppliers:
Venue: La ferme Le Château du Bois | Photographer : Marina Millepied | The preparations : La Villa Augustine | The wedding planner: Mariage Parisien