Good morning French Wedding Style readers, we hope you're enjoying a great week so far! The inspiration just keeps on coming here on the FWS blog and today's no exception, we have for you a stunning Wisteria inspired Chateau d'Aubry wedding full of the charm of Spring. We must admit Spring has to be our favourite season, especially when all the lilac flowers of the sweet smelling Wisteria show up… isn't it always a show stopper!! We couldn't think of a more beautiful bloom than Wisteria to include in your Spring wedding.
From the very on trend wisteria ceremony hoop to our brides lace Cymbeline gown each detail has been carefully planned by Les Demoiselles de Madame and captured with a fine art feel by photographer Julia Rapp who will also be walking us through this Chateau d'Aubry wedding (get those Pinterest boards at the ready folks!)…
"For this wedding inspiration shoot, the key was to work in a way that represents me. I'm very close to the natural world and love pure, elegant and airy images which are full of light. I want my couples to have modern yet timeless photographs that represent them and that they can cherish for years and transmit to generations to come."
"As far as my way of working is concerned, it is paramount for me to tell the story of that unique couple and to capture the real them, their emotions and personalities. As well as endeavouring to include some hints of fashion in order to give a modern touch to my photos, I pay a lot of attention to details which are contributing to the aesthetic of the day."
"Chateau d'Aubry dates back to XVI century and is situated just a 30 min drive from Lille in northern France. It is surrounded by wisteria and we were highly inspired by the wisteria being in bloom and by its amazing perfume of oncoming summer."
"We aimed for a pure and intimate ceremony that merged into the natural surroundings as we wanted to preserve all the charm of the venue. We held it in front of the château with a view of the park to create that feeling of being at one with nature."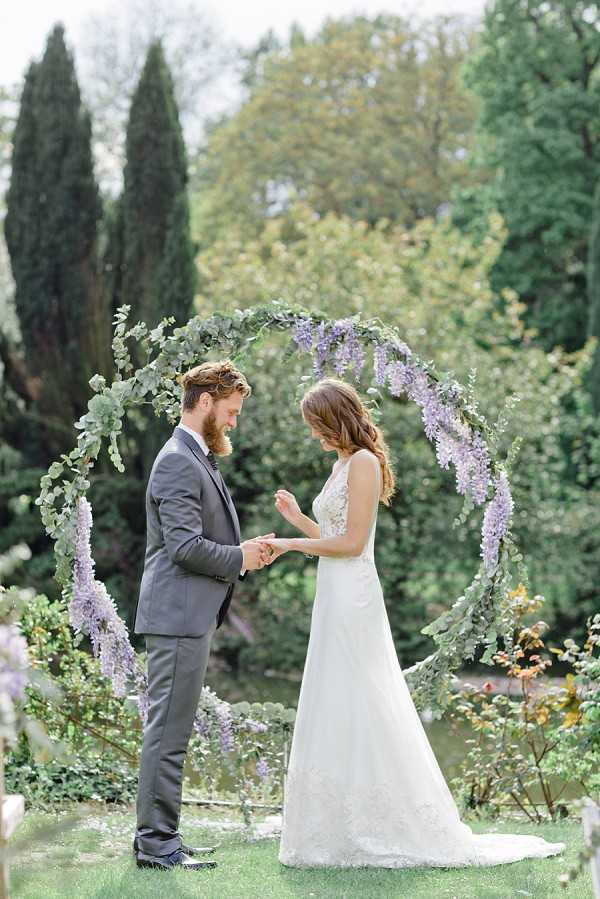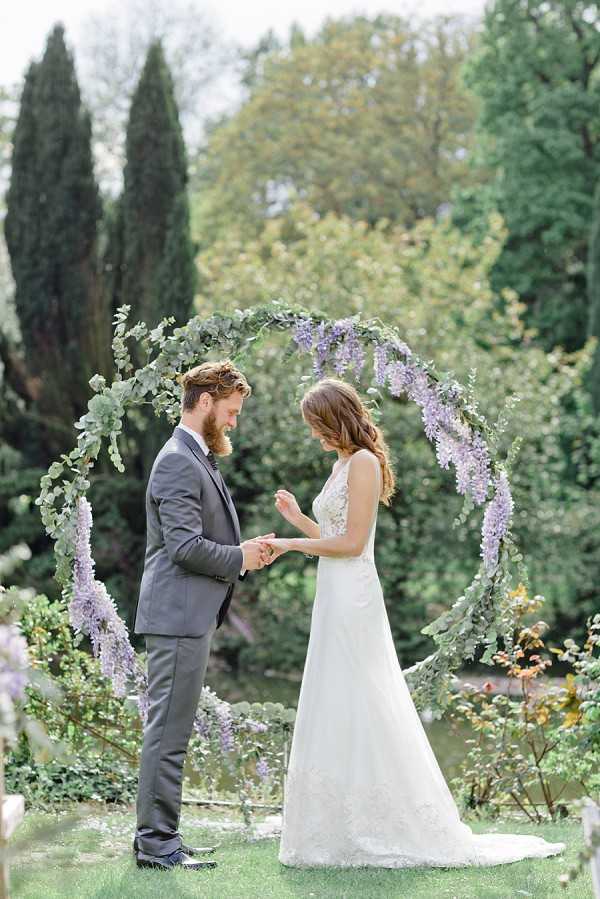 "The wedding planner Les Demoiselles de Madame created such a subtle arrangement, I absolutely love the wisteria circular arch, simple yet elegant and floral."
"The bracelet was created by a French sustainable fashion brand Gisel B which we love for its subtle and elegant universe. All the jewellery is handmade in France and the earrings are from the famous tribal Dior collection."
"Our intention was to create a very French feel, collaborating with local craftsmen and with exclusively French brands."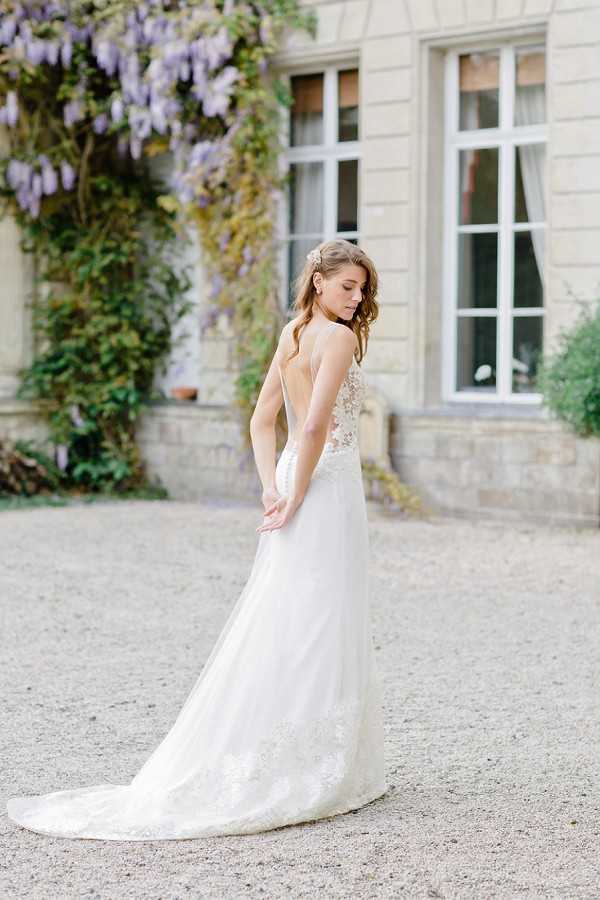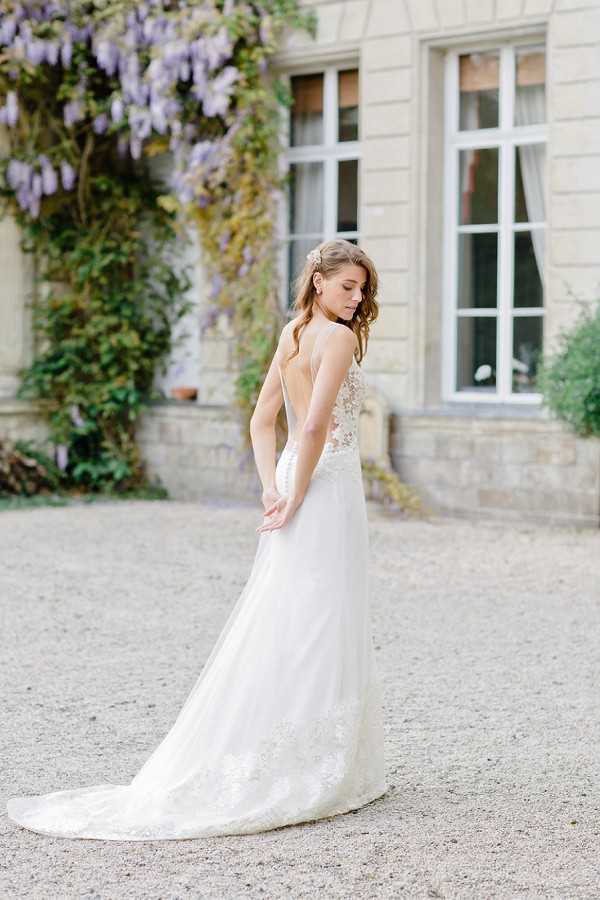 "The gown is from the new haut-couture collection by Cymbeline, a well-known French house for wedding dresses. It was crafted with coated Caudry lace."
"Céline Vulcain designed elegant and refined stationery with pastel pink and velvet tones."
"And we asked local artisan bakers to make a wedding cake and for French macarons to complete the theme."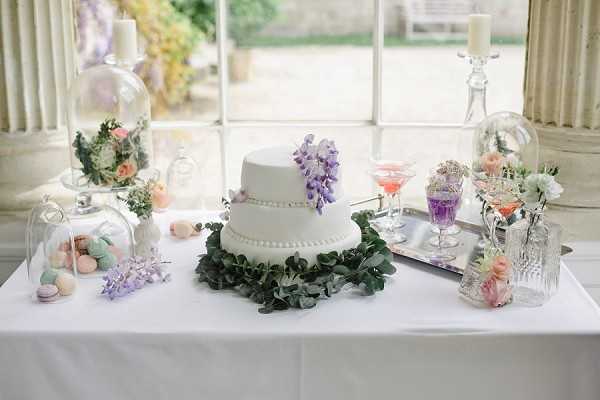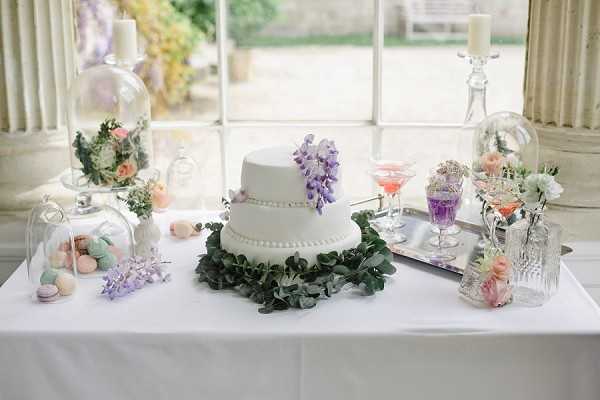 "We wanted to show an airy though elegant style with a natural touch using wisteria flowers, which was also incorporated into cake design, ice cubes and by small touches on the table."
"This photo shoot is the result of several months of reflection and work, it was such an adventure to come together and to collaborate with the whole team and I'm so grateful that all this became possible! I hope you enjoy the images as much as we enjoyed working on the project."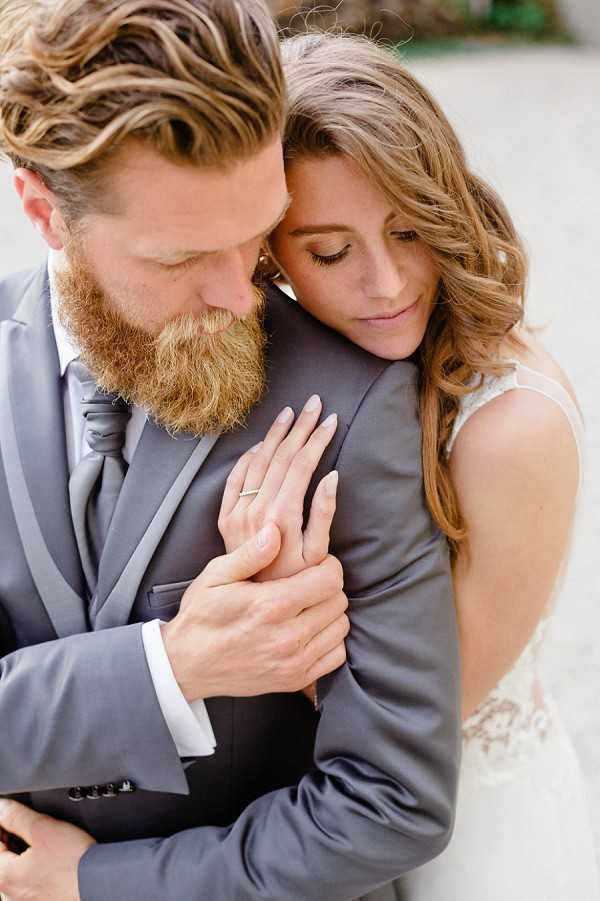 For even more Spring wedding inspiration check out this sweet springtime cherry blossom bridal shoot in Paris.
Wisteria Inspired Chateau d'Aubry Wedding Snapshot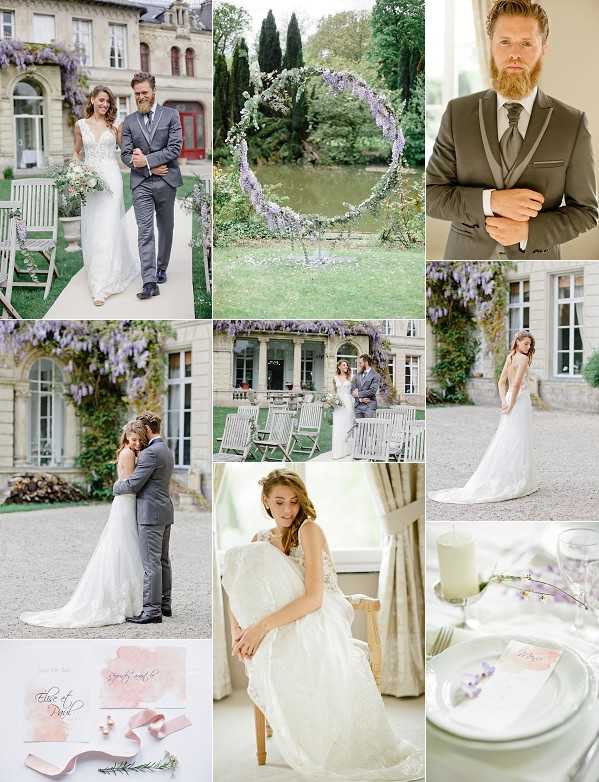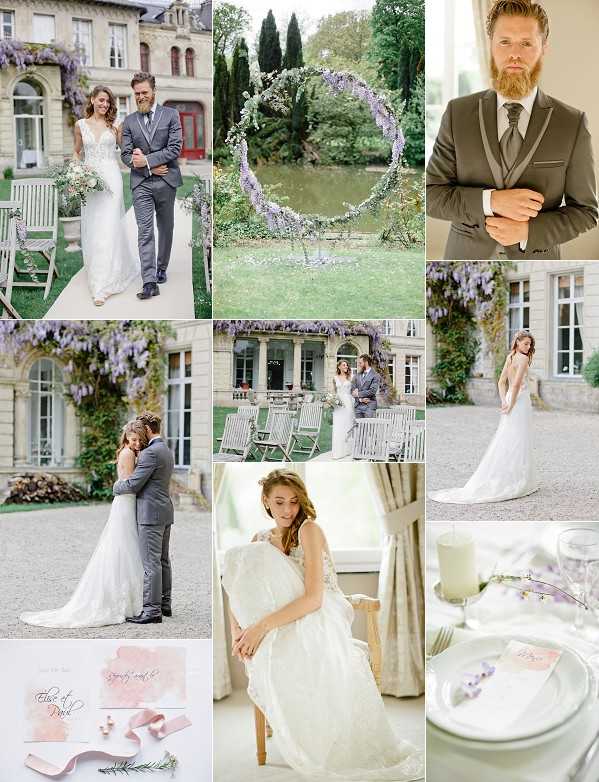 Wedding Vendors
Ceremony Venue: Chateau d'Aubry | Photographer: Julia Rapp | Planner: Les Demoiselles de Madame | Brides Dress: Cymbeline | Make Up: Lili des'tresses | Accessories: Gisel B | Accessories: Dior | Stationery: Céline Vulcain | Cakes: Patisserie Martin | Cakes:  Saveurs Du Lonny | Celebrant: Charles Werquin