Are you feeling festive lately? We definitely are seeing all the amazing pictures of this Festive style wedding. A ceremony full of confetti, laughs and good times. Glorious food at the family-style reception, and nothing but good times.
Snazzy Camp did a solid job putting this together. Catching the exact vibe that perfectly fitted with the couple's bubbly personalities. Snazzy Camp will tell you about the amazing day and take you away into this dream.
With an English bride and a French Groom, the festival style wedding of Rebekah and Julien was a party not to be forgotten! Hosted over three days at the Chateau de Villeclare, a 12th-century property that has recently undergone an uber-chic renovation, this venue provided the perfect location for a weekend of celebrations.
With the quaint chapel on the grounds providing the perfect backdrop to their ceremony, family and friends gathered under the 300-year-old oak trees to celebrate the beautiful boho bride marrying her French beau.
Who needs to walk when you have a wedding car. The couple arrived to the a family-style reception in style. During the feast, guests were sheltered from the harsh Mediterranean sun under a Snazzy Camp bedouin style stretch tent, located in front of the Chateau. Set on 120 acres of vineyards, the Cháteau de Villeclare has 10 rooms all with ensuites, as well as two separate villas to host your guests.
Rebekah and Julien created a true festival style wedding by providing additional accommodation for guests with a Snazzy Camp glamping village on the properties grounds. The Villeclare welcome glamping and Snazzy Camp can provide additional accommodation for 30-50 of your most beloved guests!
Festive style wedding at Chateau de Villeclare Snapshot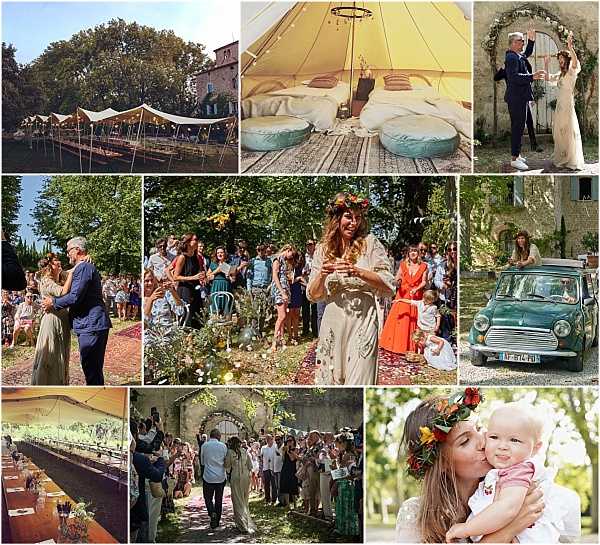 Festive style wedding at Chateau de Villeclare Vendors
Accommodation:  Cháteau de Villeclare | Dress:  Intropia Atelier  | Florist:  Amie Brennan  | Photographer:  Adrien Blanc | Photographer:  Jocasta Michon  | Hire: Snazzy Camp