We're off to South East France today for a stylish Chateau de Varennes wedding inspiration shoot. When you think of tying the knot in France many couples think elegant chateau and Chateau de Varennes is the epitome of French elegance. With it's own chapel and endless options for your large or intimate day, Chateau de Varennes is an incredible wedding venue.
We love the elegance of this inspiration shoot planned by Ceremonie & Co and captured beautifully by Filiz Sonmez Photography. We particularly love the floral arrangments by talented florist Miss Acacia.
We'll now pass you over to Filiz who will be walking us through this chic Chateau de Varennes wedding…
Lace, perfume, jewelery, castle, macaroons, champagne … all these elements represent the theme of this inspiration shoot: French elegance. Figen shows us that moving away from trends allows us to return to a world that we sometimes forget; a refined universe, luminous, universal and timeless.
Chateau de Varennes is one of the main wedding reception venues in Burgundy, for both French and foreigners. The place is an essential element in the marriage. It represents French elegance very well.
In terms of colors chosen, white, the main color of this inspiration shoot, reflects the light, it is a symbol of purity and elegance, which can be used in transparency. The powdery pink, allows to bring light shades of color, without weighing down a fine and sparkling decoration. Transparency allows you to play between material, light and other colors and can be used both during the day and in the evening. Gold brings the luxurious side.
Taking advantage of this crazy day where all daydreams are allowed, the bride can twirl her light dress on the forecourt of the castle and thus close this magic parenthesis called "French elegance" under the eye of photographer Filiz Sonmez.
For even more from Chateau de Varennes check out this gorgeous real wedding:
Stylish Chateau de Varennes Wedding Snapshot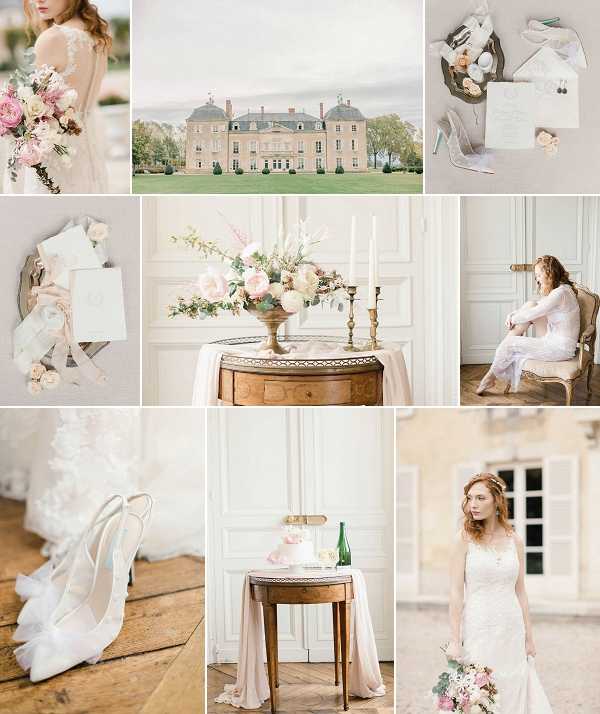 Wedding Vendors
Lead Photographer Filiz Sonmez Photography | Planner Ceremonie & Co | Venue Chateau de Varennes | Dress Martine Mariage | Florist Miss Acacia | Make Up Emma Maquillage | Stationery Dilani Schipper | Accessories Aubade | Shoes Betsey Johnson | Accessories Elmo paper stories | Accessories BelovedFineJewels | Accessories Chanel | Accessories Zen pirlanta