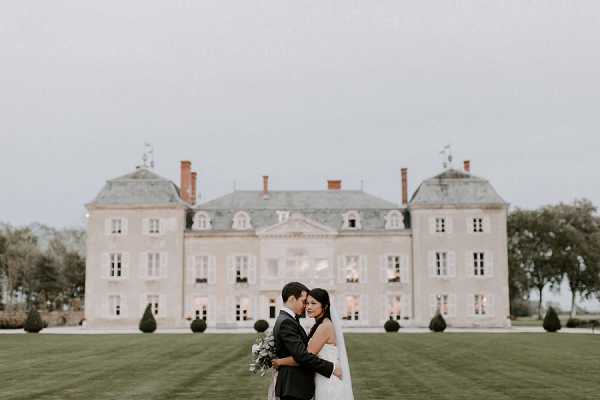 Good morning FWS readers and welcome to another wonderful week! We're kicking off with a trip to Burgundy for today's Luxury French Chateau Wedding at Château de Varennes.
Are you planning a luxury chateau wedding? If so you'll want to have your Pinterest boards at the ready for this stunning October wedding of Dot and Luc. We just love their backdrop and the sweet chapel ceremony.
We shall now turn things over to our bride Dot who will be guiding us through her Luxury French Chateau Wedding at Château de Varennes and offering you some wonderful tips from a bride to all you future brides…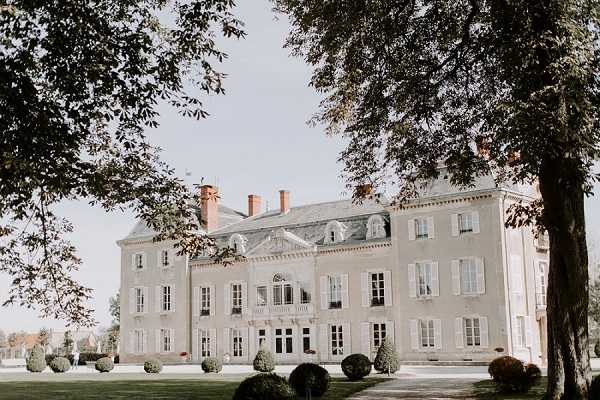 "We got married on 7th October 2017 at Château de Varennes in Burgundy, France. Luc and I met in Bordeaux through a mutual friend and the rest, as they say, is history. Although, saying that, we did manage a long-distance relationship for around six years which was quite an achievement thinking back to it. Luc lived in France and I lived in Wales UK, so we would try to meet in a different country every month. This kept things interesting and exciting albeit an expensive way to maintain a relationship!"
"Luc moved to Wales in 2014 and he proposed in Santorini, Greece in June 2016 a few days after my birthday. We took an incredibly long walk through the white cobbled streets of Santorini, from Imerovigli to Oia and took a break to take in the view of the Caldera which is when Luc proposed. So we were engaged a little over a year before getting married."
"We chose Château de Varennes as aside from it being a beautiful venue in a gorgeous location, the estate also had its own chapel within the grounds which was really important to us. The set-up of the venue meant that everything could happen all in one place, the wedding and accommodation, which was perfect as we had many friends/family who had travelled from across the world to attend the wedding. In addition, the venue was close to local vineyards and places that guests could take some time to visit during their free time."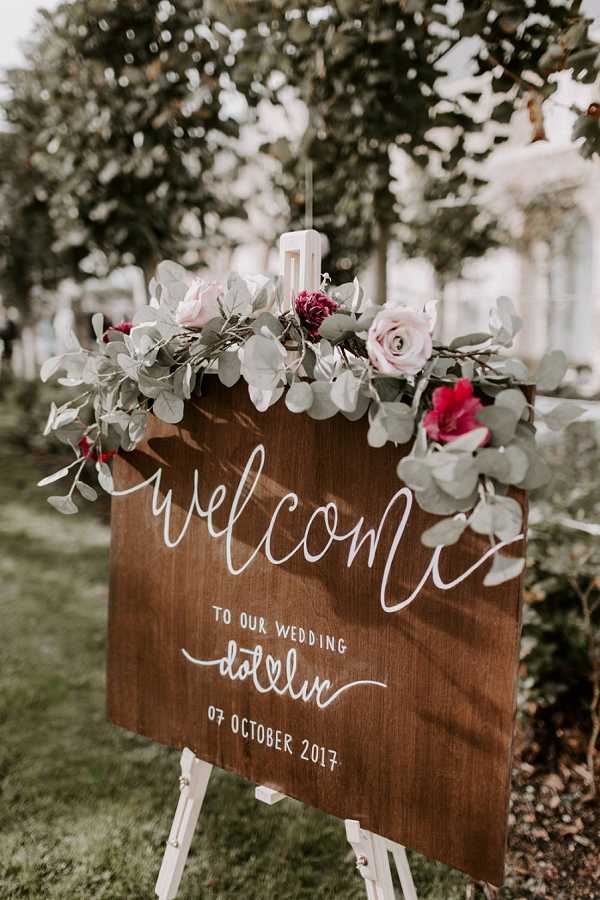 "The wedding venue was full of character and vintage chic with a twist of modern. For decoration I added a lot of florals/décor to match the colour scheme, Purple, given the time of year, aside from purple hues being my favourite colour, it all seemed to fit perfectly and complimented the groom's colours also. Luc wore a navy suit and the bridesmaids wore a dusty lilac dress which co-ordinated beautifully with the flowers."
"It was incredibly difficult to find the right dress, I must have tried on dozens. However, despite always saying I would never wear a mermaid gown, that is the style I went for in the end. I wore the Jin dress from Blue by Enzoani, brought from Laura May Bridal. The delicately beaded lace appliqués that ran throughout the design and the soft tulle that created a romantic feel to the dress made it stand out from the crowd. It was a one of a kind dress and different to any other that I'd tried on. My shoes where from Harriet Wilde, Ivory heeled peep toe shows with delicate silver leaves and small pretty rose flowers with Swarovski crystals in the centre."
"Our photographers were Grace & Mitch from Grace Elizabeth Photo & Film, we were able to meet with them prior to the wedding and kept in constant communication. Grace and Mitch were friendly and professional throughout the day. Although we had many family and friends wanting to have unplanned group shots, Grace and Mitch were happy to oblige and their photographs have been well received. We've had a lot of positive feedback about them and the photos were beautiful."
"Our florist, Viviane from Un été à la Campagne' was recommended to us by the venue. Despite the language barrier between Dot and Viviane, Luc was able to help discuss the types of flowers in season in France and the colours we wanted as well as the style. She was always very professional and incredibly helpful with the preparation and taking charge of ensuring everything went smoothly. Viviane created pieces that suited my vision and they turned out truly beautiful."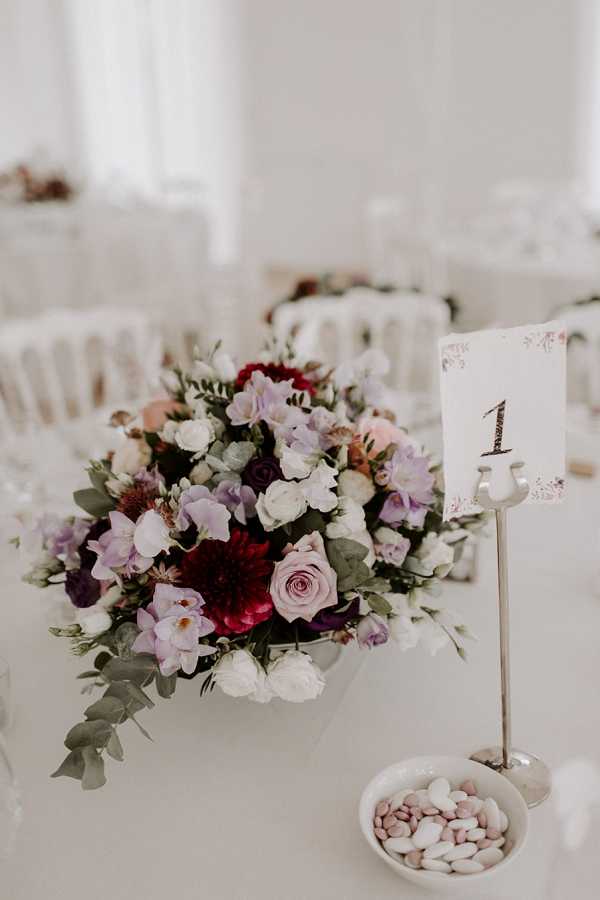 "Julien Brelaud was a local patisserie that was recommended by family to us. He created two towers: Croque en Bouche (choux pastry filled with crème patissiere, dipped in caramalised sugar and decorated with nougatine). He piped our names onto the nougatine and they were brought out towards the end of the evening with sparklers, which was quite a spectacle. He also made blueberry macarons which we assembled into a macaron tower."
"The ceremony was one of our favourite parts of the day as it was the culmination of our union witnessed before God and our friends and family. It was so special for us. We wrote our own vows prior to the wedding day. The pastor asked us if we wanted to share with one another what we had written but we decided to keep it a surprise. There may have been a little improvisation as well, but that's what it's all about. Another favourite was seeing our friends and family enjoy themselves – make new friends, relax and dance their hearts away."
"A top tip for destination wedding planning – In order to ensure everyone around the world had access to all the relevant information, we used a wedding website www.rileygrey.com. It's fully customisable and easy to use. There's the ability to export guest numbers/RSVPs and food choices into an excel spreadsheet which we were then able to print off and send to the venue in advance. There's also a mobile application that can be downloaded. There is a small fee but we were able to get a 50% discount just through search engines. It was also quite handy for us to be able to keep track of everything. French Wedding Style was a really useful inspirational website for planning our wedding in France, as the wedding took place in a small village in France, the suppliers were all local and recommended to us by the venue and Luc's family."
A few tips from our bride for other brides…
"Be organised, get a to do list and a wedding organiser! So helpful and it feels great to check things off.
Get advice from those who have already/recently been married. I found my seamstress (who was absolutely fantastic) through a friend at work.
Utilise your skills and those of others, if you want to cut costs, make things yourself. Pinterest is a great place for inspiration and DIY guides.
Set expectations from the offset i.e. with partner, bridal party, family and friends.
Show appreciation when people have gone the extra mile to help you and ask those who you trust to keep you in check and let you know when you are acting a little bridezilla or groomzilla-esque. Don't take offence, we need these people in our lives to keep us grounded."
Congratulations Dot and Luc from everyone here at French Wedding Style!
For even more gorgeous inspiration check out this Luxury Wedding Inspiration at Chateau de Varennes which we featured in November 2015.
Luxury French Chateau Wedding at Château de Varennes Snapshot
Wedding Vendors
Venue: Château de Varennes | Photographer: Grace Elizabeth Photo & Film | Brides Dress: Blue by Enzoani from Laura May Bridal | Shoes: Harriet Wilde | Hair and Make Up: Bulles d'Hair | Accessories: Pandora | Accessories: SabinaKWdesign | Accessories: Liberty in Love | Grooms Outfit: Hugo Boss | Bridesmaids Dress: JJ's House | Florist: Un été à la Campagne | Cakes: Julien Brelaud | Favours: Morse Toad