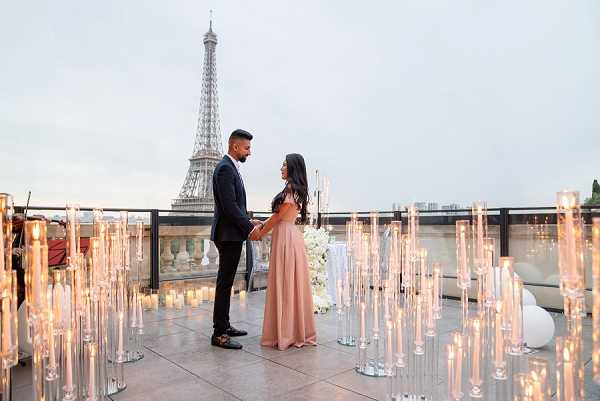 Are you dreaming of a romantic Paris proposal, then we have the perfect inspiration for you today!
Our groom to be planned the perfect Parisian style proposal for his bride to be with the help and expertise of The Proposers at the iconic Paris hotel The Shangri-la Hotel Paris with it's incredible roof top views its the perfect spot to pop the question.
There to capture the big moment was photographer Adagion Studio and videographer Oryx Productions. We'll now pass you over to The Proposers who will be walking us through this Eiffel Tower Paris proposal…
We were asked to plan this magical Paris proposal with our brief being that this was a "A Proposal To Remember".
As well as being the most romantic city in the world, Paris was their favourite place in the world, and where the couple went after they first met. It was only fitting that the location for this proposal was the city of love with beautiful sights of Paris' most iconic structure, The Eiffel Tower.
The couple arrived the night before to a beautifully decorated room, and had a night to enjoy together before the big day.
In the morning, the couple were taken on a private scavenger hunt around Paris taking in the sights, with a cruise along the Seine, and stopped off for a Parisienne lunch.
Once they got back to the hotel, the couple got ready for "dinner and drinks", and as they were about to leave our beautiful fiance Laura was blindfolded and led out of the room, through the hotel and onto the private terrace overlooking the Eiffel Tower.
As the blindfold was removed Laura saw the string quartet playing her favourite songs, long stem white candles and flowers for the first time. Once the surprise was revealed to Laura, Dharr dropped down on one knee, telling his future bride why he loved her and asking those 4 special words "Will You Marry Me?"
The couple then celebrated with dinner and drinks on the terrace with the sparkling Eiffel Tower as the perfect backdrop to a magical day.
Huge congratulations Laura & Dharr from everyone here at French Wedding Style!
For even more from this romantic Paris proposal check out their film created by Oryx Productions…
https://www.youtube.com/watch?v=hg4nadusVMo&t=18s
Romantic Paris Proposal Snapshot
Wedding Vendors
Venue The Shangri-la Hotel Paris | Photographer Adagion Studio | Videographer Oryx Productions | Planner The Proposers | Decoration Wow Factory Paris