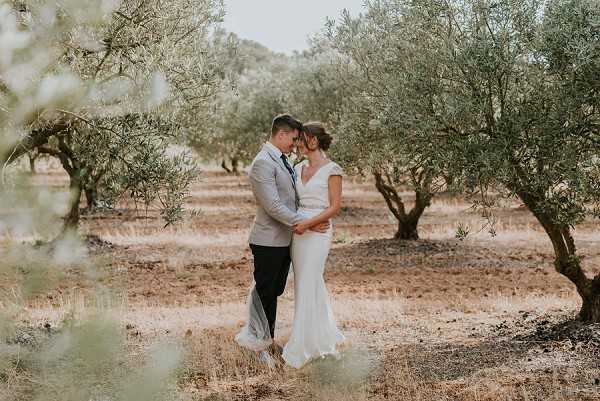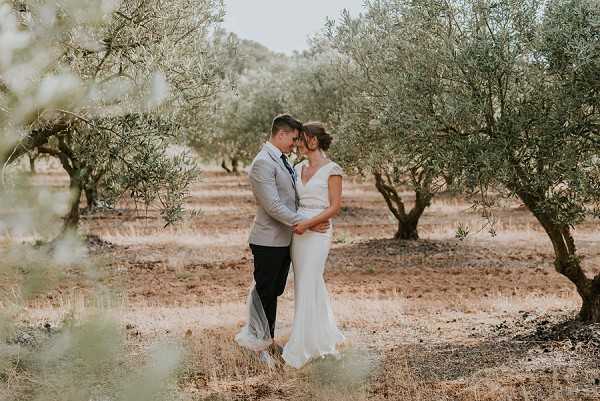 Hello lovelies, we hope you're enjoying the lovely autumn season so far. Even though we love this time of year, a dose of sunshine is always welcome. So why don't we head over to Carcassonne, a hilltop town in southern France's Languedoc area where today's rustic Chateau Canet Outdoor Vineyard Wedding was held.
Our super organised bride shares with us how she discovered her destination wedding venue in todays feature along with her treasured suppliers. Two of our own FWS vendors were among her selection…
Bringing the party alive was FWS vendor and wedding DJ James Carr – British DJ in France. "My aim is to provide a memorable experience, combining my passion for music and my love of people. Being professional is very important to me including taking time to discuss with clients their tastes and preferences in music. Having an extensive playlist is essential and allows a great choice of music. If you are looking for a DJ and want your soirée to be special, full of laughter, dancing and upbeat music, you have come to the right place."
On hair was Annette Carr – English Hairdresser in France creating a gorgeous up do for our Pronovias bride. "Annette Carr "English Hairdresser France" – registered wedding hairstylist with over 25 years of experience. Annette offers a fully tailored wedding service for brides and wedding parties. Based 30 minutes from Carcassonne, 1 hour from Toulouse, 1 hour from Narbonne and willing to travel. "I love my job and have found myself meeting many future brides looking to get married here in France."
We love these gorgeous images by Katy Webb Photography which perfectly tells the story of our sweet couple's big day! To help walk us through the day is the gorgeous bride herself…
"Nick proposed to me in Florence whilst on a city break for our anniversary and after a brief engagement, we both decided we wanted to get married in warmer climates opting for an outdoors wedding. Wanting to make sure as many of our guests could make the ceremony, we quickly decided on France for the convenience of the travel time and amazing outdoor venues"

"Having spent some of his family holidays as a child in and around Carcassonne, Nick suggested that we start our search there. As I'm (annoyingly) organised, I went about finding our wedding venue doing internet searches on mass, creating checklists, spreadsheets and even a power-point to display the four venues I had found to visit."
"We decided to make a trip of finding the venue and took two very good friends (both of whom were in our wedding party and married themselves!) and Nick's brother. After visiting all 4 venues and sat poolside one evening, I managed to get the whole party to score each venue on 30 (yes, 30!) sets of criteria that I'd dreamed up earlier that day and one venue came out as the clear winner: Chateau Canet. Having met all of our 'selection criteria' for so many reasons and set in gorgeous countryside, one of the biggest deciding factors came in the shape of Victoria Lemstra-Bake, who owns and lives on site at Canet with her husband Floris and their family. Setting me at ease right from the very start and making every decision from the UK so seemless, Victoria (and Floris on arrival!) really made our big day just perfect."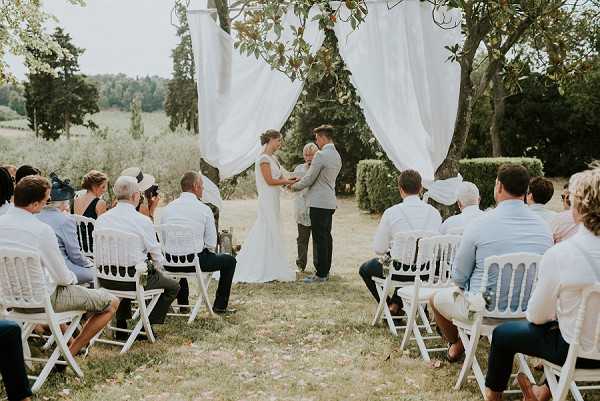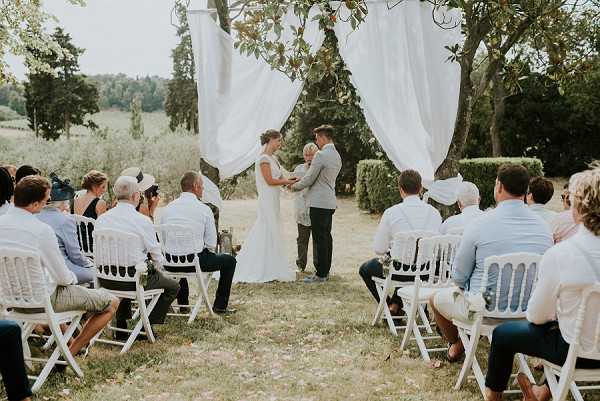 "Our florist, Sarah Ménager, was instrumental in bringing our wedding to life not only creating stunning bouquets and buttonholes but also decorating the whole venue. After meeting Sarah once in person, she understood exactly what I was after drew up very detailed drawings and colours that would complement my favoured blue. Candles, lanterns and lighting was high on our request list and Sarah didn't disappoint with every detail carefully thought out and executed."
"Despite how easy everything seemed to be going with all other wedding plans, finding 'the one' (my dress) was not so easy. I had an idea of what I was after – backless, floor length, minimal detail and light in material. Having almost given up on finding a dress (and almost asking Nick to choose one for me!) I found my one in the Pronovias Orville. Gorgeous in its simplicity, I teamed my dress with some gold wedged shoes from LK Bennet (so comfy!) and my chief bridesmaid lent me her veil which doubled up as my something borrowed. Despite a few people telling me it was bad luck, I wore a simple pearl necklace on the day that Nick had given to me on my 30th birthday, with matching pearl earrings. My grandma had gifted me a blue brooch which I attached to my bouquet, doubling as my something old and something blue."
"Nick found his unusual blue/grey spotted blazer in Ted Baker and the rest seemed to follow from there. He finished the outfit with a fab pair of powder blue shoes from Goodwin Smith, which I absolutely loved! The best man, ushers and bridesmaids were dressed with the colour scheme in mind, with personalised tie pins (engraved with our wedding date) and light blue braces for 'Team Groom' and navy blue deep 'v' back dresses for 'Team Bride'."
"Once we had decided on Chateau Canet and a date (24th June 2017), I got to work on pulling together plans to make our big day very personal as we had decided on a fairly small wedding (we ended up with around 55 guests). As navy blue is my favourite colour, the colour scheme was easily decided on and Canet really helped with its wonderful navy painted wooden shutters and doors."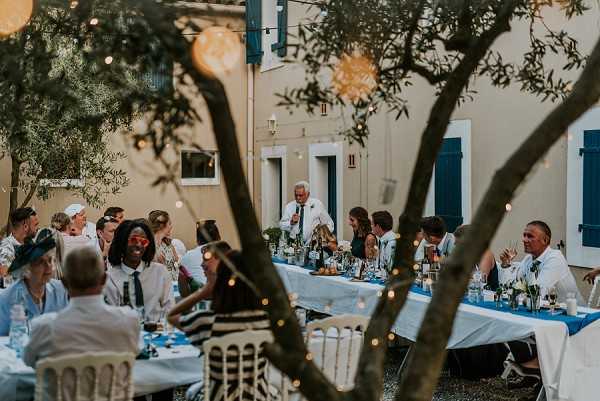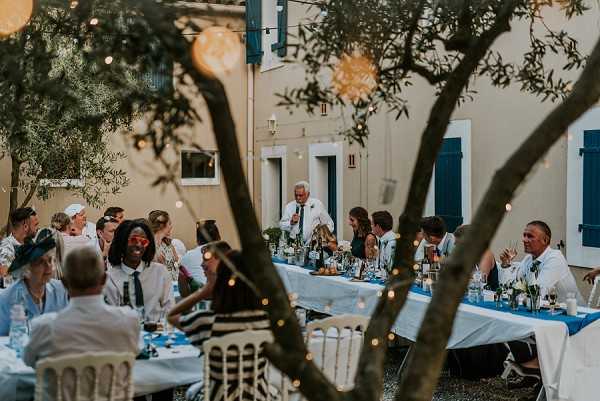 "Capturing our big day was top of the list when it came to priorities and our photographer, Katy Webb, completely knocked our socks off when it came to the end result. Without realising Katy was around (which we absolutely loved!), she genuinely captured each and every moment. Katy was literally here, there and everywhere on the day arriving early enough to document 'Team Bride' getting ready but also shot over to Hotel De La Cité in Carcassonne where Nick and his best man had stayed the night before to capture those moments I would have otherwise never seen. We honestly cannot thank Katy enough for enabling us to have the most incredible photos to look back on in years to come."
"We were so touched to have so many of our nearest and dearest to celebrate the biggest day of our lives (to date). I'm sure this is incredibly clichéd, but Nick and I had the most amazing day of our lives and we owe a lot of that to our wonderful suppliers."
What a romantic tale!! For even more gorgeous wedding inspiration check out Gabby and Sébastien's Carcassonne wedding here.
Chateau Canet Outdoor Vineyard Wedding Snapshot
Wedding Vendors
Photographer: Katy Webb Photography | Ceremony Venue: Chateau Canet | Brides Dress: Pronovias | Shoes: LK Bennett | Hair: Annette Carr – English Hairdresser in France | Make Up: Sarah Rees Bridal Makeup in France | Grooms Outfit: Ted Baker | Grooms Outfit: Goodwin Smith | Florist: Sarah Ménager Décoration florale et événementielle | Celebrant: Weddings Words and Wishes | Entertainment: James Carr – British DJ in France