In 2020, the dreams of many excited brides were put on hold for another undetermined future date as we all adapt to the new normal. But why miss out on all the excitement? Why not have a pre-wedding wedding?
That is exactly what La Vaisselle d'Augustine and Nas & Co's Events have done! They gave one lucky couple the chance to realise their wedding dreams in this stunning photo shoot, featuring their adorable dog Neïko – star of the show!
"At least the first containment due to the Covid-19 had given birth to new projects! We were barely out of this particular period when Caroline from 'La Vaisselle d'Augustine' contacted us with an original idea which held all of our attention and curiosity: "What if we organized an inspirational wedding shoot that we would make it win to a real couple who had initially planned to get married in 2020?"
Let us explain, we launched a contest on our social medias for brides and grooms. Who were supposed to say YES this year but who had no other choice to postpone. We asked them to tell us about their dream wedding decorations, to give us all the details they've always wanted for their D-day. It could have been an amazing white floral arch or a dreamy gold dinner table.
The idea was to realize this décor and to offer them a photoshoot in it. A sort of "pre-wedding" for one lucky couple and for us. A new opportunity to face a challenge. We asked some professionals we worked with before if they wanted to take part in the project and we managed to put together a great team. Our 'Charlie's angels' team (Nicolas, the videographer was the only man) was able to offer to our lovers, Cécile and Lilian, a unique experience.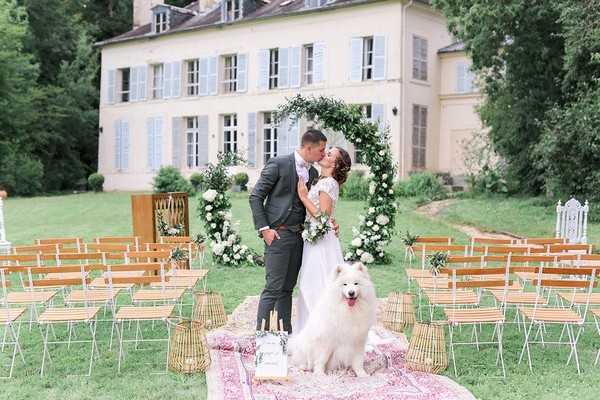 They wanted vegetal and natural colours. Because it has become very trendy, we wanted to find an idea that could stand us out. We went over Pinterest and we started to be inspired by round forms. We thought we could use a circle as a distinctive element of this styled shoot. The result? A bride bouquet on a hoop. A centerpiece on a round frame, a round arch…we won our bet, Ingrid from 'Pleione Design Floral' gave birth to our craziest ideas!
The Château de Séréville is a very authentic venue so we didn't have to add a lot of decoration. We preferred to develop floral decoration, to focus on green, white and gold colours and to insert vintage touches.
Do you want to know what made this adventure even more intimate and touching? Neïko of course, Cecile and Lilian's softy dog! There is no doubt that he was the mascot of the day!
2020 And The New Normal: An Inspirational Pre-wedding Shoot Snapshot
2020 And The New Normal: An Inspirational Pre-wedding Shoot Vendors
Photographer Lisa Hoshi | Venue Château de Séréville | Wedding Planner & Designer Nas & Co's Events | Florist Pleione Design Floral | Hire La Vaisselle d'Augustine | Stationery Lady Eventy | Videographer Vidéo89 Evénements | Cake Designer Weddingcakesnco | Hair & Make Up L'Atelier de l'attache Parisienne | Wedding Dress Atelier Emelia | Shoes Dessine-moi un Soulier | Brides Accessories Atelier Sarah Aime | Grooms Outfit L'Apiéceur | Grooms Accessories Agathe vous Gâte