Happy Tuesday folks, and we're continuing with our trip down memory lane with this fantastic wedding from the fragrant French Riviera town of Grasse that we showcased in February. As an added bonus, this wedding includes two of our very own FWS vendors Chef a Domicile and Rock My Love.
If you're looking for the perfect destination wedding location the breathtaking French Riviera on the Mediterranean coast of south eastern France is certainly worth your consideration.
Our bride and groom planned their stunning destination wedding along with the help of wedding planner Rock My Love. We love all the little touches which really show off our couples personalities. There to capture all the love, emotions and pretty details was talented wedding photographers White Stag Weddings.
You'll want your Pinterest boards at the ready for this one! We'll now pass you over to our blushing bride who will be walking us through her big day on the French Riviera…
"Ed and I had been together for ten years before he drove us all the way to the sleepy Swiss ski village where we first met to propose at the top of a waterfall. We'd talked about getting married for so long but were always waiting for the right moment – partially due to being long distance for most of our relationship. We both have family and friends all around the world, and as both of us feel at home in many different places, we wanted to get married somewhere that was special to the both of us. We also really loved the idea of giving our guests the opportunity to discover a part of the world they may not have been to before. With all this in mind, we soon settled on the South of France – Ed has a family home there so we visit often, and I've always felt like a part of me belongs there too."
"We chose the elegant Château Saint Georges, in Grasse. It was the last venue we saw out of 15 in 3 days, and it ticked all the boxes; a gorgeous inside space in case of bad weather (September can have the odd rainy day), a perfect outdoor setting for al fresco dining with breathtaking views, a pretty ceremony spot, and that special feeling we got as soon as we drove up!"
"We wanted it to feel personal, so we planned every aspect ourselves. But on the day, we let go. We had a fantastic Coordinator (Angélique from Rock My Love) who stepped in to make sure everything ran smoothly, and it did! As two control freaks it was difficult to do, but letting go was the best thing we did – we got to really enjoy the day and spend our time with everyone who travelled so far to be with us. That was the most important thing in the end, not whether or not the favours were placed correctly on the table, or when exactly the bouquet should be tossed."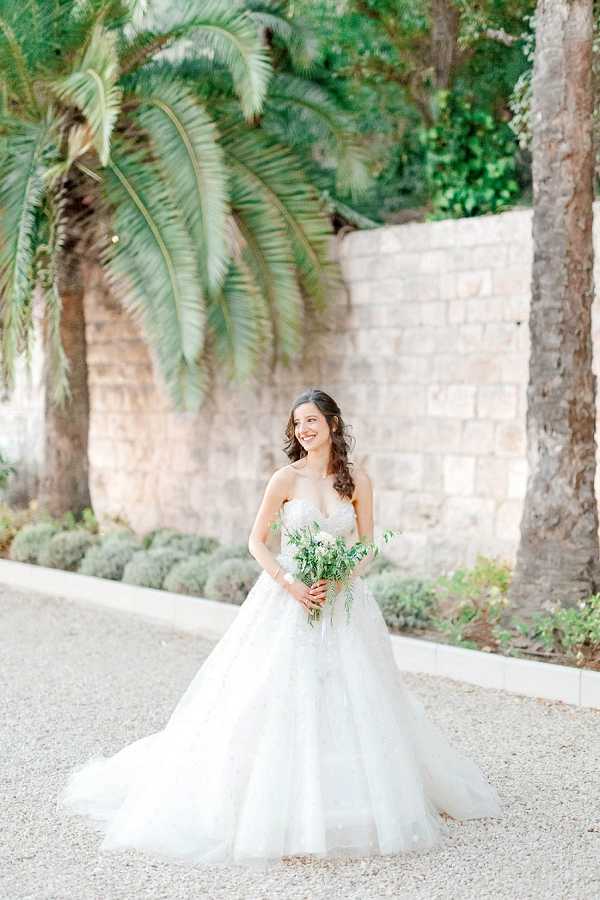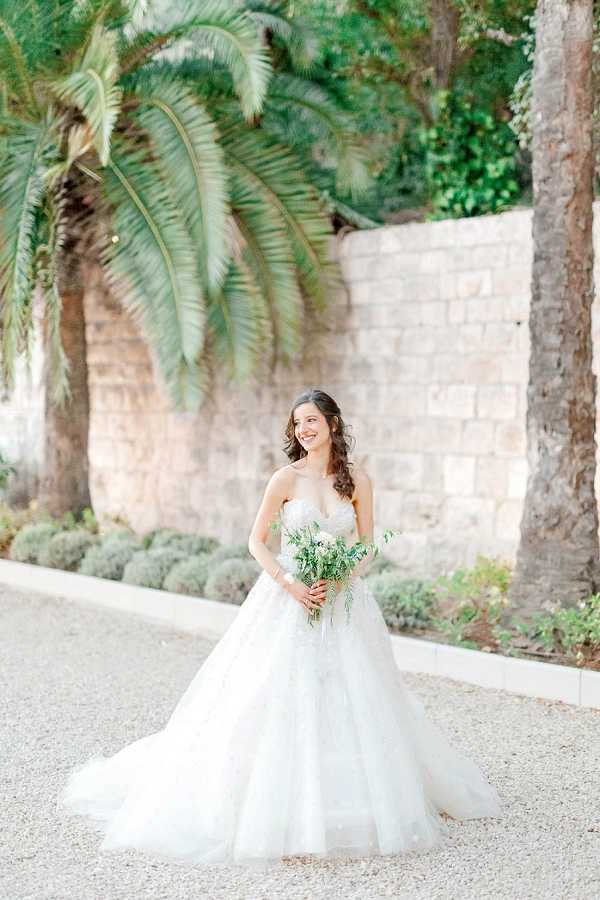 "To capture the day and help us re-live and cherish the memories we made for years to come, we trusted the wonderfully talented and brilliant photographers – White Stag Weddings, and the incredibly impressive one-woman-band Videographer – Tina Matossian. All of our vendors took the time to listen to our requests and, with their brilliant talent and professionalism, brought our dream wedding to life!"
"Our celebrant helped us include all of our cultural and ceremonial desires in the sweet, and often funny, ceremony script that she wrote based off of a questionnaire that we both filled out individually."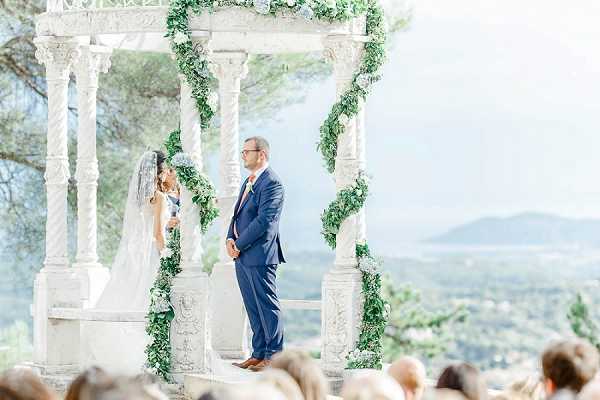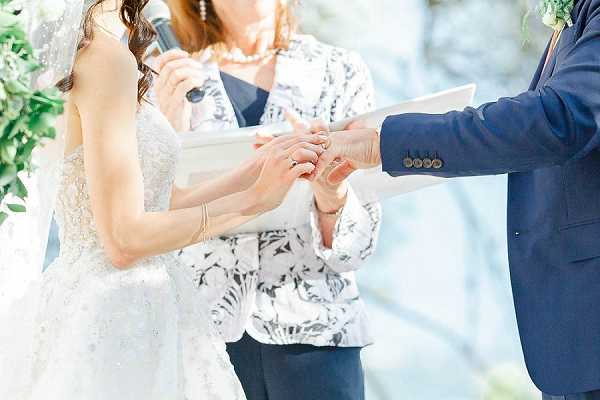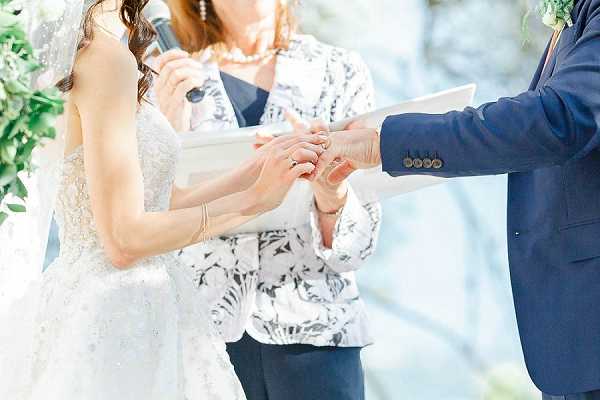 "Music also plays a huge part in our relationship and to us as individuals. Our invitations contained quotes from some of our favourite love songs, and as did our table names! Ed chose every song on our playlist for our DJ (Thomas Dusseune), which he mixed with great flair, whilst still pulling out some awesome surprise pieces based on conversations he'd had with us about what we liked – he really knows his stuff! Lizzy Parks sang me beautifully down the aisle to La Vie En Rose by Edith Piaf and then ever so kindly learnt Ain't No Mountain High Enough by Marvin Gaye and Tammi Terrell for when Ed and I exited as Mr and Mrs – we found the song incredibly fitting of the long distance we have overcome!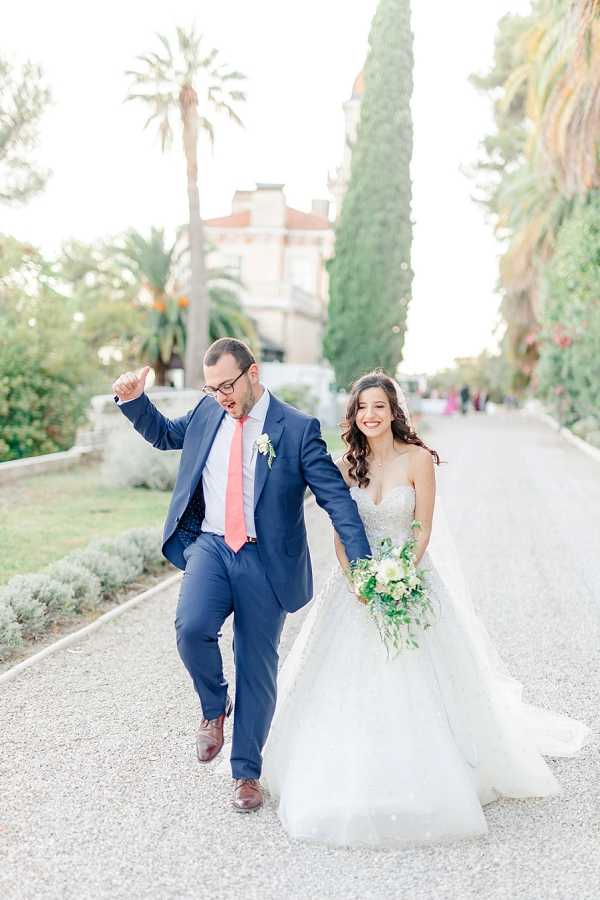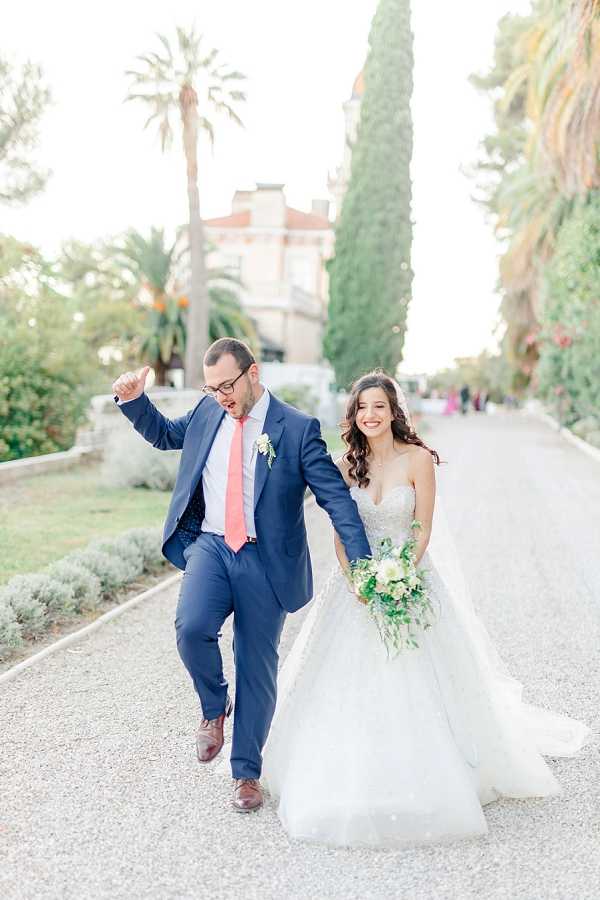 "The food was one of the most important aspects to us – we are big foodies and we wanted to offer our guests a lovely Provençal French dinner. When we went for our tasting with Lori we were sold immediately, her food is delicious and she was so flexible with her suggestions and offerings. She was extremely willing to tailor her menu to suit us and our wedding"
"Maud also took all our requests on board. We wanted wild and natural arrangements to compliment the beautiful setting, and I was also keen to use Jasmine flowers – as my name means Jasmine in Arabic and we were getting married in Grasse, the heart of Jasmine perfume-making. Unfortunately, September was just out of Jasmine season, but Maud still did everything she could to fulfil the request, and actually managed to keep some Jasmine flowers alive long enough to include them in my bouquet! That was a wonderful surprise to receive the morning of my wedding!"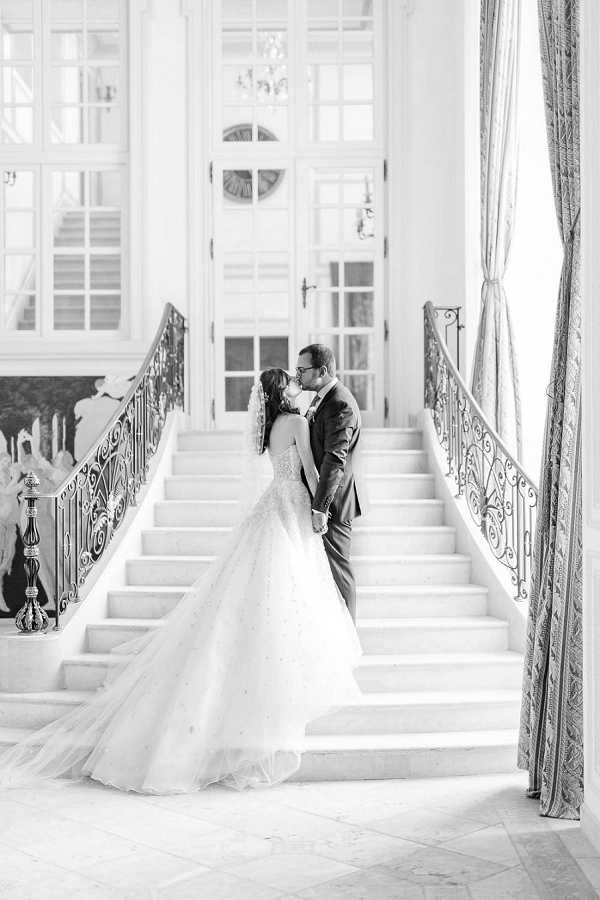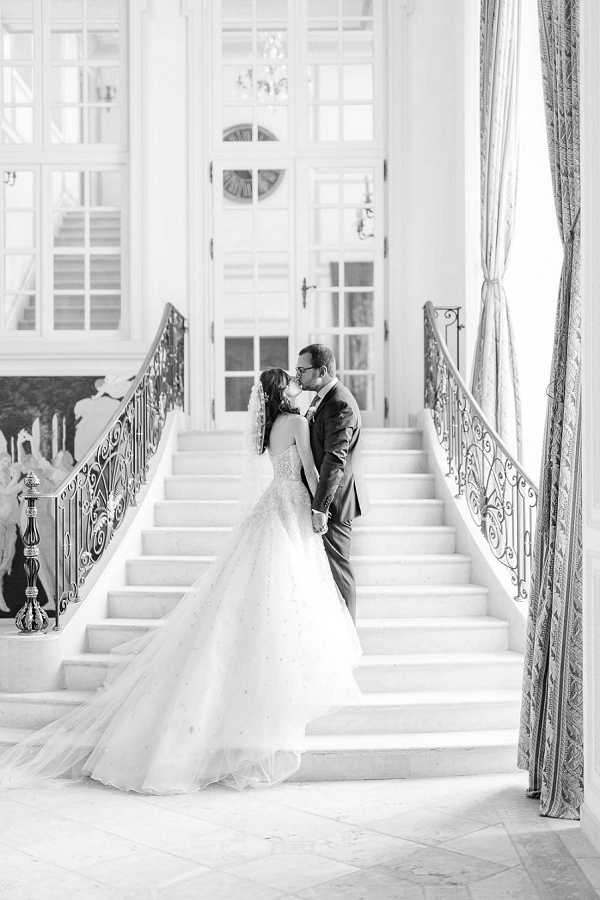 "Our overall colour palette revolved around one particular colour – in 2015 Ed and I travelled to Sri Lanka and loved every bit of it, whilst exploring one of the villages along the coast where we stayed, we saw a beautiful blue-grey Buddha towering over a village with great beauty and grace. I remember thinking how much I loved that colour, there was something about it that stayed with me. But it wasn't until I found some Watters bridesmaids dresses in exactly the right shade that we had a sample that we could use for all the wedding details."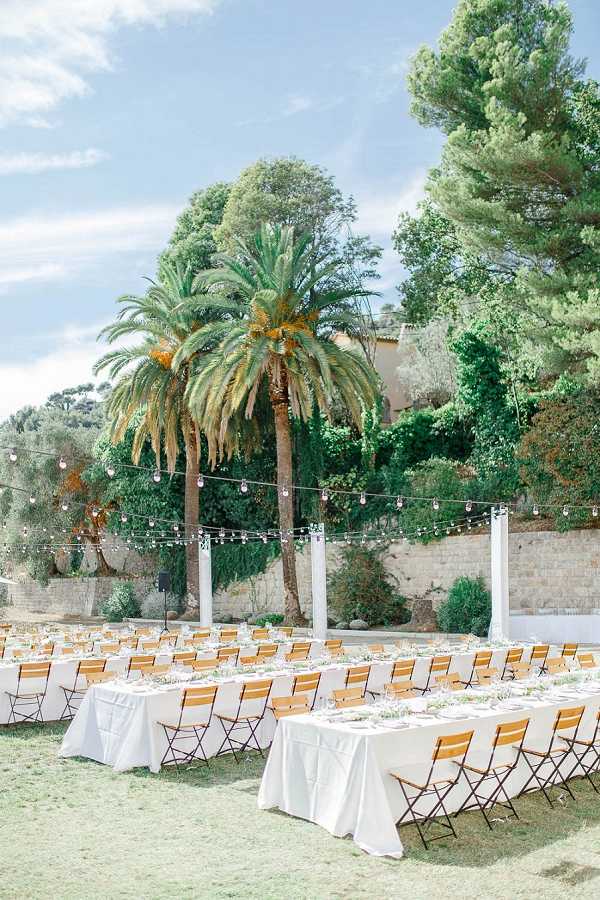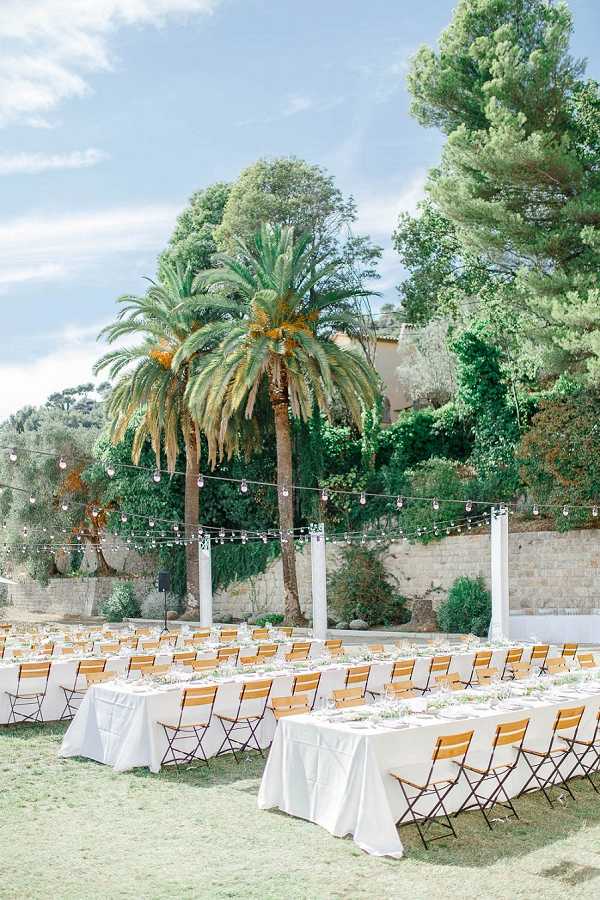 "On the day we used the blue-grey as an accent in places like the floral arrangements, the invitations, and the favour bags, and then complimented it with lots of greens, whites, silver sparkles, and a little touch of peach thanks to Ed's surprise tie colour, and coincidentally my mum's dress!"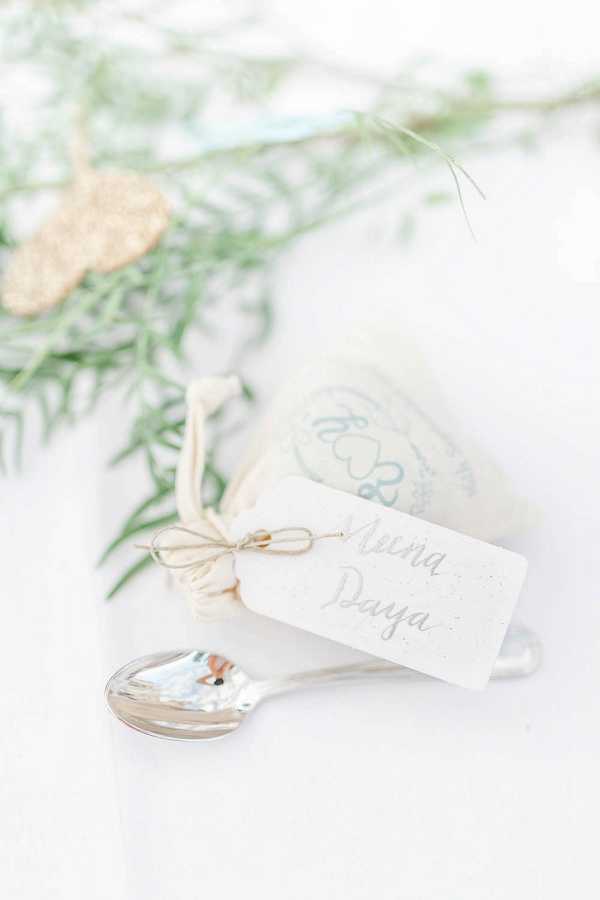 "Ed and I wanted to give our guests useful gifts. We bought some lovely cotton canvas bags from Print For Love and filled them with bags, we bought little Jasmine soaps from Fragonard to echo the Jasmine theme, a mini bottle of delicious local Alziari olive oil, and a small lavender pouch – creating a trio of Provençal scents/flavours, and giving our guests a little bag of Provençe and a little taste of our wedding to take home with them."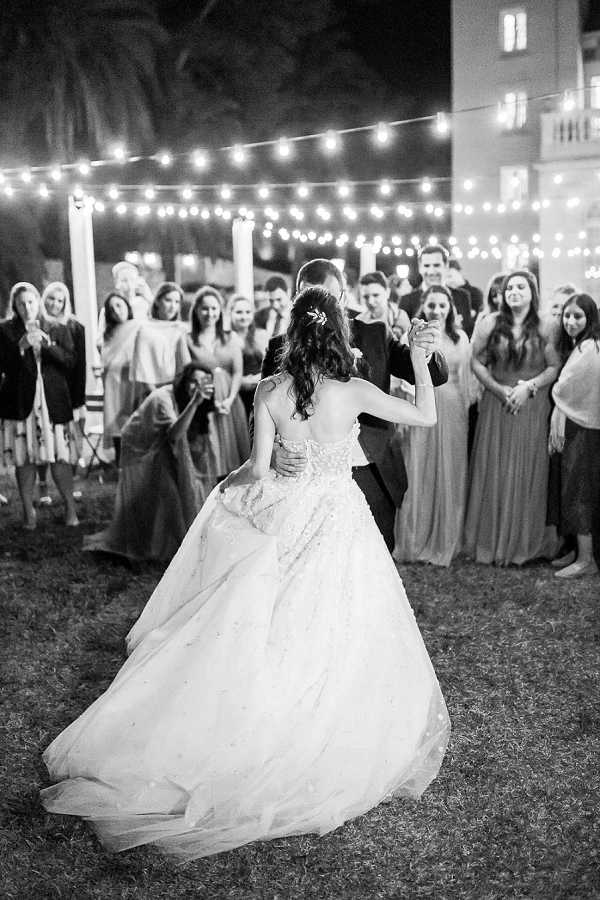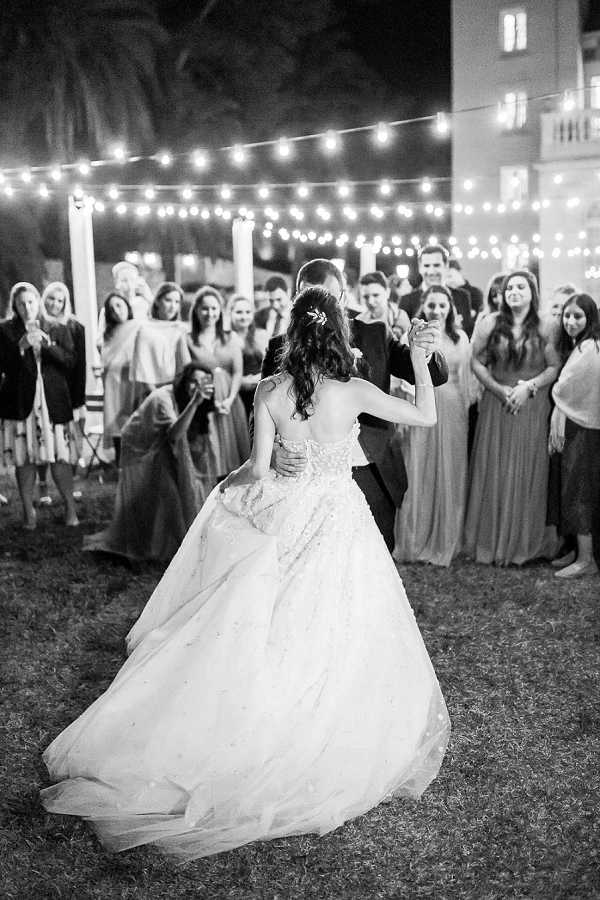 For even more dreaminess from this romantic Château Saint Georges Wedding in Grasse check out their wedding film created by Des images et Vous…
Romantic Château Saint Georges Wedding in Grasse Snapshot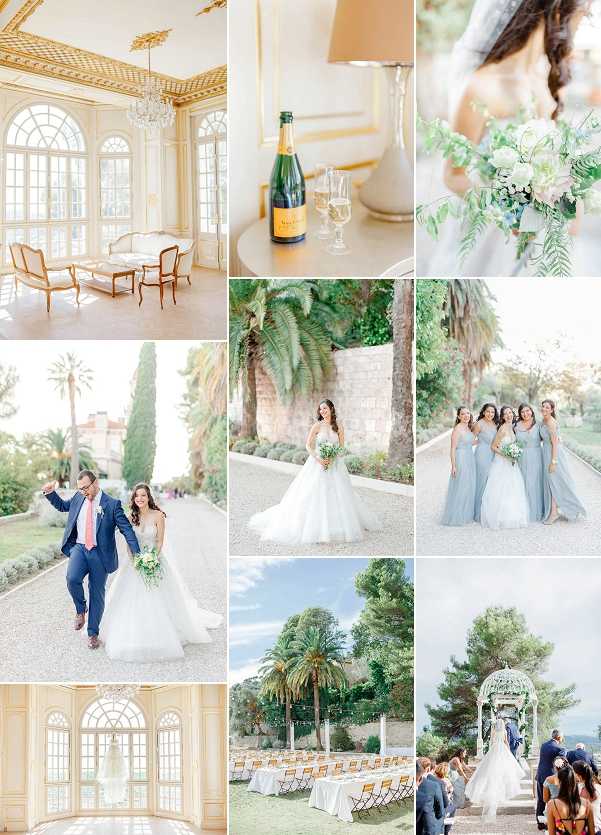 Wedding Vendors
Venue: Château Saint Georges | Photographer: White Stag Wedding Photography | Planner: Rock My Love | Videographer: Des images et Vous | Celebrant: Celia Drummond | Dress: Ines Di Santo | Shoes: Freya Rose | Hair: Kellee Macdonald | Make Up: Kelly McClain | Bridesmaids Dress: Watters | Accessories: Ines Di Santo | Florist: Maud Creation Florale | Catering: Chef a Domicile | Cakes: Cocoa & Co | Cakes: Délices de Roquefort | Favours: Fragonard | Lighting: Mix & Light | DJ: Thomas Dusseune | Band: Lizzy & the Gentlemen | Hire: Aktuel