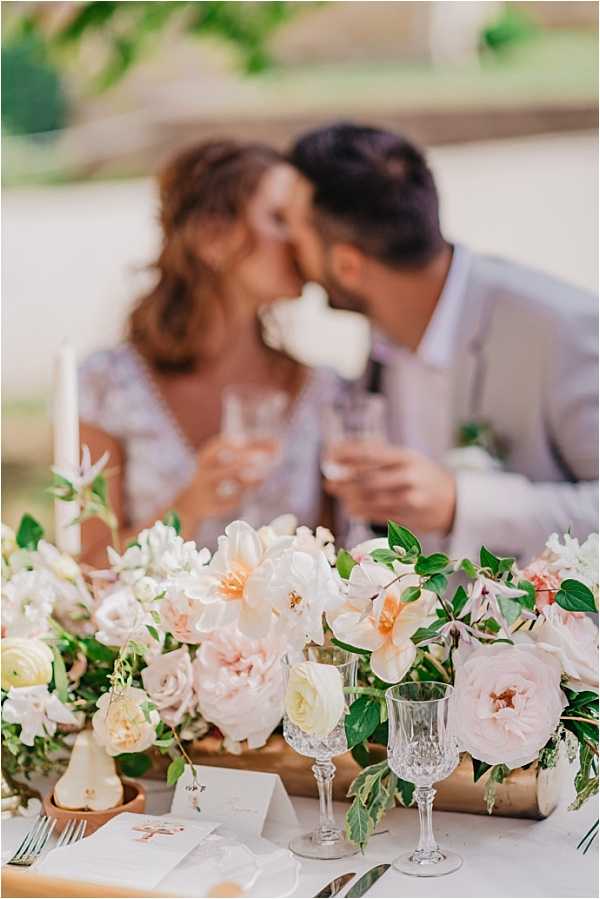 Today we travel to the northeast to the beautiful northeast of France, to Lorraine. The treat of today is a styled shoot of a Renaissance-style wedding. This little passion project was born during the quarantine. When the rules in France were relaxed these creative minds got to work and did an amazing job.
Taking us through today's shoot is the planner  Sandrine Bahuon. Together with  Morgane Ball, she set up a beautiful scene of a Renaissance-style wedding. The couple is gorgeous, the weather beautiful and the venue is perfect. But we will let  Sandrine tell you all about it.
I pictured this photoshoot to be soft, light, and bubbly at the same time in order to restore energy to providers who have been heavily affected by the crisis we have just gone through. Time was put on pause for months with this global pandemic and my wish was to offer my partners a new project after this lockdown that would allow us to meet and exchange around what we do best … Preparing a wedding!
Morgane Ball, a photographer friend whom I adore and with whom I talked a lot during the quarantine, immediately followed me in this great adventure. We worked on our ideas together in order to get the desired rendering. Morgane focused on the models and poses, and I focused on the scenography decoration and the search for providers. So, I came in contact with Claire who is in charge of the magnificent Renaissance-style castle of Cons La Grandville. This way I could use the exteriors and the gardens, in particular, to create our scenography for the ceremony. Once the venue was confirmed, Morgane found a real couple. A sparkling young woman, we called her Adeline, and her darling Benjamin, who perfectly matched the sought-out style.
Following that, everything went very quickly. I searched for the outfits, that we wanted chic and casual at the same time, jewelery to compliment the magnificent dress, and of course the cake for the newlyweds. Regarding the decorations, I wanted a table with lots of pastel colored flowers, vintage tableware for an authentic look, and refined stationery made with craft paper and a watercolour painting. Julien De Meyère, our videographer joined us to give us a magnificent report.

"Sous un air de Printemps", in English "Spring is in the air"
A colorful and joyful wedding editorial, inspiration for a simple wedding, full of lightness and romance in an exceptional location in Lorraine.
The big day comes up for the loving couple, our bride discovers her wonderful dress covered with flowers and lace, her hair is delicately tied by a golden barrette decorated with white porcelain flowers, and her makeup is light and natural. The bouquet is composed by old roses and magnificent peonies. In a relaxed spirit, Benjamin wears a simple suit with a white shirt, no ties or bow ties but a buttonhole matching his sweetheart's bouquet.
The couple heads towards the place of the ceremony, an arch of flowers is raised on each side of the courtyard where two stone statues will be the discreet witnesses of their love …
In order to offer depth and volume, the newlyweds table, intended to be soft and romantic, covered in flowers and long vases.
The organic cotton table linen goes perfectly with authentic and vintage dishes. The golden candlesticks and handcrafted stationery go perfectly with this delicate mixture of style and materials, giving the table a lot of character and tenderness. To end on a flowery and delicious note, the wedding cake is an invitation to sharing. This editorial is an invitation to party and forget the gloomy period we have just gone through.
Renaissance-style wedding in France Snapshot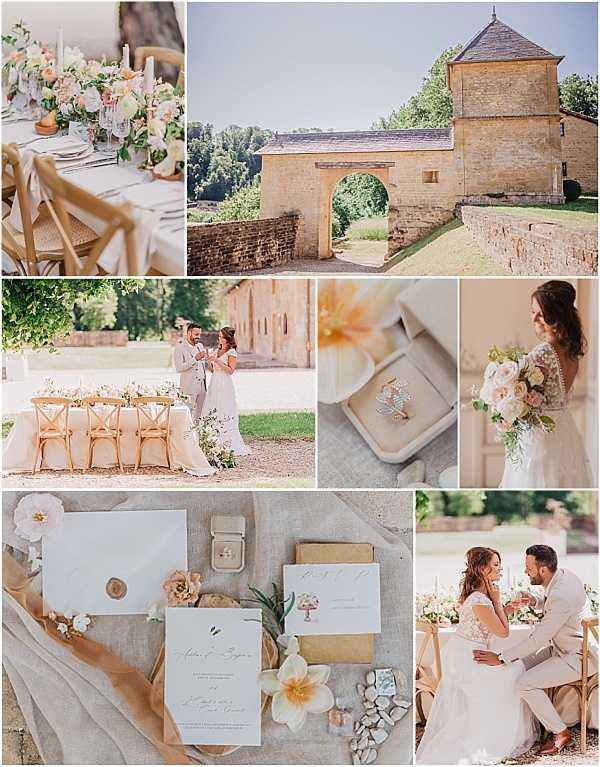 Vendors
Planner:  Sandrine Bahuon | Florist:  Sandrine Bahuon  | Photographer:  Morgane Ball  | Videographer:  Julien Demeyere  | Venue:  Chateau Cons-la-Grandville | Wedding Dress:  Joann Bloem Bridal | Grooms Outfit:  Mistral Reims  | Make Up: Chloe Job  | Hair: Julie | Accessories:  Sylvie's Workshop | Accessories:  Guillaume Jewelery | Cakes:  L'Atelier Patisser | Decoration:   Vintage Attic | Stationery:  Wolken Gold