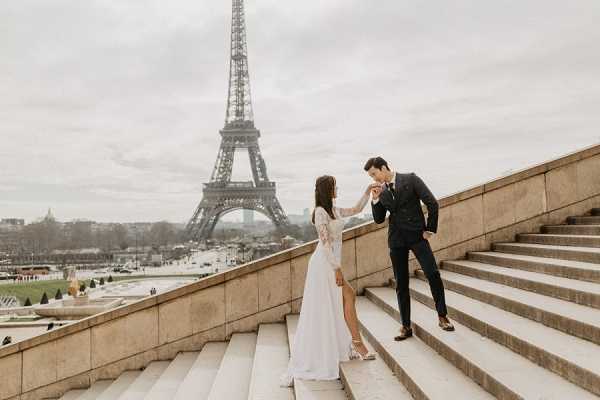 Happy Friday lovelies, the weekend is upon us already and what a treat we have for you today to kick start it! We are paying a visit to the city of love for a romantic winter Paris engagement shoot.
Have you always dreamt of a photo shoot in this magical city? If so why not visit our well known directory full of amazing suppliers who can help make your dreams come true.
Singaporean couple, Caselyn and Ken have a love of travel and so chose the uber romantic city of Paris for their engagement shoot with OneThreeOneFour.
Caselyn and Ken look so happy together and their engagement shoot has captured their love and the wonderful city of Paris perfectly! With that said we shall now hand things over to photographer OneThreeOneFour to talk us through this romantic winter Paris engagement shoot…
"We did an engagement photoshoot for Singaporean couple, Caselyn and Ken around Paris and we were absolutely in love with the results! This beautiful couple had an even more beautiful love story that proves to us that true love may really be written in the stars."
"Although it was winter, the cold didn't phase our adventurous couple the least bit. To keep his fiancee warm throughout the day, Ken boldly asked her to down a cup of red wine before the photoshoot. It sure did the trick and helped them to loosen up in front of the camera!"
"Ken first saw Caselyn at a bar in Queenstown, New Zealand. He was backpacking around New Zealand while she was there on a work holiday visa. Nothing happened that night but cupid was determined to make things work. Three months later, when Caselyn got back to Singapore, Ken saw her on tinder and just had to "Super Like" her immediately. Thank God it was mutual and it all started from that one match!"
"The both of them have a shared love for travelling and diving so Ken decided to do a beach proposal since the ocean was their second home. He decided to propose at a private beach in Banyan Tree Bintan during a candlelight dinner by the sea. Caselyn was oblivious since it was her birthday and she assumed that that was the only special occasion!"
"During the dinner, Ken had a couple of drinks to muster up his courage and finally showed her a video that he had specially prepared. In the video, it showed all her friends and family telling Caselyn to say "I do". Before she realised what was going on, he got on one knee and popped the big question."
"The hair and makeup were done by the bride herself and their outfits were tailored made at a local shop in Singapore."
Congratulations Caselyn and Ken from everyone here at French Wedding Style!
For even more Paris engagement shoot inspiration check out this chic Parisian couple shoot.
A Romantic Winter Paris Engagement Shoot Snapshot
Wedding Vendors
Photographer: OneThreeOneFour