Hello FWS readers, it's nearly the end of the week and this Thursday, we bring to you, a Winter Engagement Session at Louvre Paris. Why is it that the Louvre is such a romantic place? Whether a proposal or an engagement, Paris itself is the city of love and the Louvre is one of those landmarks that everyone knows and speaks out to all of us in some way. The architecture of the Louvre is so intricate and incredible to anyone that has seen it. Nicole Jansma has captured these images showcasing the story between this couples engagement below…
This rainy day winter engagement session at the Louvre in Paris is full of classic, timeless Parisian romance. Anne Carole and Adam were absolutely radiant in front of the camera and were so sweet with each other. I love how quiet and tender their love is and how tangibly you can feel it in these images.
We spent a windy, chilly, rainy January morning in the courtyard by the Louvre, taking advantage of the beautiful architecture. We explored the courtyard, the columned hallways, and the shrub-lined walkways adjacent to the museum. Each area gave us a unique angle for capturing the charm of this part of Paris. The rainy morning meant we had plenty of room to maneuver without tourists, giving us the feel of being completely alone with these stunning backdrops.
Anne & Adam's black attire was absolutely perfect against the neutral backdrop of the museum and looked so elegant. Anne Carole's dress was embellished with a floral pattern and lined with ruffles, adding a perfect touch of femininity and romance to our shoot.
The high-low shape of the skirt flowed beautifully, especially when caught by the wind, and gave a lovely subtle wow factor. Adam sported a sleek, slim-fitting black suit, a white shirt, and black shoes. Very classic. Grooms, you can never go wrong with a look like this for your engagement shoot.
Paris-based makeup and hair artist, Joleen Emory, gave Anne Carole a beautifully soft and classic look with hair and makeup. She did a chic low twisted bun off to the side and utilized a natural, neutral color palette for the makeup. It looked completely fresh and effortless.
The entire session was shot on film, giving it a soft, organic, timeless feel. And as welcome as sun would have been, I really love the cloudy day tones we achieved.
It was an absolute pleasure photographing this sweet couple and I'm thrilled to be able to share their images.
Congratulations on your engagement and thank you for sharing these images with us Nicole Jansma.
Winter Engagement Session at Louvre Paris Snapshot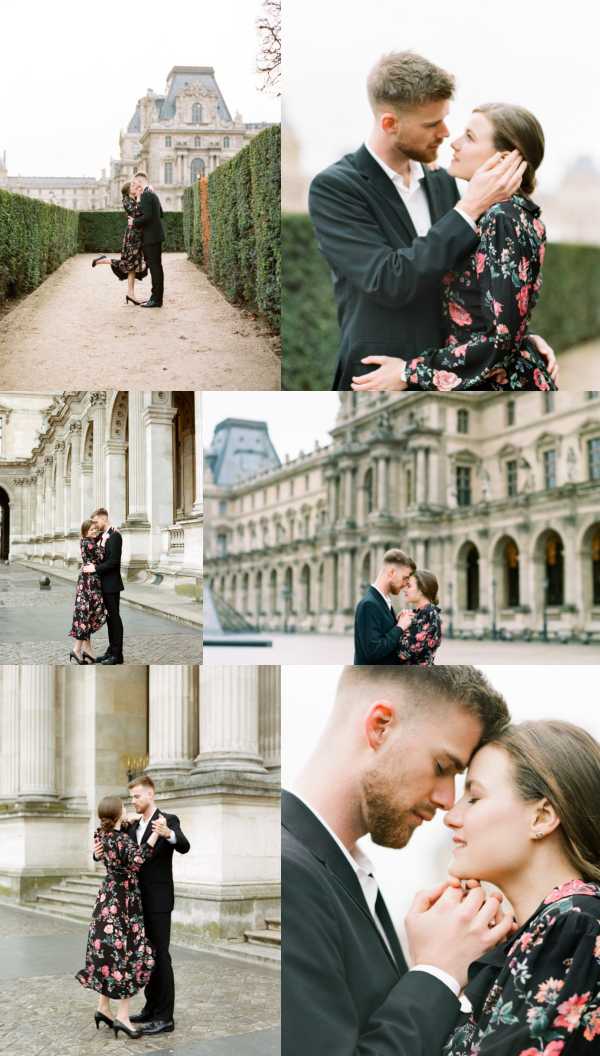 Wedding Vendors
Photographer Nicole Jansma | Hair and Makeup Joleen Emory | Dress Maje | Grooms Outfit Black Tie Formalwear | Film Processing The FIND Lab