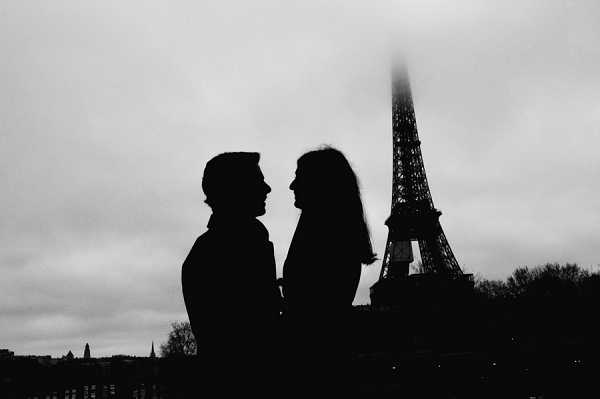 Good morning lovelies, we hope you've had a great start to your week! Today we are heading to the most romantic city in the world… you guessed it, PARIS! It's not just THE most popular place to tie the knot in France it's also full of amazing backdrops for your wedding photographs.
Are you considering tying the knot in Paris, if so do check out our guide to your destination wedding in Paris. From luxury hotels to river boat cruises there really is something for every taste and budget.
Today we are sharing with you a surprise Paris engagement, how romantic right?! We love hearing about how you guys got engaged, no story is ever the same. If you have a romantic, funny or unique engagement story to share, we'd love to hear it in the comments section below!
We will now pass you over to wedding photographer Stephane Le Ludec who will be walking us through this surprise Paris engagement shoot…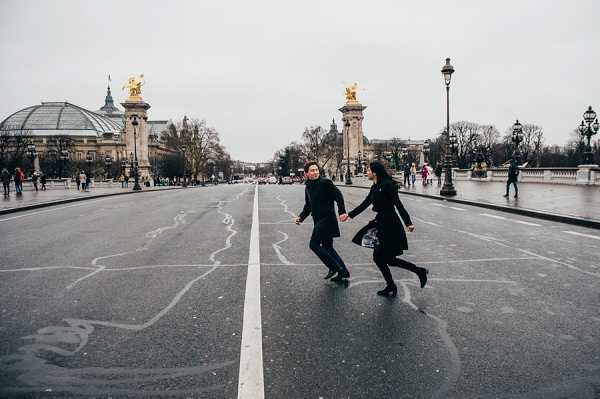 "Franck and Jules live in the UK and between Christmas and the New Year 2018 Franck contacted me. He wanted to make a great surprise for Anjuli in Paris, he wanted to propose."
"We organised this shoot really quickly and after all the details of timing, location, and other plans, the appointment was fixed for 9am at the "Pont Bir Hakeim". One of the best place for a proposal, with the Eiffel tower in background."
"We are two photographers and we arrived 30 minutes before the couple to prepare the perspective of shoot and also the chasing of tourists! Which wasn't to be expected as we are in December and the weather is very very cold!"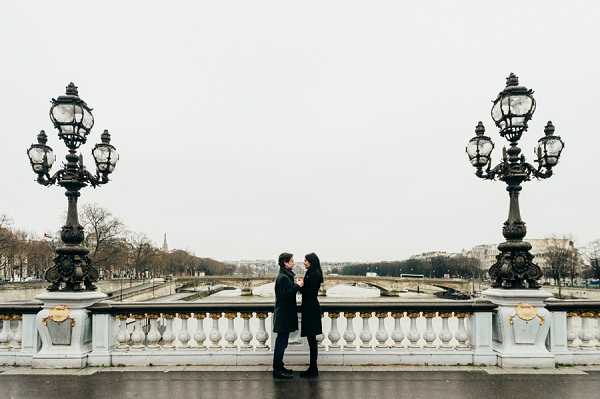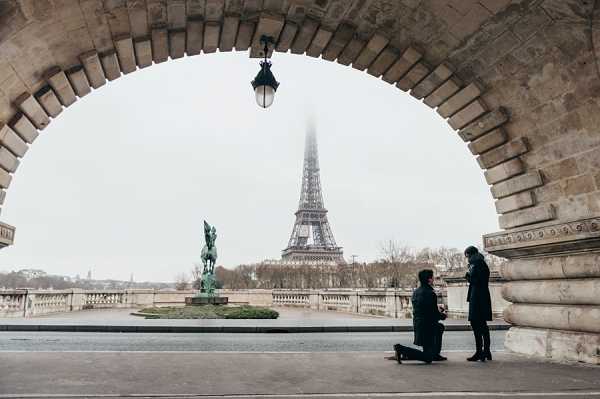 "Finally, Anjulie & Franck arrive and stop to admire the view of the eiffel tower in the Parisian clouds, in the exact location I had given to Franck by Whatsapp."
"After a few minutes (which seemed like an eternity)!! Franck kneels down and took out the ring which belonged to his grandmother. Jules lets out a big smile, and hides behind her scarf… The emotion is palpable."
"Of course she said a big yes!! We finished with a couple session in Paris which was empty and cold but so great!
"Jules and Franck are so kind and so simple. They will be an amazing and beautiful bride and groom."
Not seen enough of this romantic city? Then you must check out this Le Palais Royal Paris anniversary shoot.
A Surprise Paris Engagement Shoot Snapshot
Wedding Vendors
Photographer: Stephane Le Ludec