Morning lovely FWS readers, we hope you are having a great week! Fancy a bit of seaside romance this morning? Well we have for you a gorgeous sunset French Riviera Engagement session.
We can't think of a more romantic setting for a pre-wedding photo shoot than that of The Côte d'Azur. This session was beautifully captured at sunset by the very talented DoctibPhoto. The French Riviera offers beautiful pink sunsets that are just mesmerising and make for perfect evening shoots.
Our beautiful bride to be Alina wears a gorgeous peach maxi dress from Lulus keeping her outfit chic but relaxed the perfect mix for a seaside shoot!
Bride to be Alina will be walking us through her French Riviera Engagement session…
"We met through a mutual friend in Michigan and hit it off right away. After a few months of dating, we moved in together and almost five years after the day we met, Alex proposed in our apartment, using the flight of steps that lead up to where we live to leave a breadcrumb trail of signs tracing our relationship from start to present day, while candles lit the apartment and some of our favorite songs were playing in the background."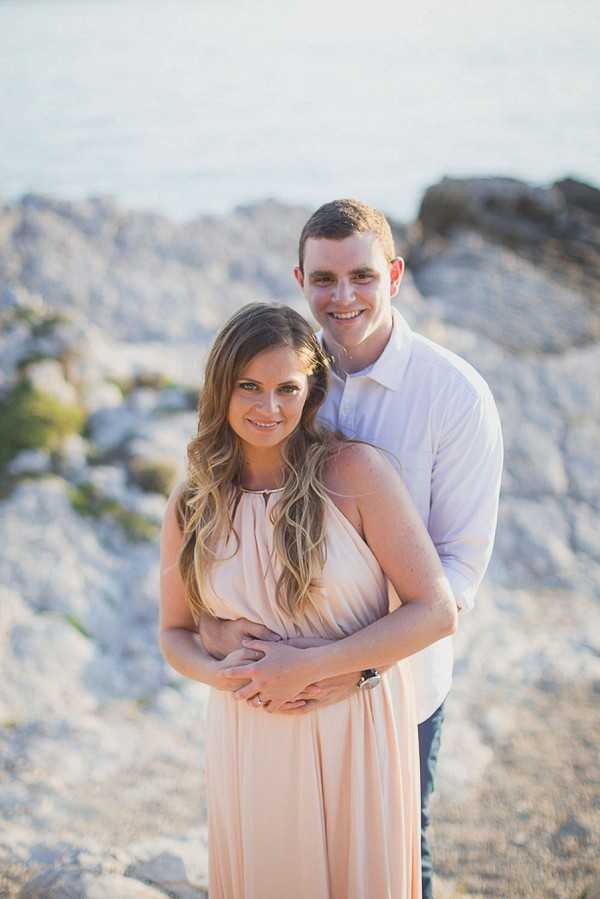 "We originally traveled to France to catch a match in the European Cup championship, as we are both avid sports lovers, and being at the stadium during one of these sporting events has always been a dream. While we were deciding what else we would see during our trip to France, Alex – a big fan of F. Scott Fitzgerald – pointed out that a lot of the inspiration for the author came from the beauty of the Antibes, where he had lived in the 1920s. Thinking of how romantic Antibes and the French Riviera were, the two of us agreed that Antibes should be more than just a day stop during our trip."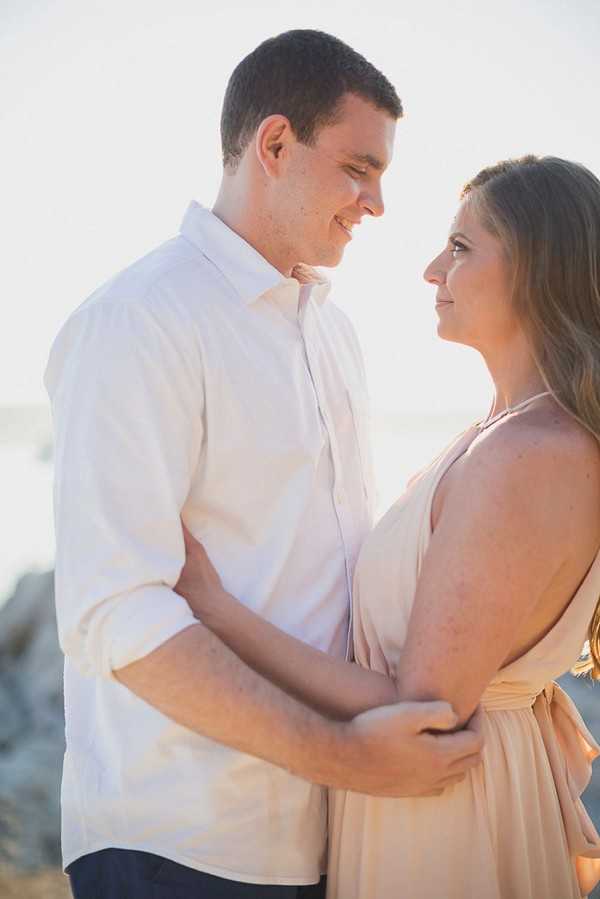 "Before arriving in France, we visited Romania (where I was born and raised) to see family and to scout out venues for a post-wedding party near Bucharest next year. Our wedding ceremony will take place near Philadelphia during Fall 2017, with the Romania fete to follow shortly thereafter. We spent a week in Bucharest and then flew to Lyon to attend the Romania-Albania football game."
"After the Euro match, we rented a car in Lyon and drove to the Burgundy region for some wine and 'moutard' degustations, after which we were ready to head South. Along the way, we made stops in Avignon, to visit the famous bridge, and in St. Remy, where we retraced Van Gogh's steps as he painted 'Starry Night.' We finally made it to Marseille and from there, we began a four day journey along the French coast that would take us through St. Tropez, Cannes, Antibes, Nice and Monte Carlo."
"For our engagement photos, the only part we planned ahead of the trip was the outfits we were going to wear since we didn't want to have to spend time on the trip shopping. Getting these outfits pressed and prepped for the photos after the plane rides into France led to some adventures through Lyon, but it was worth it as they were a perfect match for the serene background in our photos."
"As for the photos themselves, we knew we wanted to incorporate the colors and romance that the French Riviera sunsets often exhibit. We spoke to our fabulous photographer Thiebauld about what we had in mind and let him choose the best spot that would fit what we were looking for, since he knew the area best. We couldn't have asked for a better place than the one he chose, where we could watch the sunset and hear the water splashing on the rocks."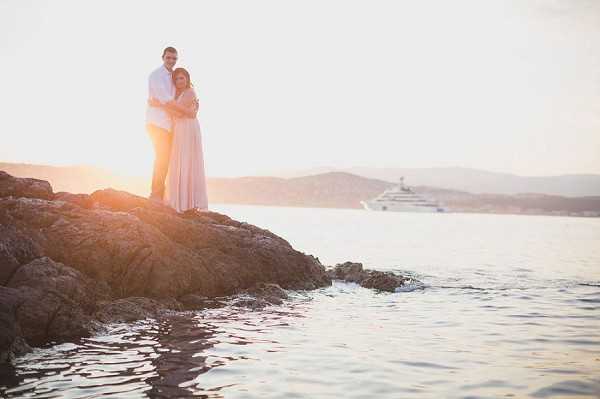 "As far as tips for anyone else planning something similar, we would recommend staying in the French Riviera region for more than one or two nights if traveling from afar, not only to be able to enjoy the little beachfront villages but also to have a back-up evening when photos can be taken in case of bad weather. For the brides, it would probably be advised to call or have your hotel call a salon in the area to make hair and/or makeup appointments, as the salons tend to get fairly busy at the time of day when you would want to get ready for a sunset shoot. Lastly, we can also suggest La Plage restaurant for a post-shoot dinner or The Belles Rives Beach Bar for evening cocktails, both at the Hotel Belles Rives. You can't beat the views and the atmosphere!"
For even more gorgeous engagement sessions click here.
Chic Seaside French Riviera Engagement Snapshot
Wedding Vendors
Photographer: DoctibPhoto | Alina wore: Lulus Dress | Alex wore: Under Armour's golf pants and dress shirt | Accommodation: Hotel Saint-Charles & Hotel Belles Rives in Juan-les-Pins
Save
Save
Save