Good Morning Trulovers and welcome to a fabulous Friday!  Many of the wonderful Trulove community are brides to be, but just how did you get engaged?  My personal proposal story takes place in Rome, where I had taken Mr Trulove for his Birthday.  Little did I know that he had his own surprise in store, getting down on one knee in Rome on Valentine's Day and proposing, complete with beautiful correctly sized engagement ring!
Mr Trulove tells many a tale of his nerve wracking journey to that day, asking my Father and then trying to choose a ring.  So it is with great delight that I share today a proposal story from a grooms perspective in Gabrielle and Johns Paris Proposal Story planned in conjunction with wAIDEing Paris Event.
French Wedding Style  – photography © Marc Jourdan
John: "Gabrielle and I have been together for 5 years now. Truly love at first sight, it was obvious to us the first time we laid eyes upon each other, at our friend Victor's birthday party. You know, a day that should have been like all others, but in the end proved to be life changing!
I wanted that day to matter more than anything. And she really deserved it.
I had never really asked myself before how I would propose when that day would come. But when that fateful time comes, I can assure you it becomes a real puzzle!
And then, after torturing my mind to come up with an idea, I remembered! One day she had had a chat with her best friend. The latter had been talking about her disappointment when it came to her man's lack of romanticism when he had proposed to her. "He said: let's get married! As if he were talking about going grocery shopping! I had always dreamt that moment to be unique, I don't know, on a beach, maybe, in Italy…" and Gabrielle had added: "Or in Paris! That's so romantic!".
The process had been set in motion. I checked the plane tickets, departure in 10 days, on her birthday, she wouldn't suspect a thing!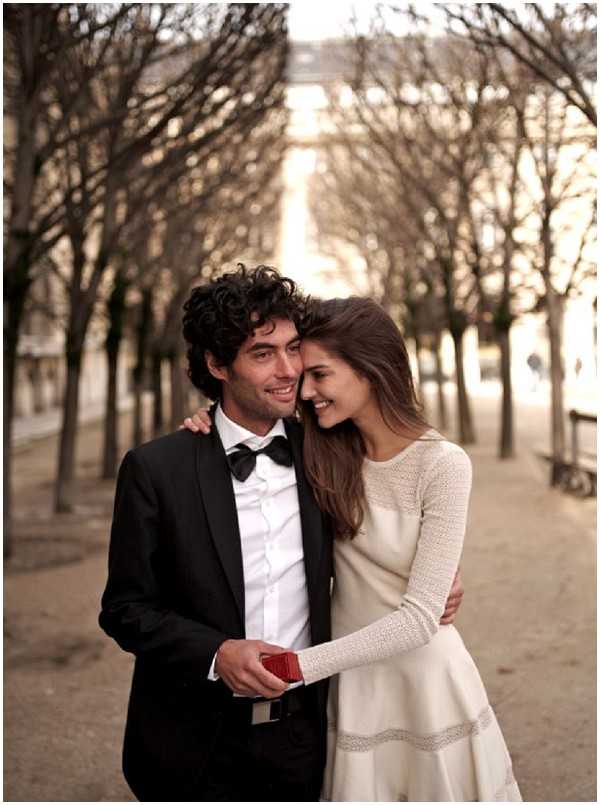 I had only informed her that that day we would be going on a trip. I believe she thought we were going to Montreal (that's what I had falsely hinted). On the day-of, at breakfast, I slipped an envelope with the coveted tickets into her hand: her dream destination. She couldn't believe her eyes! She couldn't stop jumping for joy like a kid.
I got into contact with a wedding planning agency when we arrived in Paris, specialized in (discreet, of course) proposal planning. I shared with them my wish to plan a chic and romantic day in an intimate atmosphere and I really wanted everything to be subtle (no flash mobs!).
A chauffeur came to pick us up at the airport and drop us off at our hotel. The whole day had been organized from A to Z.  I gave as an excuse that her birthday present was a photo shoot, so we could capture a few precious moments! We then had lunch in a delicious typical French restaurant.
There was a warm atmosphere and the excitement to go wonder in those typical Parisian streets and alleys only had the effect of cutting our lunch short! We absolutely had to stop at "Ladurée" and its wonderful French macarons, before going for a walk on the docks, on the "Quai des Arts" (bridge of the arts), and we even rode the Ferris wheel on Place de la Concorde!
I had mentioned to the agency that Gabrielle, being a writer, was fascinated by French literature, so we wanted to create a symbolic itinerary, to her own image. The final spot for that moment was at the Palais-Royal where famous writers such as Colette and Jean Cocteau, for whom Gabrielle has a passion, used to live. Perhaps the greatest spot, not too cliché, just elegant and chic, perfect! I was excited but I was also really nervous! I was scared I would start stuttering and make a fool out of myself!
The fateful moment got closer and closer. My heart was racing. I made her a declaration of love, words were spontaneously coming out of my mouth. I would be incapable of remembering what I said exactly but what I can tell you is that "I DO" without hesitating was the happiest moment of my life."
Congratulations to Gabrielle and John and Happy Wedding Planning!
Wedding Suppliers:
Proposal Planning: wAIDEing Paris Events
Photography: Marc Jourdan