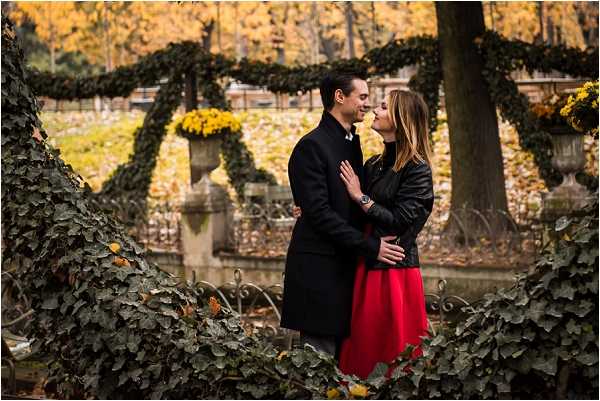 We are celebrating the wonderful month of February and all the loving activities that happen this month, including Valentine's Day with a romantic engagement photoshoot at Jardin du Luxembourg in Paris.
Paris at any time of the year is wonderful, and if you are planning a wedding in Paris you can find a list of suppliers here.  But what we love about this shoot captured by Shantha Delaunay is how she captures the joy and beauty of Paris in the fall.
Katerina shares with us her love story and what it is like having an engagement shoot:
"We are Katerina and Edouard, a French-Latvian couple living in Paris.
It's been almost four years since we got together and what had started as a simple online language exchange got pretty serious. After several months of long distance relationship (I used to live in London when we first met) and three years living in Paris together, we decided to get married. Well, I had decided that I will say « Yes » much earlier, but you kind of have to wait for an official proposal.
And Edouard did it. On a beautiful beach of the Normandy coast, he finally asked THE question. Some brides cry when they hear « Will you marry me ? », but I laughed with much joy and happiness.
Edouard proposed to me with a beautiful ring he designed himself (with some help from his jeweller). We both love artisanal and traditional savoir-faire so I guess it was natural for Edouard to get a ring made sur mesure. He didn't want to just buy it in the boutique, he wanted the ring his future wife will wear to have a part of him in it. Well, this is why I love this guy.
As I have recently started my wedding planning business in Paris, I got to know many great wedding photographers and I always admired their work on social networks.
Even though I have organised several elopements and bridal shoots for clients, I have never had a professional photoshoot myself. You can imagine my excitement when Shantha Delaunay, a young lifestyle photographer, offered to organise an engagement shoot for me and Edouard.
We chose to have the photoshoot early in the morning at Jardin du Luxembourg, our favourite park in Paris. Whatever the season, Jardin du Luxembourg always stays élégant and romantic, offering beautiful backgrounds for your photos. You can find fountains, an elegant château (Senate), scenic pathways, colourful flowerbeds, traditional french café, and even palm trees during the summer season. Well, it's simply a perfect place for a romantic Parisian photoshoot.
I met Shantha several months before the shoot and loved her style immediately. Her photography style has a little fashion touch and she is a genius at making you feel comfortable in front of the camera. I've seen some photographers being very directive and indiscreet and I understand why some couples can find it tough to pose when you have a camera 30cm away from your face. When you are not a professional model, posing for your engagement or wedding photoshoot can be really difficult and sometimes intimidating.
Luckily, Shantha knows exactly how to make you feel good and I can bet you will LOVE working with her even if you HATE being photographed. Even Edouard who is very uncomfortable when someone takes photos of him enjoyed our engagement photoshoot.
If you plan to elope to Paris for your engagement, wedding or just because, feel free to contact me to plan your special day perfectly and Shantha to capture it beautifully."
Engagement Photoshoot at Jardin du Luxembourg Snapshot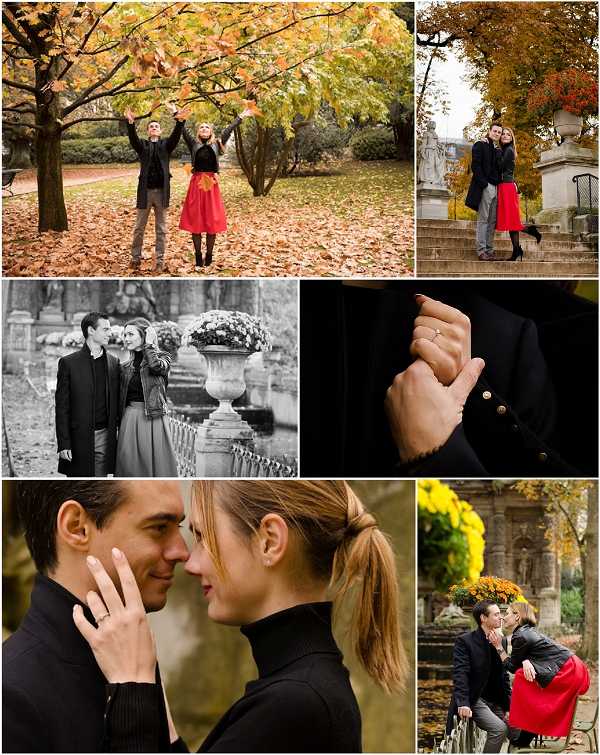 Wedding Vendors
Photographer:  Shantha Delaunay | Planner:  So Special Events
Save
Save
Save
Save
Save