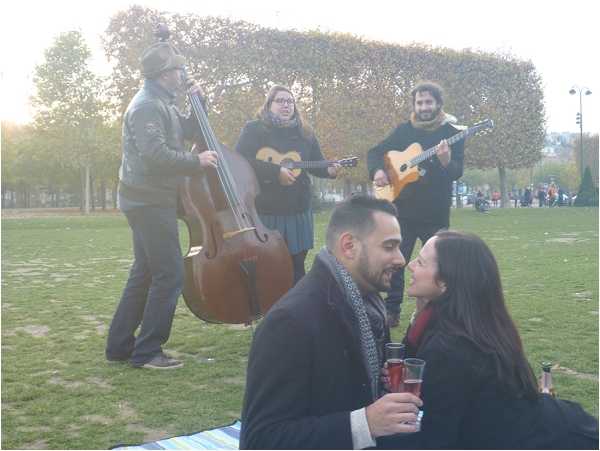 Engagement and proposal week is carrying on and today we have a fabulous musical surprise proposal in Paris, featuring the wonderfully talented FWS Vendor La Tartine. There are so many ways to proposal and we LOVE ones that are super personal and of course if we can be there in a fly on the wall capacity to see it, we love that too!
Singer and part of La Tartine, Casey Jayne is going to take us through today's proposal:
"Sitting in front of Eiffel Tower on a crisp autumn day, with a golden sun setting behind the falling leaves along the Champs de Mars, Adrian and Yaima set up a romantic picnic.  Little did Yaima know, the champagne wouldn't be the only thing popping this afternoon, because Adrian had planned to pop the big question… and we were lucky enough to help him surprise her.
Adrian found us on the French Wedding Style Directory and contacted us by email a few months before their big European trip, where he planned to surprise his chérie with an à la carte, and totally unique proposal.  He wanted the classic romance: Paris, the perfect spot, the perfect wine, all the classics.  But he also wanted to make the moment unique to them.  Originally from Cuba, they are now living in the United States, and both love traveling, so a destination proposal seemed natural.  He told me about one of their favorite dates from the beginning of their relationship: a picnic overlooking the Golden Gate Bridge that neither of them would ever forget.  A romantic picnic had just the right touch of nostalgia that Adrian was looking for.
Adrian asked us to arrange a version of their favorite song, Ed Sheeran's "Thinking Out Loud." We settled a date and time to meet, and exchanged photos so we could recognize each other.
That November day dawned beautifully, though a little cold.  We arrived early and stayed discreetly behind the bushes until they arrived and set up their picnic. As planned, we slowly approached one by one, playing their song, stepping closer and closer until Yaima had no doubt that this was in fact for her.  Adrian told us later that when we started singing, Yaima leaned over to him and said, "Look, she's singing our song!" as if it was a happy coincidence.
My favorite moment of the day was the look that Yaima gave Adrian when our guitarist, Raphaël, joined me next to their blanket.  It was then she knew what was happening, when she knew that Adrian had planned this for her, and that smile gave me the good chills and made my heart flutter.
He kneeled, opened the box, asked his question, and she answered "oui oui!"  Perfect.
La Tartine played for another half hour as the newly engaged couple finished their picnic, sipped their champagne, and exchanged more than a few bisous."
Can't get enough of engagement and proposal inspiration then check out more here.
La Tartine is an acoustic trio that adapts to what you are looking for.  Their à la carte packages, starting as low as 300€, allow them to work with you and create a musical experience or moment that is completely unique.  From surprise engagements, to intimate dinners, to dance parties, to live karaoke, they are game!
To learn more about La Tartine, please visit their website at www.latartinemusique.com or send them an email at [email protected] .
Save
Save