Christmas Eve and over the Christmas holidays is one of the most popular times to get engaged.  Although I got engaged on Valentine's Day, my second choice would have been around Christmas.
I love this time of year,  everyone is full of festive cheer, twinkling lights, making time to catch up with old friends and of course cheesy Christmas movies! So as I am sat wrapping the final Christmas presents and with said cheesy movie on in the background, here is a last minute bit of inspiration if you are thinking of popping the question over the festive holidays with my top wedding proposals from French Wedding Style.
French Riviera Engagement Session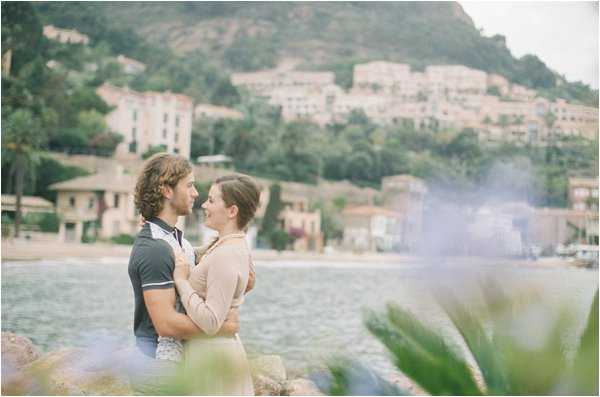 Image by Cat Hepple
I love the Riviera, it stole my heart years ago and is such a great place to propose!  Take a look through the TeamAmour engagement session along the coast for your South of France inspiration – see here.
The Riviera and the South of France in general is often overlooked as a destination for a proposal, but whether during the height of summer or the quiet stills of winter, it is a truly beautiful and memorable place to get engaged.
A Surprise and Unique Wedding Proposal in Paris
Image by Juliane Berry
It can be difficult to think of a unique way to propose especially in an iconic city such as Paris, but Brian really did think of a unique and person way of popping the big question to Jamie – see how here.
Why not take that little bit extra time and think how you can make your proposal, truly unique to you and your fiance.
Autumn comes and Autumn leaves Engagement Shoot
Image by Tiara Photographie
The rich colours and red hues provide a background with a tremendous depth of colour and I can smell the chestnuts roasting over the fire – worth considering for an Autumn engagement in 2015! – see full shoot.
Tips on some of the Best Places to Propose in Paris
Image by One and Only Paris Photography
It is hard to mention proposal or engagements in France without mentioning Paris.  We were over in Paris earlier this month for a photo shoot and it really is magical during the festive season, with the lights and the Christmas market on the Champs Elysees and not to mention the champagne bar!  If Paris is the proposal place for you -then here are our  5 best places to propose in Paris – see here.
Romantic engagement session in Cognac France
Image by Robyn Rachel
I visited Cognac back in 2011 and loved the town and the surrounding countryside.  An easy trip from La Rochelle or if you are staying in Poitiou Charentes area  – it is definitely worth adding to your travel plans.  It is so lovely to be able to celebrate the area as part of an engagement shoot and you can – see full shoot here
And if you are planning to pop the big question this festive season, be sure to read our tips on how to keep a proposal secret – this is for you!
If you are planning on proposing – Good Luck!