If you're in the midst of planning a romantic proposal in Paris, then you're likely searching for the best places to propose to make the moment unforgettable. With summer just around the corner, Paris, the city of love, is the ideal destination to get down on one knee and pop the question.
When planning to propose in Paris, it's important to consider not only the location but also how to capture the moment. After all, once you've got engaged, the pictures of that moment are what you'll have to share and relive the moment. Here are some fantastic recommendations for the best places to propose in Paris that are sure to make your special moment even more magical.
Capturing that special moment
Before I get to sharing some of my best proposal places, let's also discuss capturing the moment.  It is a fair chance that you will be on your own in Paris for the big event and no sooner have you got engaged then you want to share the wonderous news with friends and family and try and recap every detail.
But why not capture the big event with your own personal photographer and let your friends and family share in the moment?.  There are many talented and delightful English speaking photographers in Paris who can work with you on planning the big question.  Take a look through the engagement section for past proposals and be sure to visit the photographers websites for further information.
A photographer can work with you, arranging a location where you intend on proposing and waiting in the wings for you to get down on one knee.  You don't have to worry the experts will be discreet, not ruining the big moment and can easily adapt.  I even remember the lovely Ian Holmes recanting a story where the gentleman got nervous and went down on one knee before the prearranged location, leaving Ian sprinting across a bridge in Paris with his camera equipment, making sure that he didn't miss anything!
I have touched on the subject of proposing in Paris before, so today I am going to include some alternative suggestions.
1. Pont de Bir-Hakeim
It isn't the Pont des Arts, but the Pont de Bir-Hakeim bridge between 15th and 16th arrondissement is a wonderful place for a proposal.  There are certain major benefits of this location, it is a lesser known and therefore popular bridge, which means that there is less likely to be a plethora of tourists in your engagement images.
There are also beautiful viewing points there are set back away from the road and perfect for a sort rest-bite when you are pop the question.  The layout of the road and central path means that your photographer can be truly hidden and unobtrusive for the big moment.
>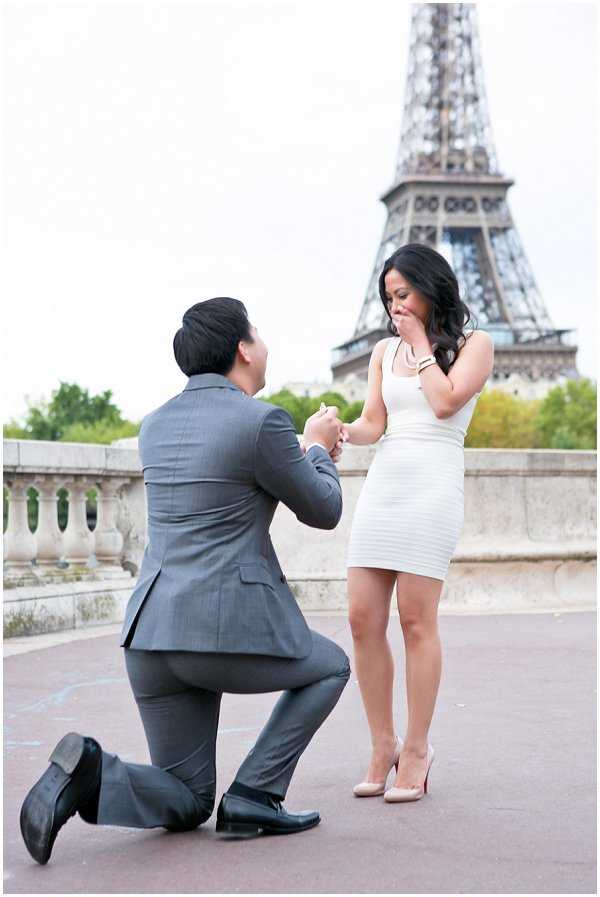 Source: One and Only Paris Photography from Surprise proposal in Paris for one high school sweetheart
But finally, it has an amazing view of the Eiffel Tower especially at night when the tower twinkles!
2. Sacré-Coeur Basilica
If your partner is shy this isn't one for you! The highest point in Paris is Sacré-Coeur Basilica in Montmarte and a hive of activity and tourists.  A trip to the iconic landmark will mask the true intentions, and there on the lawn in front of the church of the "Sacred Heart of Jesus", enjoy a romantic picnic and pop the question.
Source: Be Light Photography from Early morning proposal in Paris
To full enjoy this is a summer proposal suggestion, but for anyone who loves Woody Allen's Midnight in Paris it could be a winner.
3. The Tuileries Garden
Set between the Louvre museum and Place de la Concorde is a beautiful public garden, that especially in spring and summer is full with Parisians and tourists alike, taking in the ambient surroundings.  A beautiful picnic spot, be sure to assemble your picnic hamper before heading into the gardens to avoid the overpriced tourist food.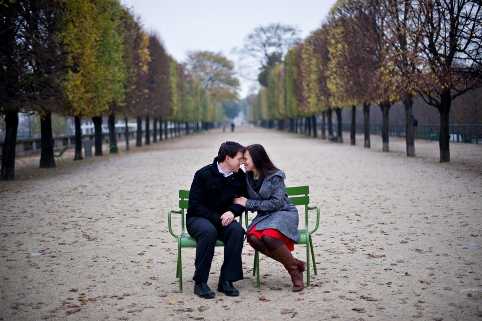 Source: Ashley Therese Photography from Stepping out from behind the lens: engagement shoot in Paris
If you are planning on hiring a photographer to capture the event, be sure to ascertain exactly where in the gardens you will be!
4. I Love you Wall
If you are looking for something a little unusual the "I Love you" wall in the center of the Abbesses garden in Montmarte could be the spot for you.  Covering an area of 40 square meters, the phrase "I love you" is written more than 1,000 times in over 300 languages.
Source: Ben & Aurore Photos from photo shoot in home city of Paris
The wall was created by two artists – Frederic Baron and Claire Kito as a rendezvous location for lovers and a lasting monument to eternal adoration.  What more apt place for a proposal and it makes a stunning backdrop for your engagement photo!
5. Palais Royal
Located in the 1st arrondissement of Paris, the Palais-Royal is a wonderful location to propose with a large inner courtyard with the Les Deux Plateaux art piece and then the delightful Palais-Royal Gardens. The art piece in the courtyard you will recognised as the black and white column sculptures that you have seen in engagement shoots.
Source Natalie J Weddings from Haz and Hafzi Paris engagement
I also find the Palais-Royal Gardens enchanting, truly relaxing sitting on one of the green chairs and watching the world go by, whilst listening to the fountain.
Don't forget if you are struggling to plan your engagement in Paris, find a list of Paris planners in the French Wedding Directory who can help!