We have a wonderful pre wedding photography session in Paris by Paris Happy Pictures to share with you today, that features a fabulous dress designed by the bride to be herself Jacqueline Stephani.
Stephani and Riadi have known each other for ages – they met in a kindergarten, often playing, eating and learning together.  After graduating from the kindergarten, they went to different elementary schools. Then Stephani went to China for 2 years and a half.
Fast forward and when she came back to Makassar, Indonesia she met Riadi again in her school, but at that time there were just friends.   After graduating from high school, Riady continued his studies in Surabaya, while Stephani was in Jakarta, but they maintained their friendship with lots of sms, phone calls, myspace, emails…
After graduating from college, Riady moved to Jakarta. Many of their friends started telling them that they were actually a perfect match. They hesitated a lot being afraid that if they would try something more and it would not work out, they could loose their precious friendship.
But on the 7/9/2011 they made a right choice to start. They've seen a lot of joy and sorrow together and ended up by deciding to get married.
About the photoshoot:
Daria from Paris Happy Pictures says of the shoot:  "Stephani and Riadi decided to do a prewedding photoshoot in Paris, the most romantic city in the world during their trip to Europe to showcase these pictures during their wedding reception.
We chose the most iconic Parisian location – Trocadero, with the Eiffel Tower view. I suggested to shoot in the early morning to enjoy morning empty city and beautiful sun lights. The sunrise perfectly illuminated Stephani's golden dress, that made our pictures warm and sunny. "
Pre Wedding Photography in Paris Snapshot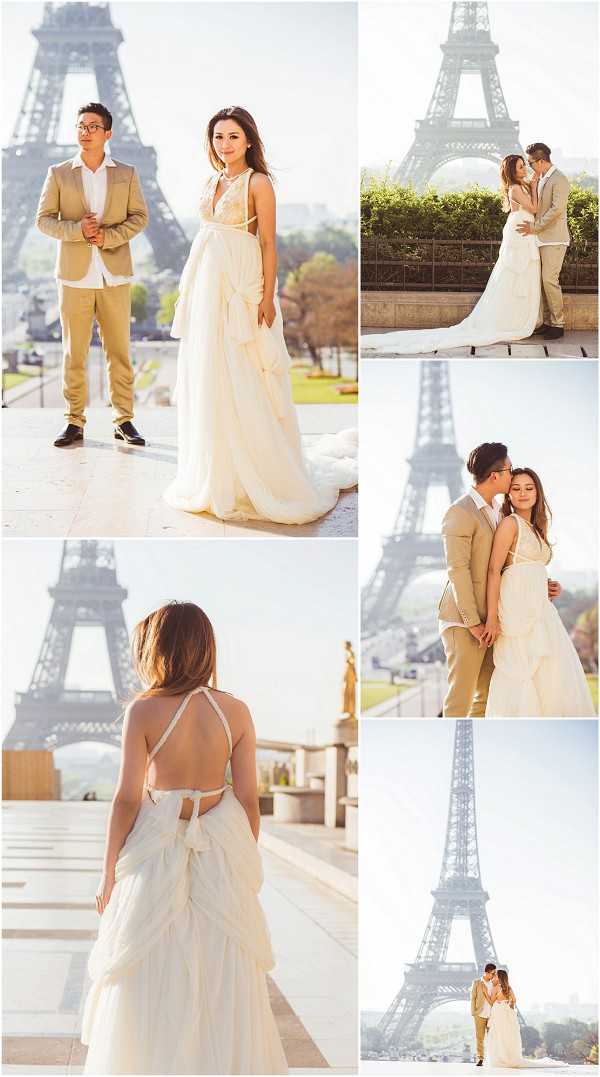 Wedding Vendors
Photographer: Paris Happy Pictures | Hair and Make up: Jacqueline Stephani | Dress : Jacqueline Stephani |