As well as looking forward to Christmas, I am also so excited for all the couples who are either planning to propose over the festive period or who are getting married.  Some of my closest friends got engaged on a New Years day walk and married a year later between Christmas and New Year and it was just such a magical day.  So whilst I am always about celebrating love on the blog, I say lets celebrate soppy, gushing, heart felt romance on the blog over the next week.
I am starting the romance theme with Clara and Martin's engagement session by KT Merry Photography in picturesque Lourmarin in the Vaucluse department in South of France.
Bride to be Clara takes us through her big day and watch out for the ever so cute dog! Clara: "Years ago, I passed through Lourmarin as a photographer shooting a travel reportage for a Swiss food magazine… and instantly fell in love.
4 years after that initial visit I brought Martin here and we both discovered the place we'd eventually celebrate our wedding, at nearby La Fenière. We've been coming to Lourmarin often since then, because there is something there that just makes us happy and that we identify with.
"We wanted to have our engagement session right in the small village, as it's extremely pretty and charming and makes such a fotogenic backdrop and we'd have these beautiful images of us together in the place we both love. We also chose olive groves around Lourmarin as a location, as our wedding ceremony two days later was going to be held in an olive grove and olive tree branches were a theme during our wedding.
We brought a few things to the shoot that would show who we are and what we love. I brought my old Flexaret cameras (Czech made, ca. 1950's) that I used to shoot with (one of them belonged to my grandpa) and Martin brought a gorgeous football as he used to play football and professionally had started out as a sports journalist. I also prepared a small lavender bundle which we used at our wedding later.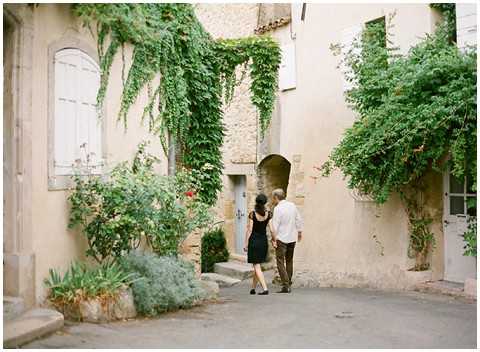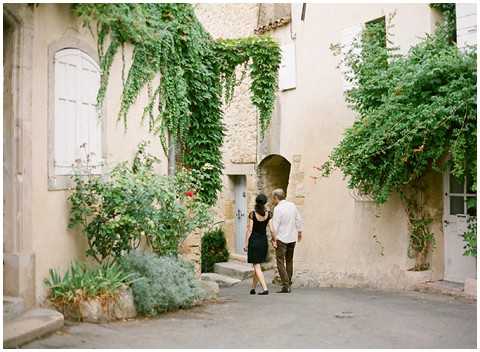 The shoot took place 2 days before our wedding and we were finalizing our preparations and already meeting our first guests, so it was especially exciting for us to be photographed at that moment, surrounded by everything that we love.
We met KT and Chad (who had just arrived from the US for our wedding) to talk about our favorite outfits and chose three so we could have a variety in the pictures that would match the different locations around town. We spent a couple of hours with KT who was bubbling with ideas and directions for our poses and made Martin and me smile and kiss A LOT!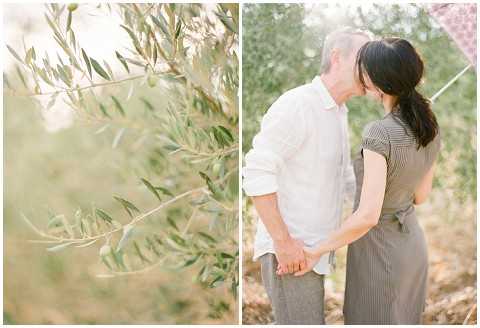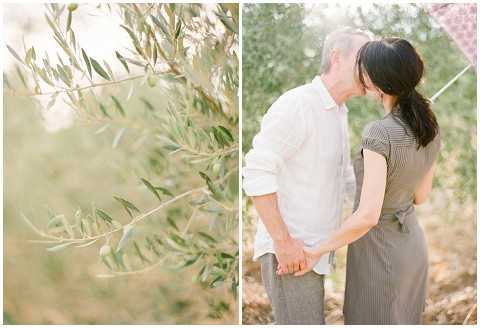 Martin is usually the model for MY camera, so he was really relaxed in front of KT's – it was a great joy to work with her! She turned her ideas into so many unbelievably beautiful moments! MERCI…!"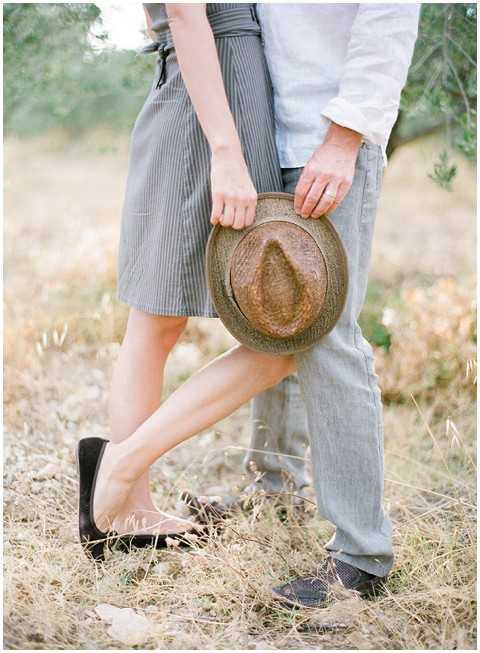 I have never visited Lourmarin, but Clara and Martin's charming engagement shoot in the area has certainly put in onto my 'must visit' list.
Have a lovely Saturday and best wishes for all those heading to the shops for last minute Christmas shopping.
Monique xx