Happy Friday lovelies, we hope you're ready for the weekend but just before you dash off to enjoy the summer weather we have for you a super sweet French Riviera engagement session, the groom-to-be even surprised our beautiful bride-to-be with something uber romantic!
We adore all the pretty details in this session created by the very talented Rock My Love. Nothing has been forgotten and every sweet moment captured by Sophie Boulet.
We are a little bit envious that we can only look at the delicious treats which feature in today's engagement session because they just look so mouth wateringly good, we're sure you'll agree.
Our super talented bride-to-be Manon who also happens to be part of the amazing Rock My Love team will be walking us through her stylish engagement session today…
"Louis is from the region of Champagne in France and I have a serious sweet tooth, the theme was obvious to us. We wanted an engagement shoot that looked like us. We say that time goes by but memories stay so what could be better than beautiful pictures to remember this stage of our love story."
"After thinking about the design, we had to think about my look, I wanted to be elegant, I wanted Louis to fall in love again. The fashion designer Nue 19.04 from Paris makes rock and sensual collections this dress looked like it was made for our engagement shoot.
Choosing my hairstyle and make-up was complicated because I don't often use make-up and I wanted something very natural. Who else could I trust but Joahanna Marcucci who was elected best make-up artist by Christian Dior's house!! It was a pleasure to get ready with Johanna, she is a very sweet person who listened and advised carefully."
"I come from the French Riviera and I am in love with Provence. It has been a long time that I was dreaming about the Moulin de Mougins an eighteenth century mill with many different areas full of bloom, olive trees and an amazing bamboo hedge like nowhere else."
"Johanna had put my hair in a beautiful and unusual braid and the feather pin from Art et Facts was perfect for it. Art et Facts Paris is a classy and elegant space to find bridal and fashion accessories."
"Choosing the wedding designer was very easy, Ghislaine from Déco & Harmonie knew how to style this stunning venue with a sweet mix of flowers and a perfect choice of colors. We wanted to have a romantic atmosphere and Ghislaine created just that."
"A few weeks ago Laura from Les petites Découpes introduced her work to Rock My Love our wedding planning agency. She is a talented designer. We loved her creations. She was the perfect one to give the romantic touch to this engagement session. Les Petites Découpes made wooden cuts, bamboo and olive trees leaf engravings to spread words of love to our decor."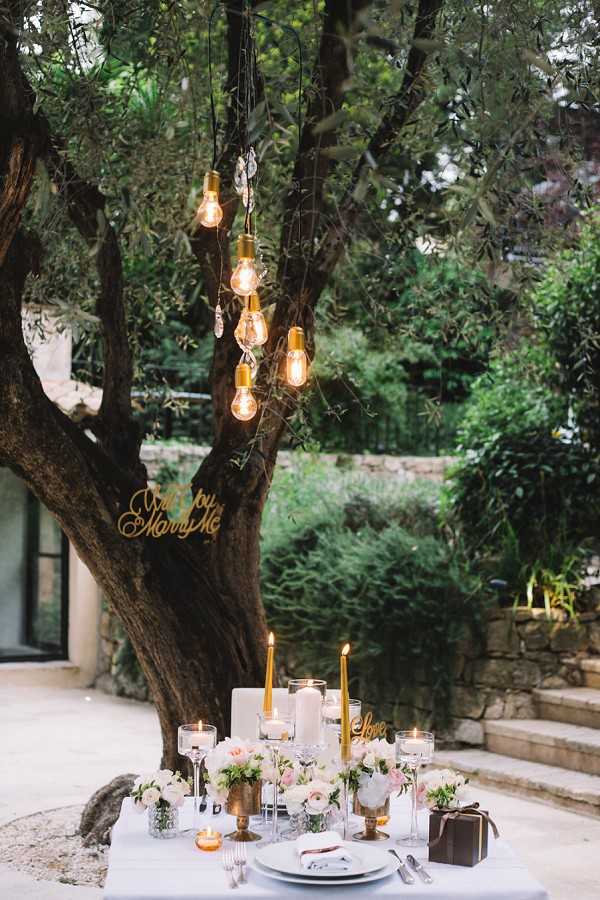 "With a Champagne & Chocolate theme the session would not be complete without some delicious treats. Solène from Jacobs Creation created pretty macarons and pop cakes, the tasted as good as they looked (just ask the team !).
Louis chose his favorite house of Champagne: Jeeper. Finest bubbles and elegant design."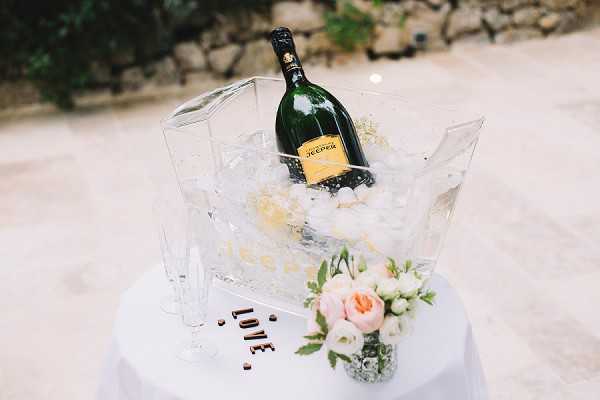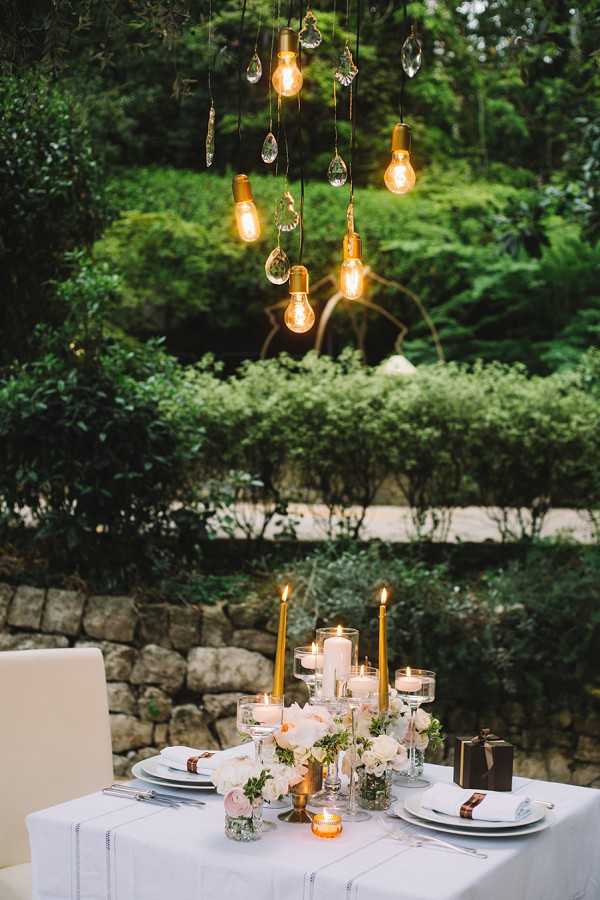 "When Louis proposed the day of my 25th birthday in front of all my family and friends he didn't choose the engagement ring, he wanted to take more time to find THE ring. I was not expecting the surprise he had in store. With the help of all the team and Volterra Jewelry they designed a unique ring with a champagne color diamond with several smaller diamonds on the ring to remind us of champagne bubbles."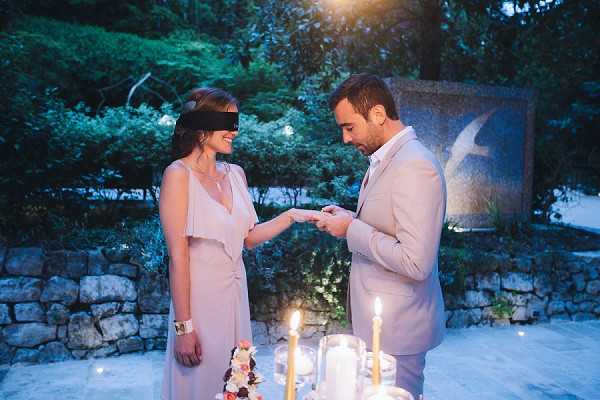 "The good thing about being a Wedding Planner at Rock My Love is that we work with great professional and talented wedding suppliers. Each person who participated to this engagement session had something special, zest for life and smiles were there all day long. It was easy for Louis and I to be ourselves, just natural in front of the unique sight of the photographer Sophie Boulet and the videographer Florian Bonin."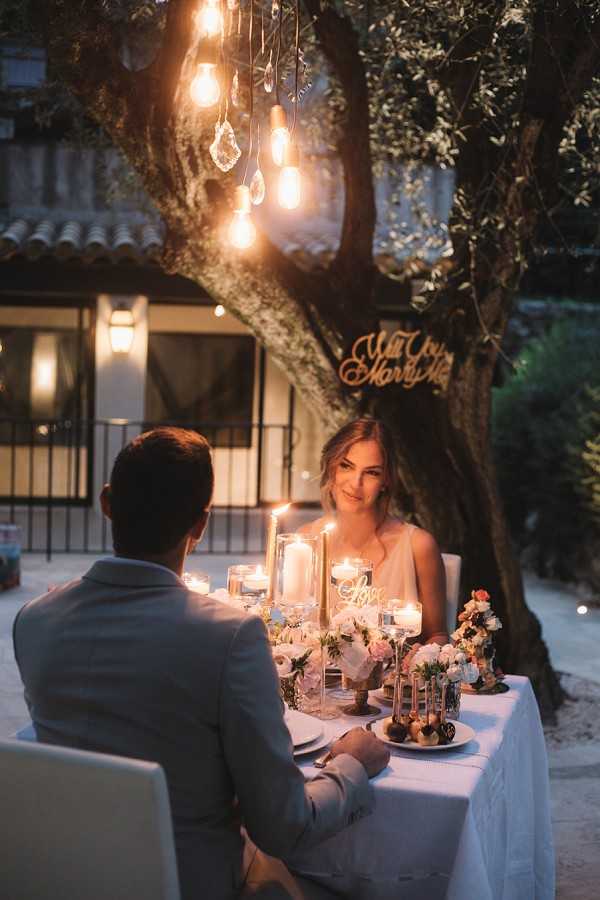 Louis: "Making an engagement session was not very obvious for me. I liked the idea of getting nice photos of us but I was afraid to feel uncomfortable in front of people and cameras. I wanted to feel myself and the global atmosphere to be joyful, not too serious, to be just like us.
I knew that with Manon and Angélique planning the whole thing, The Rock My Love touch would make the difference. As wedding planners they had a complete directory and all ingredients to make it happen succesfully.
I've followed them with only one requirement: the choice of the champagne."
How romantic, movie worthy indeed!! We love how Sophie Boulet perfectly captured that surprise moment!

For more inspiration like todays champagne French Riviera engagement session click here.
With love,
Christina x
Champagne French Riviera Engagement Session Snapshot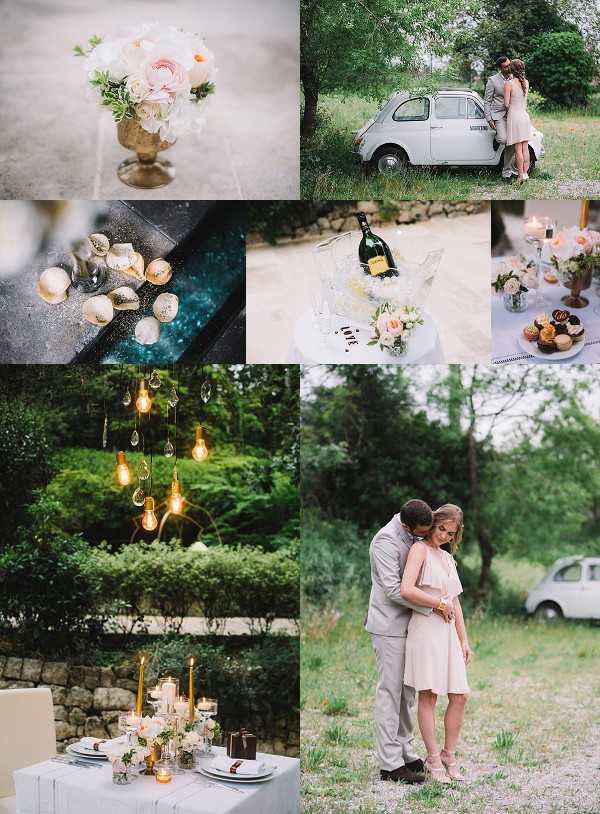 Wedding Vendors
Planner and Coordinator: Rock My Love | Photographer: Sophie Boulet | Videographer: Florian Bonin | Venue: Moulin de Mougins | Design and Flowers: Déco et Harmonie | Cuts and Engravings: Les Petites Découpes | Make-Up and Hair: Johanna Marcucci | Cakes: Jacobs Création | Dress: Nue 19.04 | Ring: Volterra Jewelry | Accessories: Art et Facts Paris | Champagne: Jeeper
Save
Save
Save