If you need to inject a bit of romance into your life or you are looking to give a certain someone some ideas, then today's surprise romantic proposal in Paris organised by Josh for Lauren is a must! The memories have been captured by French Wedding Style favourite Ian Holmes Photography who in addition to the main event also took the couple on a tour around Paris for their own personal engagement shoot.
I can't explain the events nearly as well as newly engaged Lauren, but please do read all of the account it is just delightful!:
"Josh and I had been together for 6 years when he proposed this past December.  I studied abroad in Cannes, France in 2006 but I fell in love with Paris!  The Eiffel Tower started to sparkle when I was on it and it was the best moment of my life (until the proposal that is!)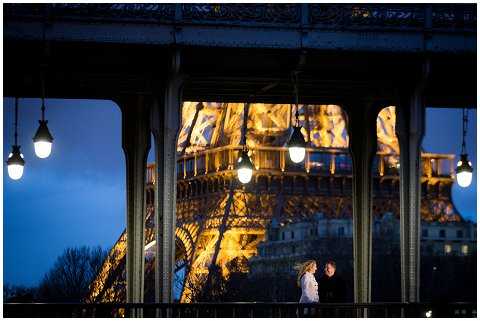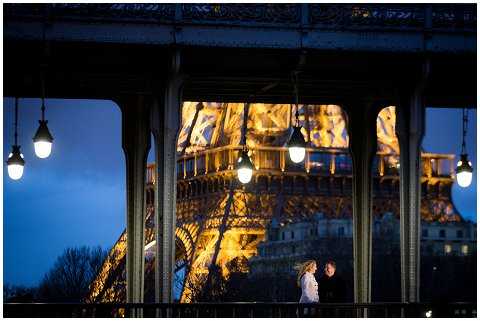 My roommate was there with me and she said that exact moment would be the perfect time for someone to propose.  Apparently I had told this story to Josh when we first started dating (and he somehow didn't run away).  I had forgotten about the story, but he did not.  He surprised me with a trip to Paris.
I had just finished my dissertation and so he told me the trip was to celebrate my achievement.  I believed him.  I am obsessed with Christmastime, and so I was really excited to see Paris decorated for the holidays.
Our first day there, he told me we had dinner reservations and I needed to be ready by 4:30 for a 5:00 reservation. I was, naturally, running late.  Fortunately he planned ahead for this and at 4:30 told me I still had an extra 15 minutes. It was raining when we left, so Josh ran back up to our room to get my hat so that my hair wouldn't get ruined (we did not pack umbrellas).
We walked and Josh was hoping we were headed in the right direction as he fumbled with a map and printed directions to the restaurant.
As we were walking across the bridge at the Pont de Bir-Hakeim, I stopped Josh and pointed at the Eiffel Tower, because it had just lit up and was sparkling! (When he tells the story, he always mentions that he had already noticed about a block previously and was worried he would miss his opportunity since it only sparkles for 5 minutes).
Josh said he wanted to get a better look and walked onto the Pont de Bir-Hakeim, but I stopped him because another couple was there taking their wedding photos and I did not want to be rude and photobomb their wedding pictures (had I known he was about to propose, I confess I would have reacted differently).
We stayed on the bridge and he started to say something that I can't even remember now because then he got down on one knee.  I was so shocked and excited that I didn't even register what he was saying, but when he stopped I knew my answer should be YES!
Then I stood there awkwardly as he rose and then finally noticed my gloves were on.  I took them off so he could put the ring on my finger and we enjoyed the last moments of the Eiffel Tower sparkling.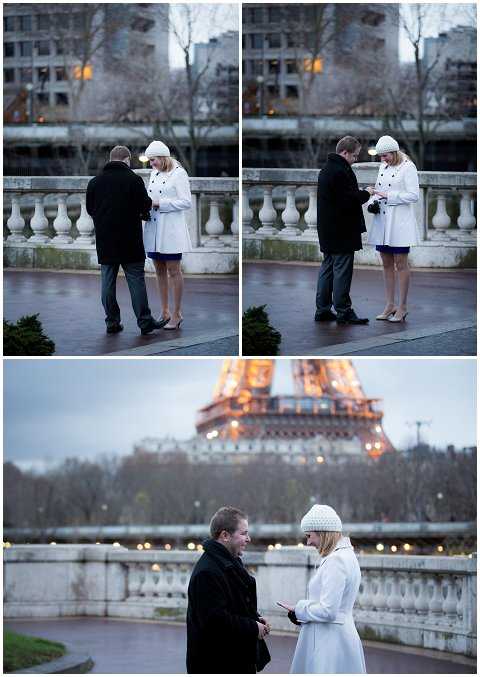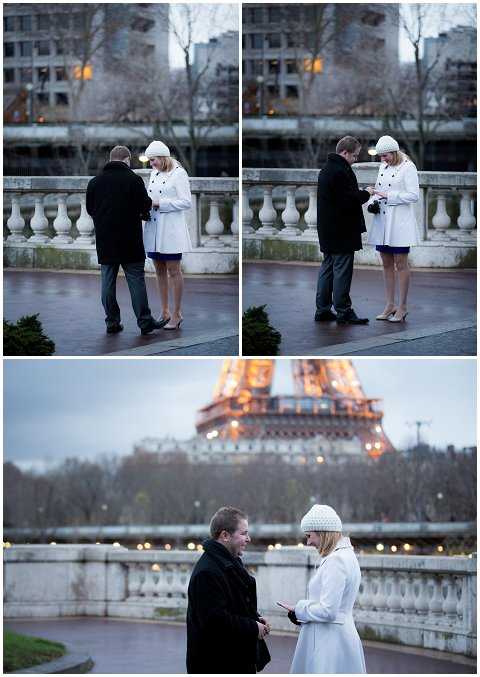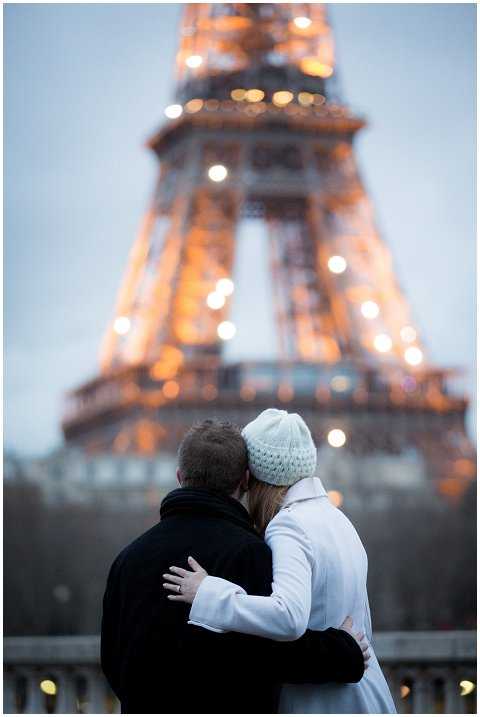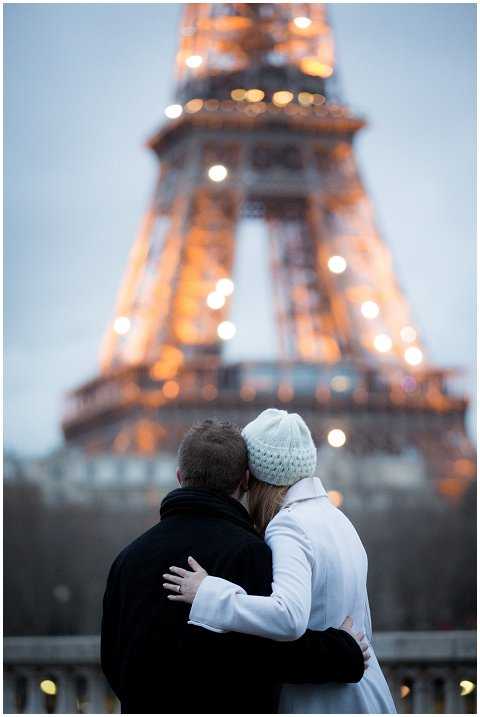 He then whispered in my ear that there was a photographer (Ian Holmes) capturing the whole thing!  My response? "My hair!" I had it tucked in my coat so it wouldn't frizz and so in the photos you can tell when I discover there is a photographer (hair outside of my coat).
Later, Josh says that he couldn't get to the exact spot Ian had intended because he was worried about missing his opportunity.  When he got down on one knee, he could see Ian and his assistant sprinting with all of their equipment to capture the shots.
So there is not a photo of him on one knee, but they did get the moments directly after.  Then Josh told me that he had also booked Ian for an engagement photo shoot that would happen three days later!
He even booked a hair and makeup artist for me (Sanni Sorma)!!! We took some other photos on the bridge and then walked toward the restaurant for our dinner reservation at Les Ombres that was actually at 7:00.
We had some time to kill, but we stumbled upon a garden of lights outside of Musée du quai Branly.  Ironically, there was an art exhibit at the museum of aboriginal artwork (Australia was the other country I was fortunate enough to study abroad) so we spent time in the museum until it was time for our dinner reservation.
We had the best seat in the place with an amazing view of the Eiffel Tower. Three days later Sanni arrived to do my hair and makeup (and even helped me figure out what to wear).  She was very personable and did a fantastic job with my makeup!  Then we met up with Ian near the Louvre for our photo shoot.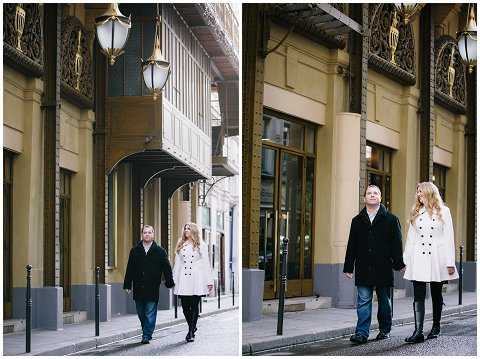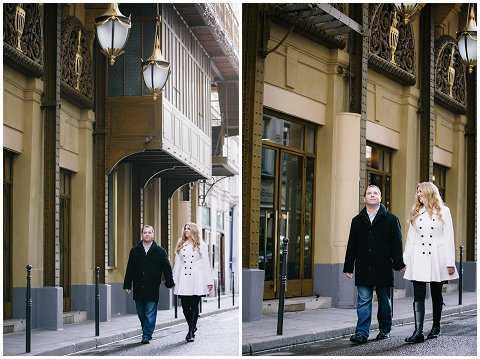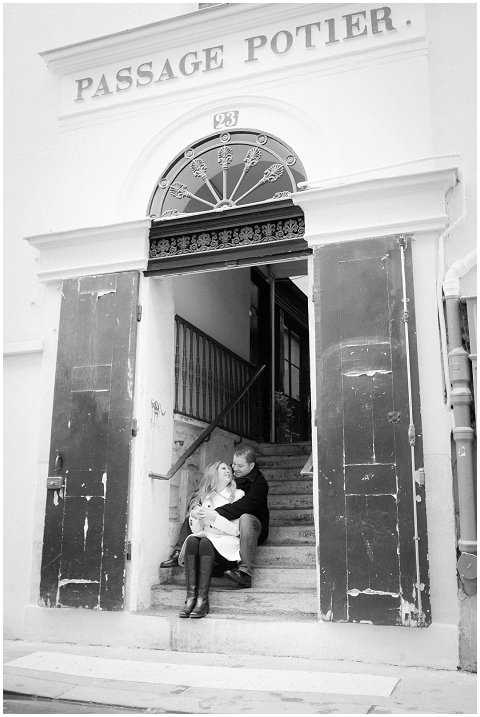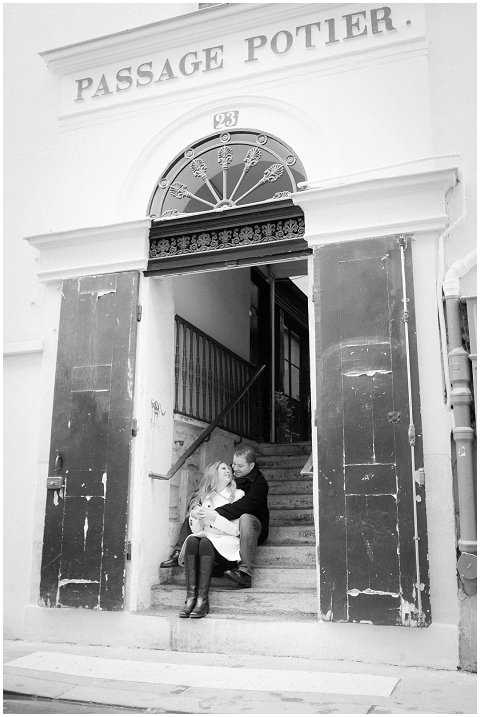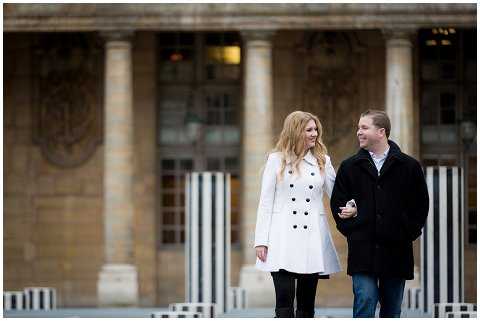 We walked to various sites around Paris and we tried to stay as warm as possible!  Ian is incredible.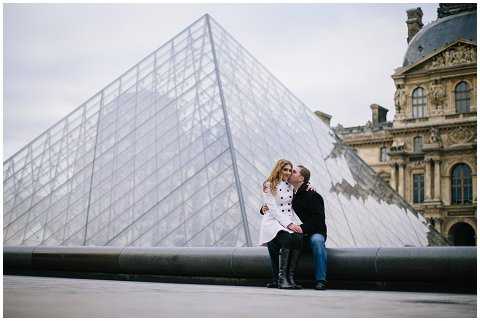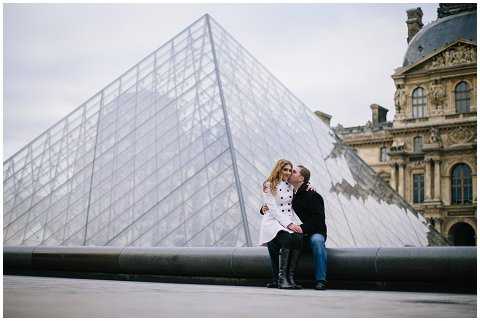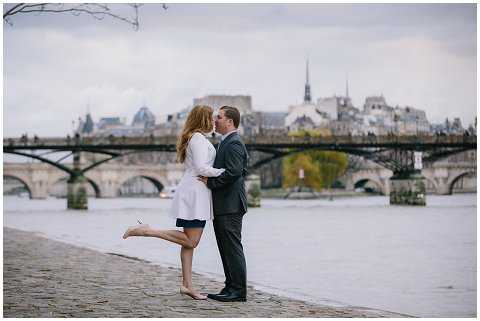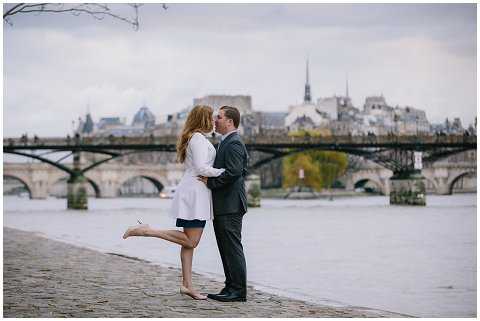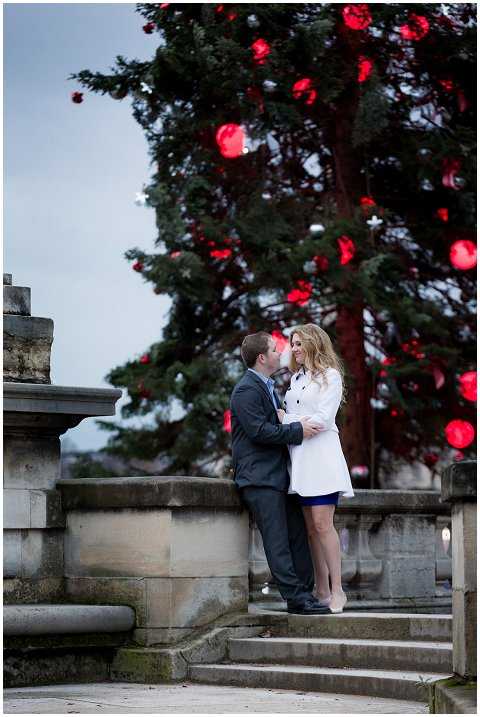 The time flew by and afterwards Ian recommended we check out Angelina's for some hot chocolate as we parted.
We did and enjoyed the world's finest hot chocolate and then took a stroll through the Christmas markets on the Champs-Élysées.  Ian had also recommended Les Ombres, Sanni, and the place Josh should propose.  Josh had coordinated all of this via e-mail with Ian, and I cannot thank Ian enough for his suggestions.
Later, Josh told me that he had booked our flights to Paris last January, nearly a year before he actually proposed.  He spent a year coordinating flights, hotel, the photographer and makeup artist, the ring, and various activities we did.  He made my fairytale come true!"
Soo romantic and I will be sure that Mr Trulove takes some inspiration for our upcoming 5th wedding anniversary.
Have a fabulous Saturday filled with romance!
Monique xx
Wedding Suppliers:
Photography: Ian Holmes Photography
Make up and hair: Sanni Sorma