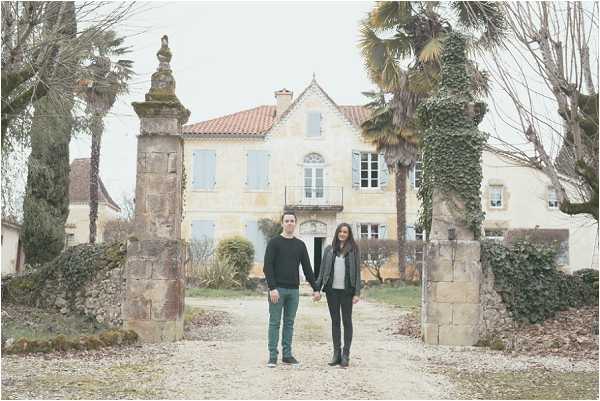 Happy Happy Thursday readers!  Did you have a pre-wedding session? The French Wedding Style team were discussing it and non of the Mrs' on the team did, which is such a shame.
Our couple today Lindsay and Max you will recognise from their real wedding in South West France that we featured on the blog here, and it is so interesting today to welcome them back as they share their pre-wedding photo session in South West France, captured by their photographer Awardweddings.
Planner at Awardweddings says: "Lindsay and Max planned a trip to France to finalise their wedding details. During this time, they met with their photographer Mark for a pre-wedding shoot, that took place at their venue so they could familiarise themselves with it.
Lindsay and Max:  "I would highly recommend to all couples who aren't used to being in front of the camera to do the pre wedding shoot with Mark.  He went above and beyond to make us feel relaxed and comfortable.  Mark took his time to understand what it was we wanted to capture from our wedding day and walked through all those elements with us.  He stressed that his goal was to capture us naturally and evidently that is what he did.  We are so happy with the pre wedding shoot and absolutely loved the photos." says the couple.
For the photo session Lindsay wore a Reiss leather jacket, a Banana Republic jumper with Madewell jeans and Derek Lam 10 Crosby boots. Max wore Levi jeans and a Zara jumper. It was a relaxed session and they both prepared themselves.
You can view their real wedding on the blog here.
Pre-Wedding Photo session in South West France Snapshot
Wedding Vendors
Photography: : Award Weddings |
Save
Save