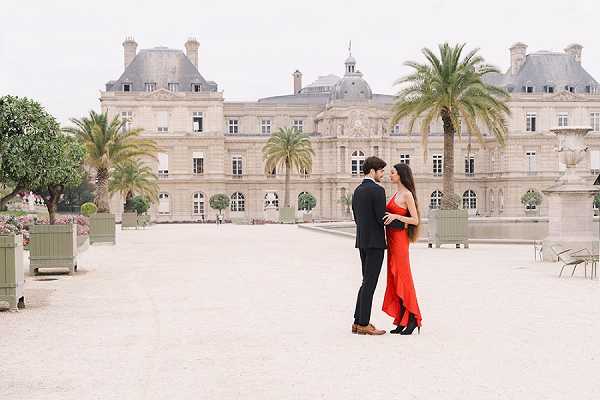 We are heading to the city of love for a Paris destination engagement shoot this morning. From stunning backdrops to sparkly gowns you won't want to miss this romantic e-shoot.
Anastasia and her handsome groom to be were accompanied by My Love Story Photo, a destination wedding and elopement photographer/videographer team, love story tellers for stylish couples. Their goal was to create an elegant and romantic shoot, combining fashionable images with an editorial touch.
We'll now pass you over to Gina from My Love Story Photo who will be walking us through today's Paris destination engagement session…
This is an inspiration shoot photographed in Paris and dedicated to lovers everywhere. Weather it be an anniversary, engagement, elopement or pre wedding, you will always have Paris. It is a magical, elegant city that is made for romance.
On a beautiful, late fall day as the leaves are starting to turn color. The couple in love is walking hand in hand in the stunning Luxemburg palace gardens. Romance is in the air, as they stroll in the gardens that are in full bloom. And later you can see them strolling along the tree lined avenues along the river Seine. To the Alexandre III bridge which as symbolically connect the two lovers.
Love is like a beautiful rose. This engagement session was inspired by the famous song "La Vie En Rose" by Edith Piaf. Lyrics translation; It's him for me, me for him, for life. He said it to me…. swore it for life! Nights of love that never end, new found happiness that takes it's place"
We chose a lovely red dress for Anastasia to wear and pinned a red rose to her beautiful long hair. Later she changed to a long navy colored gown with sparkling rhinestones. That reflected the sparkling river under the Parisian sun. At their hotel, the table was set up with a Paris card, a single white rose and a gorgeous diamond ring. Along with a bottle of Champagne,, it is an invitation that we have to say – Oui!
We started the couple photo session at The Luxembourg palace and the gardens. They were built by Queen Marie de Medici during the height of the European Renaissance. The Gardens still retains a regal and romantic feeling, where couples in love gather to stroll. The enormous central terrace and pond were bordered by flowers in full bloom. From there we strolled through a tree lined avenue to a stunning nearby fountain.
Just a short distance away the iconic Alexander III bridge, the most beautiful bridge in Paris. Provided the ideal setting for the couple's next romantic picture opportunity. The stunning Parisian scenery with the Eiffel tower in the distance and the sparkling Seine river below. Anastasia's navy, jeweled gown sparkled under the sun as the couple danced and embraced.
Café sweethearts – Strolling down the Parisian avenues, now it was time to celebrate. Stopping at the near by café for a wonderful, chilled French Champagne. The couple laughed and were as bubbly, as the Champagne they toasted – Sante'. We were all joyous and happy and felt blessed to have all this beauty around us. Paris will stay forever in our hearts.
Oh to be people watching with a glass of champagne in Paris… dreamy!! Feel like you're there yourself with this stunning wedding film…
To see even more timeless Paris photo shoots check out this:
Paris Destination Engagement Session Snapshot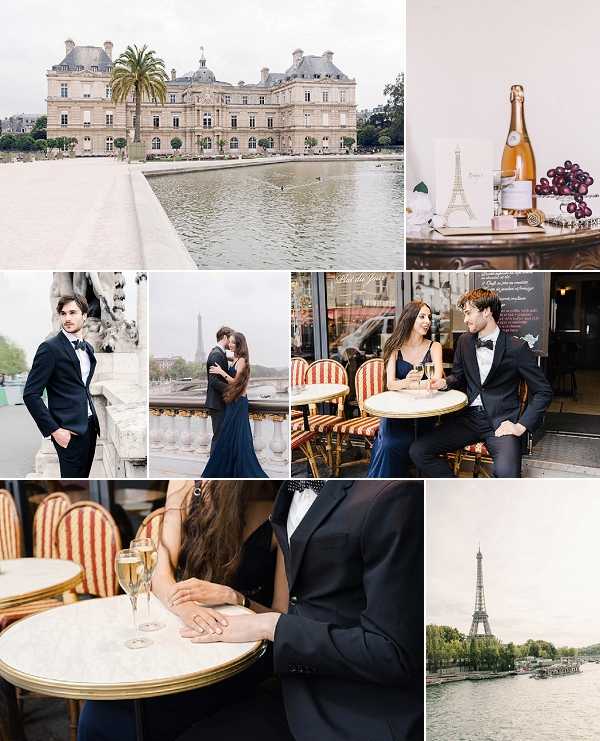 Wedding Vendors