Good Morning to all the fabulous readers! I have been working my little tushy off this week as today is Mr Trulove's Birthday and I am taking the whole day off, yes the WHOLE day off to celebrate.  I have some surprises planned but he gets to decided the whole day what we are doing, so on instructions I went and brought some fabulous sensible flat boots and armed with my new mobile I am ready to leave the laptop behind.
Whilst I will not bore you with a pictorial narrative of our day, I promise if I end up on my overworked tushy in the mud, Mr Trulove will be very quick to take a picture and POST IT!
From my rural adventures to an ultra chic adventure for Alice and Paul in Paris.  Alice and Paul had set their heart on a glamorous and stylish city based engagement shoot.
Destination Photographer Cat Hepple takes us through the Brigitte Bardot inspired shoot: "I instantly thought of Paris. Is there a more glamorous city on earth? Very quickly we decided it was the perfect venue for their shoot and we set about creating a mood board of ideas together. It was clear Alice was heavily influenced by Brigitte Bardot, her style and look and so I researched some of her films, carefully considering the feel of them, the imagery they had created.
Victoria Farr, a make up and hair artist flew out to Paris with us, to help create something of the style of Bardot for Alice. The bride to be brought along 2 dresses with her, a Reiss maxi dress in a cobalt blue and also a white skater style dress from Topshop. Her gorgeous nude sparkly heels were another Topshop purchase.
The colours of the dresses gave me an idea. I'd wanted to avoid their engagement shoot looking like a string of tourist shots in all the usual places. I knew they'd want some landmarks of course, but I also wanted this shoot to be cinematic, to create scenes which looked like they might well be from the set of a Bardot movie. So i decided to curate Paris by colour- White, blue, gold and pink.
This gave me so many opportunities to be creative, to see Paris differently to the average tourist and to make the shots more genuinely french. We of course visited the Eiffel Tower and Laduree, but many of our shots were simply taken as wandered the streets together, looking for beautiful textures and exquisite light."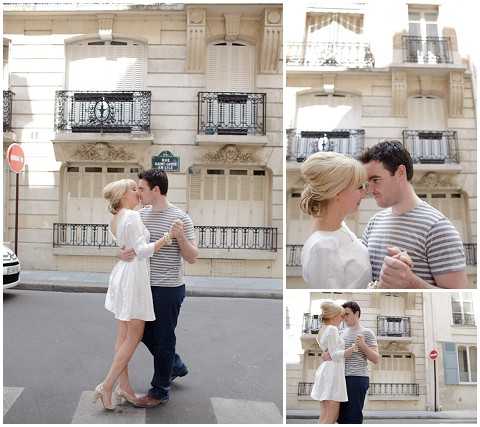 I particularly love the shots with Alice posing against the creamy shutters of a house on Ile saint-louis – she has her sunglasses on and is casually catching the sun rays, while Paul sits in the window watching her. Then another set find them dancing alone on the streets, oblivious to the people passing by. There's something very cinematic about the sequence of shots."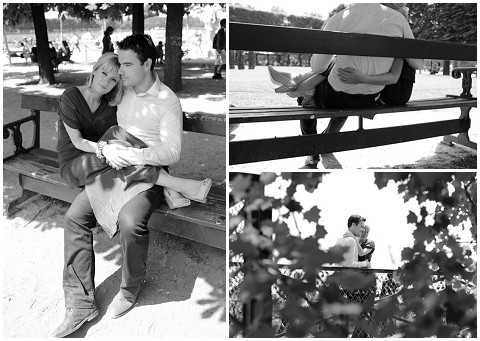 Have a wonderful Saturday all
Monique  xx