Today's whimsical woodland wedding inspiration board is inspired by my garden and beautiful niece.  During the summer we purchased a house that is in need of a lot of tlc, which includes the garden.  Whilst trying to ascertain exactly where the garden goes, we came across a path through the bushes and leading to one of the oak trees.  Of course when my beautiful niece visited this turned into a secret path and a wonderful imaginary game of finding fairies!  Subsequent games have been aided by my purchase of a mini fairy door that now sits at the bottom of one of the trees!
So with my head in magical woodland adventures filled with romance and whimsy, what better inspiration for today's wedding ideas board.
This board combines whimsical elements and the woodland aesthetic.  Of course you can create this style of wedding in a beautiful woodland, but if that isn't available to you then you can create this whimsical atmosphere using the styling below.
In order to create depth in this woodland style, combine a mixture of plants, moss, twigs and foliage. Use this as venue decoration, to adorn the cake, for floral crowns and within the bouquets.   There are so many stunning wedding venues in France and many large estates come with their own woods, giving you the perfect opportunity to plan a woodland wedding in France.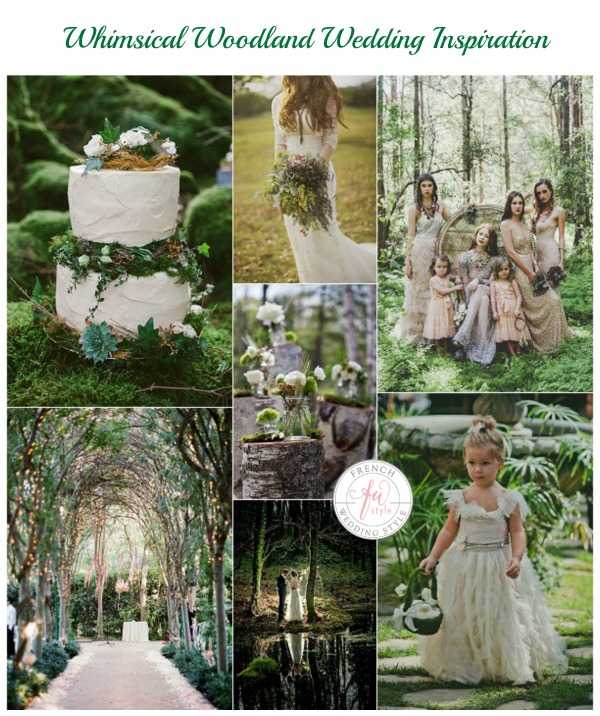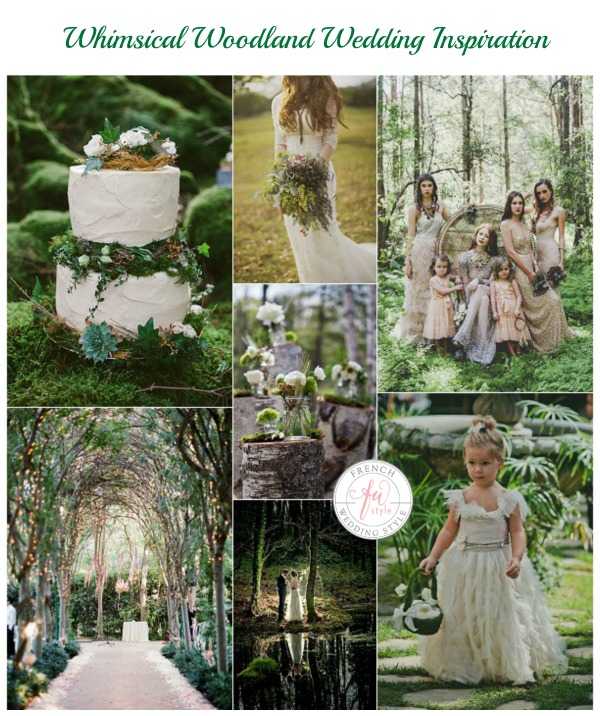 Cake: White Cat Studio  via FlyAway Bride | Bouquet: Melissa McCrotty via Ruffled Blog |  Bride and bridesmaids: Pinterest | Arch and decoration: Photography by Valentina Glidden Fine Art Photography via Elizabeth Anne Designs | Flowers: Anne Skidmore Photography via Style Me Pretty |  Couple: via FlyAway Bride |  Flowergirl: Wild Whim Design Photography via Style Me Pretty |
If you've planned your own woodland wedding, don't forget that you can submit to the blog here